The Time-Saving Mom - by Crystal Paine (Hardcover)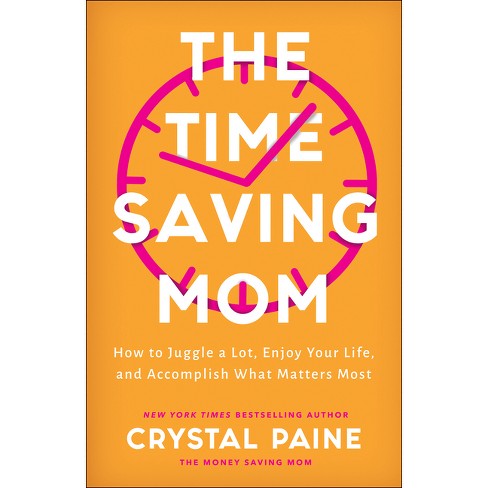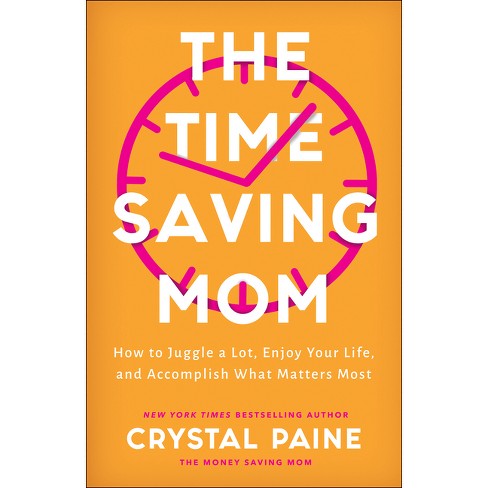 $16.09
When purchased online
About this item
Specifications
Suggested Age: 22 Years and Up
Sub-Genre: Christian Life
Genre: Religion + Beliefs
Publisher: Bethany House Publishers
Street Date: March 7, 2023
TCIN: 87299138
UPC: 9780764237249
Item Number (DPCI): 059-01-2739
Origin: Made in the USA
Description
About the Book
Sharing her proven time-saving habits and productivity hacks,
New York Times
bestselling author and successful entrepreneur--and mom of six--Crystal Paine delivers a real-world, no-nonsense guide to keeping you sane and doing the things you love most. You'll discover how to set up a system that works for you, prioritize your days, and simplify your life.
From the Back Cover
Time is short. Here's how to invest it in what matters most.

As a busy mom, pulled in many directions, you've felt it: There's too much to do, and not enough time to do it.
It seems like the only solution is to hustle harder. But there's a far better way to manage your time so that you can simplify and enjoy your life.
Crystal Paine--mom of six, bestselling author, and entrepreneur--delivers a real-world, no-nonsense guide to keeping you sane and doing the things you love most.
In
The Time-Saving Mom
, Crystal takes you inside her days to help you:
- Adopt an easy-to-implement four-step system to organize and simplify your life
- Create morning and evening routines that set you up for success
- Learn time-saving hacks to help you find time for pursuing your personal passions, friendships, exercise, and better sleep
- Carve out sacred time for God and your family
You don't have to be a productivity queen to maximize your time. Instead, you can be a time-saving mom, investing in what matters most.

"The Time-Saving Mom will change your life. . . . The practical tools and advice in this book are game changers."--ALLI WORTHINGTON, author of Remaining You While Raising Them
About the Author
Crystal Paine
is a
New York Times
bestselling author known widely as the Money Saving Mom. Crystal is a wife and mom of six kids. Her desire is to help women across the globe live with more joy, purpose, and intention in their everyday lives. Learn more at moneysavingmom.com.
If the item details above aren't accurate or complete, we want to know about it.
Shipping details
Estimated ship dimensions: 1 inches length x 5.5 inches width x 8.5 inches height
Estimated ship weight: 1 pounds
We regret that this item cannot be shipped to PO Boxes.
Return details
This item can be returned to any Target store or Target.com.
This item must be returned within 30 days of the date it was purchased in store, shipped, delivered by a Shipt shopper, or made ready for pickup.
5.0 out of 5 stars with 37 reviews
100% would recommend
35 recommendations
Practical
The Time Saving Mom by Crystal Paine teaches you how to juggle a lot, enjoy your life and accomplish what matters most. Crystal Paine is most well known for her blog on money saving tips. She has written several other books. Crystal is a very busy mom. She has much to do in her life, including care for a special needs child. This book does offer much insight, motivation, and wisdom. It is extremely simple which Crystal does share at the end of the book. I did find some things practical, but other things weren't as practical as I would've liked. Personally, I would have liked a demonstration on using the Google Calendar that she recommends so much. I realize that something I can find easily. I did appreciate Crystal's insight, concerning a stop doing list. I've never thought about writing out a list of things I would stop doing. Crystal also encourages you to step out and do the things you need to do as well as take personal responsibility for your life, your growth, and your actions. This book is definitely motivating and offers some practical tips along the way. I did find it very helpful. I was given a free copy from the publisher for my honest review, which I was happy to do. I highly recommend The Time Saving Mom by Crystal Paine.
Practical tips on how to get time on your side
Crystal shares the routines that has worked for her as a busy mom to 6 kids. She gives practical steps for implementing great habits so that we can give time to the things and people we value and enjoy the present moments and relationships. At the end of each chapter, she shared two truths and a prayer. Even if you are not a Christ-follower, the information about systems, habits, and routines are useful for everyone to use as a guide to find what works for your family. I look forward to implementing the 6x2 Priority System.
Great motivational book to help you prioritize & get things done!
If you've ever wondered how to combine brain dumping, prioritizing, goal setting , block scheduling, and time tracking, The Time Saving Mom does a great job to walking you through each of these things in a simple manner. Real world examples are used and the appendix has activities to walk you through setting these up in your life. I really enjoyed reading The Time Saving Mom. I'm a wife, mom of a busy family with two teenagers, daughter to aging parents and a small business owner so it is always a challenge to juggle all the things. My desire is to embrace life and for life to just not pass me by or constantly be caught up in doing tasks. This book has given me hope and inspired me that I can manage all the things I want to do and also given me the desire and the courage to cut out things that really aren't a priority to me. Paine offers tools to use to help you identify your priorities and to implement them in your life. This book has given me new energy as a mom who has been at this for a long time and had grown weary with the daily tasks and challenges. Paine's guidance on setting morning and evening routines has helped me be more intentional with my time, prioritize what I really want during these times of day and brought more enjoyment into my life because I'm living my priorities and not just wishing that I could or would do it.
Great Advice & Practicable Tips For Organizing your Time Well
Gringaleira
-
6 months ago
Wow! I have been following Crystal Paine for years, and was so excited to read the Time Saving Mom, since heard it was coming out. I finished the book a few days ago, and was blown away by the gold mine of wisdom in this book. Crystal not only laid out clear ways to find your priorities, but also introduced me to several ways to implement a plan to structure my day, get my priorities accomplished, and not fall into overwhelm. She also challenged me to have the self discipline to follow my plan. Being a being a homeschooling bio and foster momma, I found a life rope in this book that showed me a way to keep from drowning in my overwhelm.
Values based time management
Although I've read other time management books, uniquely Crystal writes from a sincere place of authenticity, compassion and faith. She has some unique strategies, such as the 6X2 Priority system, which entails identifying around six priority areas, giving examples and then striving to focus on two priorities per day. As someone who often feels a perfectionist urge to want to "do it all", I found this approach very reassuring. I also connected with Crystal in terms of how her time management strategies are all impacted by her faith. I loved her advice to start the day with prayer and to pray over each agenda item (and the people involved) for the day. I think this advice can be modified to whatever faith or spirituality you have in your life, even just having that positive, growth mindset about the day. I loved Crystal's warm, friendly writing style. She reminded me that some of my priorities will change based on the season of life I'm experiencing, a very realistic approach to goal setting and planning. I also loved the very helpful worksheets towards the back of the book, including a time-blocked to do list worksheet. I've been a fan of Crystal's content (including blogs, online courses, books and podcasts!) and highly recommend this book to anyone desiring realistic, values based time management strategies!
Practical and life-changing advice!
Crystal's advice in this book has been life-changing for me as I navigate my daily tasks. I appreciate her approach of prayer first and the encouragement to seek the Lord's will in all of our desires. Constantly examining if we are "spending" our time well is a great reminder and helps me to keep my priorities straight. I have just begun to implement her strategies but I especially find it helpful to time block my days so that I'm sure to plug in all of my important tasks into a specific part of the day. I feel much less stressed and much more accomplished when I'm following her system. WARNING: This book could change your life-for good. :)
Comfortable read with life simplifying tips!
Reading Crystal's book is like sitting at the table with her, sharing coffee, and asking her 'how do I get my life in order?'. Her tips are broken down into easy-to-follow language and her personal testimonials give hope- especially in the chaotic world we live in. Excellent read for anyone needing time management skills and gaining order in their life again.
Great Book! Highly Recommend Reading
mssuccess14
-
6 months ago
Crystal Paine's new book, The Time Saving Mom, was just what I was looking for to help me get a plan in the areas I needed help in the most! I have been following Crystal for a long time and I know, her life is busy I can trust her intelligence. I knew before I even read her book that I was going to get some great tips and tricks to help manage my time. Her book caused me to reevaluate my methods, and she challenged me to improve in many areas. I'll be chewing on this information for a long time! This book is full of advice, wisdom, and practical skills!
How to be productive at all the right things!
Crystal walks you through how to be productive, not just for the sake of productivity, but so you can do more of the things that matter most, like loving your family and serving them and others, all while not losing your mind. This book is unlike other productivity books because the focus is not on getting things done at all costs, but rather getting done as much as we can and postponing what we think we need to do in a day in favor of what needs to happen in that moment, if need be. Crystal's sound advice has helped me get more done while placing my priority on my family, not my to-do list.
Great book - easy to implement
Great book with easy to implement ideas to tame the chaos in your life. This book was also just what I needed in order to use my time more wisely and effectively.
Not Just for Moms
This book was just what I needed right now. As a person who has always struggled with time management it is so helpful to hear from someone who is good at it. This book has given me lots of ideas on how to implement a system that works for me and my life/family. Crystal provides many tips and tricks to use. My favorite part of the book if how she first looks to God for help and prayer for each day.
Practical and Enjoyable
This book is so practical, easy, and fun to read. I have read other time management books that are difficult to follow. Not so with The Time Saving Mom - no expensive apps needed or difficult-to-follow steps. Crystal shares how she plans and organizes her day and makes time for priorities. She gives example schedules, helpful tips, and a prayer at the end of each chapter. I have enjoyed this book and recommend it to anybody but especially to moms trying to balance daily life while still keeping priorities in order.
Great encouragement!
First off, what I love most about Crystal's books (and online presence) is that she speaks to you like a good friend and one that can speak directly to the heart. It's overall a very easy read with lots of great advice! "It's not about hustling harder or being a productivity queen; it's about wrapping your time and energy and life around those things that really make a difference." Great gift of encouragement to a friend overwhelmed with motherhood, family, jobs, and everything else the world feels it should put upon women.
Great advice with practical tips that are easy to implement!
I have followed Crystal for many years and have learned so much from her. I have seen first hand how she juggles a lot and still accomplishes so much and impacts those around her. I'm excited to have her tips and advice in a book that's easy to understand and follow. Crystal has simple systems in place and I'm learning so much and am excited to implement her ideas. No matter what stage of life you're in - you'll find value in the things she shares. Don't miss out - grab her book now!
I turned my Nos into Yeses
Charlotte W
-
7 months ago
Have you ever said No to your priorities in life because you were too overwhelmed? After reading this book, I pared down to realistic goals for my priorities and kicked time clutter in my life to the curb. I created more breathing room in my life and realized that I could say Yes more to my family as a whole. I realized I was telling myself no to tasks because I was one overwhelmed Mama trying to be Super Mom. I also made tasks more daunting than they really were. I had a negative narrative in my head that I just couldn't get things done......Push the negative narrative out the door. Manage your time to what matters most. I transformed my Nos to Yeses!!
Awesome Book
This book has many helpful skills and techniques to improve time management. One thing that I found helpful from the book was the authors discussion of creating a to do list for each day. This helps me prioritize the larger important tasks for each day and not be overwhelmed by all the small tasks. This book was very helpful to me and I definitely recommend reading it.
Life changer
Time- we just don't have enough of it! This statement has been spoken by all of us. Get ready to put a plan into action to transform your busyness into a more peaceful day. Also, see your time be multiplied as you use the tools that Crystal shares with us to help us make over our own life. There were so many wise words spoken through this book. One that really sat with me was: "Don't say I can't do this. Say, what can I do." We all make excuses, but Crystal gives us the call to bring about the change in our life. I absolutely love the transparency of Crystal as she shares so many stories from her own life. It really helps with relatability and that these concepts are actually possible to do. At the end of the book, there is an appendix that is a wealth of resources to use to implement the things that are spoken about in this life changing read. I would highly recommend this book to all readers. It is an easy read. This is a book that you read over and over because it is full of so many nuggets that you just want to keep savoring them.
Managing your time wisely
In Time-Saving Mom, Crystal Paine gives you practical tips on how to best use your time every day. She lays out a system for how to prioritize what is truly important to you in your life so that you are not spending your days completely frazzled and feeling like you are never caught up. One of the most important principles she focuses on is to start your day with God, asking Him for his strength to do what needs to be done instead of relying on yourself. This book has made me consider my priorities and how much time I am spending on different areas of my life. Is what I am doing now going to matter 25 years later? As the last year of my life has been particularly exhausting and challenging, this book has come at the perfect time and I can't wait to fully implement some of her strategies!
Easy & practical time management strategies
I was feeling very overwhelmed with life and felt like time kept slipping away. Then I found out about this book. I've read a few other books from Crystal, the author, and enjoyed her writing style and practical tips in those, so I decided to read this book too. I was not disappointed. It is a very easy read with practical tips and systems that are broken down into very manageable steps. I've only been able to implement one change in my day so far, and already I'm less overwhelmed and feel like I've got more time to finish tasks that before seemed too daunting to tackle. I can't wait to continue to slowly implement more of the strategies and see how it transforms my time management and life.
Reading This Book Is Time Well Spent!!
Cape Cod Mom
-
7 months ago
One has to be intentional with how one spends, and this book is about how to BUDGET YOUR TIME. The author, Crystal Paine aka the Money Saving Mom, is the perfect person to write this book since she is an expert on how budgets tell your money where to go, and in this instance she is teaching about how to spend time. She outlines a multitude of strategies for how to take control of your time instead of ending the day exhausted but not having moved the needle with what really matters. There are so many strategies in the book for how to prioritize, block and schedule time, and rotate the priorities so that each area the reader chooses to elevate is given attention that counts. To help readers get started, there are many pages of helpful worksheets and trackers (available as online printables as well). This book compliments the current research on wellness, habit stacking, and neuroscience, as well as the author's previous books on budgeting and parenting. The author writes from the heart and with a sense of humor. Her positive outlook is uplifting, and any reader will find something that resonates with them in the pages of this book.