Sponsored
To Hell with the Hustle - by Jefferson Bethke (Paperback)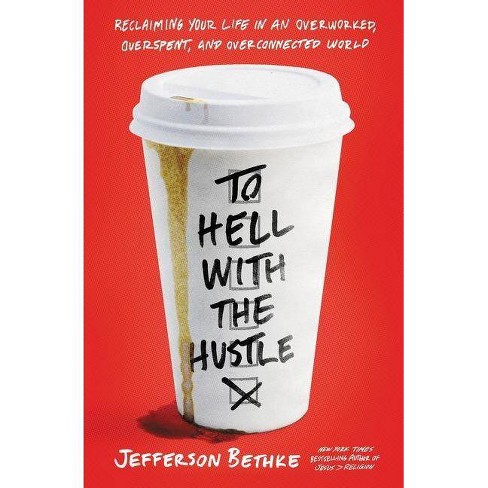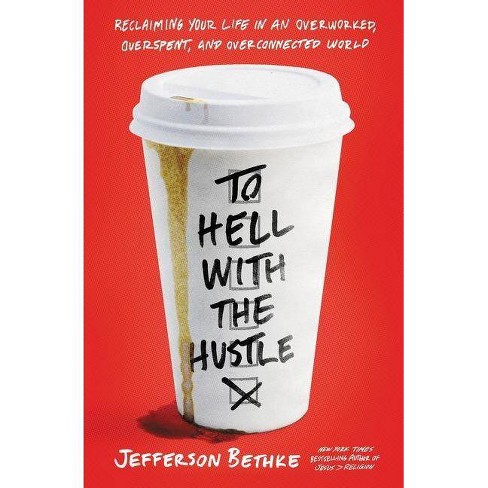 $11.43 when purchased online
About this item
Description
About the Book
A
New York Times-bestselling author delivers a call to resist the cultural worship of connectivity and achievement before people lose the essentials that make them distinctly and deeply human.
Book Synopsis
This is your wake-up call to resist the Hustle culture and embrace the slowness of Jesus.

Our culture makes constant demands of us: Do more. Accomplish more. Buy more. Post more. Be more.
In following these demands, we have indeed become more: More anxious. More tired. More hurt. More depressed. More frantic.
What we are doing isn't working!
In a society where hustle is the expectation, busyness is the norm and information is king, we have forgotten the fundamentals that make us human, anchor our lives, and provide meaning.
Jefferson Bethke, New York Times bestselling author and popular YouTuber, has lived the hustle and knows we need to stop doing and start becoming.
After reading this book, you will discover:
How to proactively set boundaries in your life
How to get comfortable with obscurity
The best way to push back against the demands of contemporary life
The importance of embracing silence and solitude
How to handle the stressors that life throws at us
To Hell With the Hustle is for anyone who is
Feeling overwhelmed with the demands of work, family and community
Wanting to connect and spend time with their family.
Tired of being anxious, lonely, and burned out
Join Bethke as he discovers that the very things the world teaches us to avoid at all costs--silence, obscurity, solitude, and vulnerability--are the very things that can give us the meaning, and the richness we are truly looking for.
Suggested Age: 22 Years and Up
Genre: Religion + Beliefs
Sub-Genre: Christian Life
Book theme: Spiritual Growth
Street Date: October 15, 2019
TCIN: 76452739
UPC: 9780718039202
Item Number (DPCI): 059-04-9407
Origin: Made in the USA
If the item details above aren't accurate or complete, we want to know about it.
Shipping details
Estimated ship dimensions: 1 inches length x 1 inches width x 1 inches height
Estimated ship weight: 0.998 pounds
We regret that this item cannot be shipped to PO Boxes.
This item cannot be shipped to the following locations: United States Minor Outlying Islands, American Samoa (see also separate entry under AS), Puerto Rico (see also separate entry under PR), Northern Mariana Islands, Virgin Islands, U.S., APO/FPO, Guam (see also separate entry under GU)
Return details
This item can be returned to any Target store or Target.com.
This item must be returned within 30 days of the date it was purchased in store, shipped, delivered by a Shipt shopper, or made ready for pickup.
5.0 out of 5 stars with 122 reviews
100% would recommend
111 recommendations
Get it!
Thumbs up graphic, would recommend
Great book, great read and sound theology! Definitely a good purchase and a book I would recommend!
(no review title)
Thumbs up graphic, would recommend
Great motivational book, however it was a little bit preachy. If you're not into books about God or a higher power, this book isn't for you.
LIFE CHANGING BOOK
Thumbs up graphic, would recommend
I honestly have struggled with finding the words to accurately explain how life giving and eye opening this book is for our culture. It's like God spoke directly to Jeff and gave him a very clear, major pain point in our culture in general, but more specifically in the lives of Christians. The book is also so practical and really helps you start the steps to start weeding out the cultural lies that we believe that our phones, money, and success will lead us to happiness. Don't miss out on these truths!
Hustle life.
Thumbs up graphic, would recommend
Wow. This book was incredible. From someone who has constantly been chasing after the busy life, I was challenged in so many ways by Jeff to look at my life and show me that the hustle life was not always the good life. There's a lot of joy that can be found in just slowing down and watching the birds. It's so easy for the hustle life, my job, or other things to become an idol. Much appreciation to Jeff for writing a book that hit this girl right in the heart in the time she needed it most. My worth is not found in how much I Hustle.
Must-Have
Thumbs up graphic, would recommend
If you don't have time to read this book...you need to make time to read this book! Jeff is so skilled at taking biblical concepts and making them applicable in our crazy busy world. If you feel like you're drowning or running on fumes, doing everything and nothing, I implore you to pick up a copy as soon as you can! It has already changed my life for the better and I can't wait to read it again.
You Need To Read This One!
Thumbs up graphic, would recommend
You know a book is powerful, when the title alone convicts you... This book is exactly what we needed in this time of glorified hustle. Filled with facts that are shared in a grace-filled and informative way, Jeff equips and empowers us to take a second look at how we are truly designed to operate in the day-to-day life. 10/10 must read.
(no review title)
Thumbs up graphic, would recommend
This book is challenging, thought-provoking, convicting (in the best way), and perspective-shifting. No matter who or where you are, this book is for you. Everyone from college students to parents to retirees should all say 'to hell with the hustle' and this book tells you why and how
You NEED this book.
Thumbs up graphic, would recommend
Amanda
-
4 years ago
,

Verified purchaser
WARNING - this book is a page turner. You will not want to put it down. I had to pace myself because I didn't want it to end too quickly. You will want to talk about it with everyone. You will mull over Jeff's many mind-blowing points for days. Maybe longer. If you know you're living at a crazy, frantic pace - read this book. If you think that you're not tired, that you're not hustling, that the pace you're living is normal...this book is still for you. Jeff brings awareness to habits and time-wasters that many of us don't realize we've adopted. Things that we've accepted as "the way it is" or "the cultural norm." I don't think that calling this book life-changing is an exaggeration by any stretch of the imagination. If you're still questioning this purchase, let me tell you that - even though I've finished reading it - I still carry this book around in my purse because I reference it so frequently in daily conversation that it's easier to have it on hand so I don't misquote anything. I will be recommending and gifting this book to anyone and everyone.
Relevant, Informative, Jesus-Centered
Thumbs up graphic, would recommend
Jefferson's "Why I Hate Religion but Love Jesus" YouTube video is a big part of my family's faith story. We have been following Jeff and his family ever since and love the relevant, yet challenging content they throw into the ring of our culture. Bringing us back to Jesus, when the current is pulling us everywhere else. This book will not disappoint you! Jeff has obviously done his research on how our society has evolved into its overconnected, overworked state. With wisdom, he points out how this is wreaking havoc on our souls and points us back to rhythms and formations that will bring us back to our First Love, Jesus.
Great book if your stretching yourself too thin and need a reset!
Thumbs up graphic, would recommend
This book is amazing from cover to cover. It was engaging and really helped me see what's important and how to set the right pace for my life to have deeper, more meaningful relationships, not what our culture says we need. As a society we have normalized busyness so much so that we don't even realize the escalating effects it's having on us. Jeff did another outstanding job with this one!
It's a household book.
Thumbs up graphic, would recommend
"Such an insightful timely book. Jeff is Honest and REAL about the problem of hurry today. If you want to be challenged and to have your life completely flipped upside down pick up a copy of this book. This is what I call a household book, one that should sit on the shelves of every living room for all to read. "
Culture says Hustle; Jesus says Slow Down
Thumbs up graphic, would recommend
"The hustle won't give us what we truly want. Quiet, steady, measured, consistent faithfulness-it's a gift. It's what we are all looking for anyway. It's time we stop fearing it so much." Quote from book Culture tell us to hustle if we want to be successful in life. That we need to do more, buy more, have more, and accomplish more. What if culture is wrong? What if you don't need to accomplish, or buy, or have more to be successful in life. Jeff shares that we don't have to have it all. We need to embrace the slow pace while loving and getting to know the people in our life, family, neighbors, co-workers, baristas at the coffee shop, not hustling to get to the big promotion or bigger house. Embrace who we are becoming in Jesus and stop doing what culture says to do. I received an Advanced Reader Copy from Thomas Nelson Publishing for a review. All opinions are my own.
A must read if you want to truly resist the hustle and hurry of this world
Thumbs up graphic, would recommend
This book truly is a message that God has given us through Jeff. I have been so blessed by the insight and wisdom of To hell with the Hustle. As a single mom, I struggle with balancing time throughout all that's going on and I now feel like I have an incredible resource on this journey of parenting and creating a rhythm of slowness and shalom with my son.
Such a good read
Thumbs up graphic, would recommend
This book will rock your world, in a good way. Jefferson tackles a hard subject, Hustle. Our culture is a competition of who is busier and who can jam pack their schedules even more. He gives practical and direct tips and suggestions, To Hell With the Hustle. The book is full of relevant and applicable stories. You even learn a few things about the Bethke's that you would never know if you did not read the book. I honestly had a hard time putting the book down. I have already bought several copies to hand out to friends because it is THAT good. Everyone needs to sit down and read this, let your heart be transformed. It has changed my perspective and we are slowly chipping away at the hustle and enjoying our sabbath.
Recommend for Young Professionals
Thumbs up graphic, would recommend
Entering the workforce with a head full of goals, to-do lists and plans, this book allowed me to reset my mind and way I go about each day. It's practical and doesn't dismiss the idea of hard work, but rather, how to better focus your energy on what matters. I've learned not to fill my time to please others and their wants, but rather, stick to what makes my soul happy and at peace. The hustle- free culture is here to stay and if you want to see what it's all about, you'll start by reading Jeff's latest book!
Timely Book our Society Desperately Needs!
Thumbs up graphic, would recommend
"When our work becomes who we are and derive our ultimate value and meaning from it, it runs the risk of becoming our God." — and I'm talking about the need to hustle in life. In a fast-paced, busy, and progressive culture we live in, I am constantly reminded to examine myself because I have always felt the pressure to succeed in everything I do: as a man, as a husband, as a believer, as an artist, as a friend, and as a servant of God. Why do we push ourselves to the limits? Why do we push ourselves to the extremes? Thinking we can do all things through our own strength. One-minute we get inspired to dream and pursue our deepest longings and desires for success, and then in other times we check-off the daily routines of all that we do so that we can move on to the next big thing. After all these we are left with nothing but feeling anxious, lonely, and burnt out from work, ministry, and life. I'm finding more and more that success isn't measured by accomplishments or by how busy we are. Is our goal to be busy far more worthy in exchange for holiness, faithfulness, obedience, rest, relationship with people, and God's leading in our lives? — I think not! This book has truly made me realize how caught up I am with the hustle and how often I give into the pressures of getting ahead of God. Now is the time I slow down and lean back to let go and truly let God direct my plans. Now is the time for me to be an image bearer of Christ and made more and more like Him. Now is the time that "We need to resist the noise and speed of air and instead, embrace the slowness of Jesus." Can you testify to this? Thank you Jefferson Bethke for such a timely book that our society desperately needs. I've been so blessed to be able to read this amazingly insightful creation of yours. There were so many quotable reads and encouraging moments and I know imma have to read it over and over again. Soli Deo Gloria!
Excellent read
Thumbs up graphic, would recommend
This is such a great book! It is very engaging and talks about how to live in the moment.
You Won't Regret this Purchase! Get you a boring life, y'all!
Thumbs up graphic, would recommend
A MUST READ. Jeff does a brilliant job detailing the epidemic that hustling, overworking, overspending, and over connecting has become for everyone, regardless of if they follow Christ. Jeff is blunt, honest, but insanely practical and offers his audience step by steps instructions, all rooted in the teachings of Jesus, on how to overcome the hustle. I am so much better off because of this book. I am more centered, intentional, slow (it's a good thing, read the book to learn why!), and aligned with the lifestyle of Jesus than ever before. I am so grateful for these words. You will not regret this read.
MUST READ
Thumbs up graphic, would recommend
Trust me, whoever you are, you need this book! It really makes you stop and think about the pace of your life and how cultural values have changed so much since the industrial revolution (the idea of goals, efficiency, doing more, being more, etc. ---AKA the hustle culture), when in reality, that's not the way of Jesus. It opened my eyes to a lot of things that I myself had not even noticed I was falling into. This hustle mindset is something modern that came with the rise of technology and we should (at the very least) be aware of what it's doing to us, and that's basically what this book does! Gives you another perspective on what's going on with the world and how we shouldn't let the world's pace define our lives, our work, our relationships, etc. There is beauty in what this world calls boring! Especially love how he drops stats and historical facts that make you step out of your bubble and so we can see the bigger picture. In conclusion… LOVED IT.
Piece of Heaven on Earth
Thumbs up graphic, would recommend
All students, professionals, and parents need this in their tool belt! Such a timely book in today's culture of busy-ness that distracts and disconnects us from our purpose.