When Strivings Cease - by Ruth Chou Simons (Hardcover)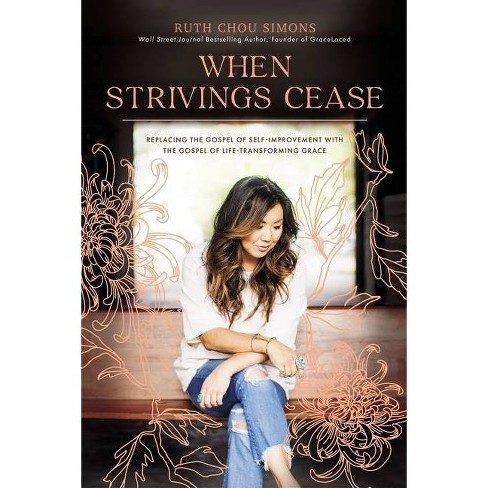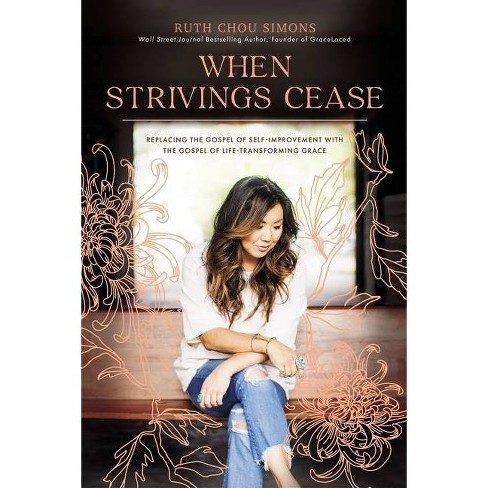 $15.3
When purchased online
About this item
Specifications
Dimensions (Overall): 9 Inches (H) x 1 Inches (W) x 6 Inches (D)
Suggested Age: 22 Years and Up
Genre: Religion + Beliefs
Sub-Genre: Christian Life
Book theme: Spiritual Growth
Street Date: October 12, 2021
TCIN: 83935194
UPC: 9781400224999
Item Number (DPCI): 059-01-7437
Origin: Made in the USA
Description
About the Book
Bestselling author, entrepreneur, and speaker Ruth Chou Simons calls women to discover how God's profound gift of grace and favor invites them to rest from chasing approval and earning love, and instead discover the freedom of true belonging and worth that doesn't depend on them.
Book Synopsis
This is not a call to get busy; it's a call to get discerning.
In this hustling, image-forward age of opportunity, women are more anxious than ever. Despite all the affirming memes and self-reflections that dominate social media feeds, approval and worth often seem assigned to what we do rather than who we are. And we end up constantly feeling behind, lacking, and like we're failing--at home, at work, with friends, with God.
Ruth Chou Simons knows something of feeling measured by achievement, performance, and the approval of others. As a Taiwanese immigrant growing up between two cultures, Ruth was always on a mission to prove her worth. Until she came to truly understand the one thing that changes everything: the extravagant, undeserved gift of grace from a merciful God. In When Strivings Cease, Ruth guides us all on a journey to find freedom from the never-ending quest for self-improvement. She shows us how to
examine the ways we look to superficial means of acceptance and belonging, and find relief in realizing we can't be so amazing that we won't need grace;
stop seeing God as someone we perform for and start finding delight in responding to God's welcome; and
find relief from running the hamster wheel of relying on our own strength, our own abilities, and our own savvy--and always coming up short--by truly understanding the freedom Jesus purchased.
With personal story, biblical insights, practical applications, and original artwork by Ruth, this transformational new book helps us see the beautiful truth that God's favor is the only currency we need, because in Christ we are enough.
If the item details above aren't accurate or complete, we want to know about it.
Shipping details
Estimated ship dimensions: 1 inches length x 5.47 inches width x 8.39 inches height
Estimated ship weight: 1 pounds
We regret that this item cannot be shipped to PO Boxes.
Return details
This item can be returned to any Target store or Target.com.
This item must be returned within 30 days of the date it was purchased in store, shipped, delivered by a Shipt shopper, or made ready for pickup.
5.0 out of 5 stars with 45 reviews
100% would recommend
19 recommendations
When Strivings Cease
J Fox
-
2 years ago
,

Verified purchaser
Ruth Chow Simons is an excellent Christian author. So encouraging!
This book touched my heart
Ruth's book "When Strivings Cease" is great. I needed to read this book more than I thought when I first started it. I highlighted so many great passages as I read. As Ruth shares, "you and I are freed from disappointment in others and disappointment in ourselves, not because we can let it go but because God stops us in the middle of our striving and comes after us. He doesn't let us go." I really recommend reading this book slowly since there is a lot to process. This is definitely one I will be reading again. God spoke through her directly to me about areas in my life where I was striving more than I even realized and encouraged me with some things I have been working on. Shame is a huge struggle in my life and Ruth speaks to how God meets us in that place in a fresh way that I really needed to hear. This is a must read!
Beautiful Message and Book
Timely and important message. I truly didn't know how much I needed to hear this truth. It's an easy read with beautiful art illustrations. Ruth has a warm and uplifting style of writing. She encourages you to refocus your heart and mind on what truly matters, the good news of the gospel. She comes along side you like a true friend, sharing her own stories and struggles so you don't feel alone. Highly recommend!
It's like chatting with a dear friend
Grab a cup of your favorite drink. Now find a good comfy spot in your house or wherever you happen to be, and enjoy spending time with Ruth Chou Simons in her latest book, When Strivings Cease. It will feel like she is there with you sharing stories about her childhood, her upbringing, and God's amazing grace in her life. I could relate to so many of Ruth's stories from her childhood, which led me to reflect on how events, teachings, and relationships have shaped my worldview and how I view my relationship with my Heavenly Father. Throughout the book, her insights into how she was raised, and how that translated into her way of thinking would then be compared to Biblical truth in Scripture. Each story of her struggles became a picture of His grace. What I found so interesting was how Ruth dissected the complexities of "striving" which really caused me to search my own heart. Then I am able to pray through and meditate upon the Scriptures that Ruth includes. It has taken me on a personal journey as I read along with hers.
A wonderful reminder that its not about how good we are, but how great He is
"I'm done with treading water when the shores of grace are mine to dwell on." This book could not have come at a better time for me. If you're exhausted from trying to measure up, you need this book. Thank you, Ruth Chou Simons, for sharing your story!
Are you tired of working endlessly to be enough?
When Strivings Cease is absolutely worth the read. I fully intend on reading it again. Ruth delves into something that many people struggle with—striving. We are a culture that focuses heavily on self-help. It is exhausting and does not lead to true peace or freedom. She describes her journey and struggle with striving, and she explains that what Christ accomplished on the cross saves us from this vicious cycle. We do not have to strive for grace, because we will never be enough on our own. We do not need to earn God's approval. She continually pointed us back to the gospel, and I so thankful that she did. God's timing with this book was perfect. I have always been one to work hard to find comfort. To be better in hopes that I wouldn't need grace. If I could just (fill in the blank) -- then I could rest. It was so freeing for me when she explained that when we focus on Christ and that He is enough—then we can strive IN grace instead of FOR grace. We can give out of thankfulness. Ruth is relatable, and the way she shares her story makes you feel like you are in the room with her. Friend, if you are tired of trying to be accepted, earn favor, and be enough—this is a book for you. You do not need to try to fix your situation by trying harder. If you are looking to break the cycle—I highly recommend this book.
Water to the soul
Momof6
-
2 years ago
,

Verified purchaser
This book is so perfect for my time of life right now! Ruth shares from her heart and you can tell! I love the emphasis that we need to "stop striving to be enough and start resting in the welcome that Jesus has for us"! God's grace is so much better than what I keep striving for! 
The truth will set you free!
Apart from The Bible, When Strivings Cease is one of the most beautifully written descriptions of the simple, yet profound truth of The Gospel that I have ever read. Like Ruth, I grew up in a performance-based home, where I often felt like my best was never good enough. Embracing the reality of what Christ did for us on the cross will set us free from our performance mentality. As Ruth so aptly put it, "The answer we're looking for isn't the latest and greatest strategy for self-improvement; it's the transforming gift of amazing grace." When we find ourselves continually striving to live up to God's standards, Ruth reminds that "realigning your mind, heart, and identity to grace, not works is a daily battle." If you find yourself weary from always trying to measure up, this book is for you. "The truth will set you free!" (John 8:32)
A must read for every striving heart
Ruth Chou Simons opens up her heart throughout her new book, "When Strivings Cease..," and shows us how God's grace is what overcomes the lie that we believe that we have to strive for everything-acceptance, people pleasing, not good enough, and more, and how exhausting it is to strive and not rest in God's grace that Jesus came to give us. We can all probably identify with some kind of striving as children and into our adulthood. Ruth shares her heart in this area in her book. Ruth's perspective on grace brings such freedom and I am so grateful for her transparency. One quote in her book that resonated with me, "You and I are freed from disappointment in others and disappointment in ourselves, not because we can let it go but because God stops us in the middle of our striving and comes after us." "He doesn't let us go." I believe any woman that is "striving" for approval, feeling like they are not enough, feels shame, or any of the many ways we strive, will definitely find hope and freedom from striving and have a new perspective on God's grace as they read the words that flow right from God onto the pages of "When Strivings Cease."
Reading this book is like having coffee with a dear friend
klk608
-
2 years ago
,

Verified purchaser
This book causes you to stop and think, who? Who am I depending on? If I am depending on myself, then I have it all wrong! God's incredible gift of grace is what can mold you as God created you to be. Grace, breathe in His grace, His gift.
This book! Read it!
More than ever we need a book that allows us to just breathe. Ruth's honest examination of her own view of God and how it has been shaped by life events is a gift to all who find themselves struggling in today's world. Ruth encourages us to "...replace faulty ideas of God with what is actually true about who he is and what he desires from us." When Strivings Cease will encourage and transform you - but most importantly it will help you answers God's call to come and keep coming to Him-for His grace is sufficient. Filled with Ruth's beautiful artwork, easy to read--it's like having a conversation over coffee with a good friend.
The freedom I didn't know I needed. So much GRACE!
Tammysincerity
-
2 years ago
This book has brought me to freedom that I didn't know was possible. Like a skilled surgeon, the way Ruth Chou Simons weaves grace and truth, utilizing scripture, has the power to pierce bone and marrow. I felt as though she was inside my head and heart and knew each of my deepest struggles for acceptance and belonging, and in a warm and loving way, she brought Jesus into that space, honoring His provision for me. I had multiple pages highlighted, but one of my favorite parts reads: "In Christ, on the other hand, we've been fit and fashioned for the belonging we were always made for. We're not working tirelessly and endlessly to somehow become a version of ourselves that is more desirable or acceptable to some unachievable standard. We are not slaves to a cruel master of social approval or popular opinion but gratefully mastered by a loving Father." I laughed at some parts of the book, and in other parts I wept, finally feeling seen and known. This book touched me on a soul level, and yet, it is not a heavy book. Ruth walks alongside you, like a dear friend, revealing some of her hardest moments and how Jesus met her there, and it helped me see Him meeting me in my own moments. Not only do I recommend this book, but I plan on ordering the follow-up Bible study to lead a group of women this winter. Every one of us is ready to stop trying to save ourselves, and this book is the tool that opens the door to healing.
Must Read!
That'll preach! "When Strivings Cease" is not just about quitting the nonsense of striving, though it is about that too. This book, at its heart, is sharing the gospel in such a relevant way for us in 2021. It's about rooting up false gospel lies in our lives and holding them to the light of the true Good News to see them for what they really are. Ruth has multiple, wonderful gifts and abilities to write and paint and share her God-given creativity so well. Her personal stories constantly point the reader to scripture, abundantly quoting and referencing the Bible, allowing His narrative to speak over and wash her own, while reminding us that that we can do this too. The deep dive into the cultural references surrounding the Prodigal Son were particularly beautiful and touching to me. I am a huge fan of Ruth Simmons' books, not just because they are pretty, encouraging, or relatable, they are certainly all of those, but because she constantly points to Jesus, His Truth, His Way, and His abilities over ours. She does that again so well here and I am so thankful for her example and shared wisdom as a fellow Christ follower. Definitely read this one.
refreshing, freeing, truth
When Strivings Cease is a breath-taking heart challenge to remember that living as a Christian is primarily a relationship; and when that relationship based on grace becomes the core from which my everything flows, there will be rest, peace, and calm in my every day. It is so very true that, "…realigning your mind, heart, and identity to grace, not works is a daily battle." Being a list-making, calendar scheduling, to-do list hustling gal means that I can tend to find so much satisfaction in my checked boxes that I lose sight of what brings real peace and satisfaction. The center of my heart's focus must be the grace of God, the only real enabling power. Ruth's transparency in sharing her own life's journey was inspiring and made me wish for a chance to sit across from her at her kitchen table over coffee! The book arrived, just after sending off my oldest child for several months on his first adventure away from home; and I was wrestling with the "did I do enough, say enough, warn enough, prepare him enough" thoughts. Sometimes strivings need to cease even after the work is done, when our enemy tries to trick us into worry and fear! The book is a refreshing read and a call to simply dwell.
Grace is the answer
Ruth takes us on a journey to understanding grace is the answer we seek. No matter what your cultural background you will identify with her story and it helps you understand your own need for approval and people pleasing in your own life. We all strive for so many things in life that we can't control, but God's grace is the only way we will find peace. Ruth walks us through that journey to reminding us that grace is only way we can stop striving and trying so hard. Yes we still have to work in life but we can't control the outcome, only God can do that. I love how Ruth used so much scripture in her book to back up what she was teaching us. And how she even dove deeper into the story of the prodigal son, that was really insightful for me. I would reccomend this book to anyone. This book is also beautiful and makes a wonderful gift with artwork inside and out!
The Gospel and everyday living
Meghan Books
-
2 years ago
Ruth writes to women who struggle with feeling not enough in so many ways. The way she writes shows the heart of someone who has struggled through these issues and is using God's Word to direct her in truth. She pinpoints the root of each striving for something and turns it around to show how that striving impacts our walk with God. The first part of the book addresses sinful strivings and thoughts; the second part shows us how to fix it. Here are some excerpts: "I needed someone to tell me that avoiding disappointment could never give me what I really wanted: true welcome . . . Against the glory of God, we, in our natural unredeemed state, are all disappointments . . . The holiness of God found us lacking. The mercy of God sent Jesus to bear the punishment we deserve. The righteousness of God declared us forgiven. The goodness of God reshapes us into his likeness. The love of God overcomes evil so that we might share in all that is Christ's." And the crux of the book: ". . . the gospel reshapes everything about every mundane, ordinary moment . . ." If you're tired of striving for peace whether you know God personally or not, buy this book!
Do you feel like you have to do better, be better, and are tired of the striving?
Do you feel like you have to do better, be better, and are tired of the striving? Pick up this book! I've been reading the sneak peek chapters and continuing to read now that I have the physical copy in my hands. Here's one section that hit hard for me - "We are living the now and not yet. And in this in between, we can mistake not yet for not enough if we're not grounded in what the Bible actually says about God's favor and how we receive it." Grace is life-giving. This book snapped me into the reality that I can't work my way into being enough. That's the point of grace - a simple, beautiful gift. We can still seek to achieve and excel, so long as we keep our eyes focused on the Lord instead of looking to ourselves to be perfect and manage all the pressures of the world on our own. I've been a fan of Ruth Chou Simons and her beautiful artwork and books. This book continues to reflect her being a vessel of the Lord and the message of grace.
I want you to know...
KMFS
-
2 years ago
,

Verified purchaser
Is it a sign that I struggle with striving when I've written 4 reviews for this book and I found each one to be lacking? I want to capture how seen and known I felt when reading. I want to encourage you to buy the book and share it with a friend, and while I know my words don't hold that much weight, I can remember all the times I've turned to a review before I choose a book. I want you to know that in When Strivings Cease, Ruth Chou Simons weaves her story with the truth of the gospel and freedom that's available when you allow God to make all things new. She shares how life transforming grace is available all because of Jesus, and she shares with transparency and vulnerability like you would with a trusted friend over a cup of coffee. If you're striving and overwhelmed, these words will be water for your parched soul. If you're seeking to grow in your faith, these truths will be encouragement for your heart. Replace strivings with deeply rooted understanding of the all-sufficiency of God's grace by saturating your days in His Word. Ruth shares how seeping in scripture has rooted and grounded her heart and how you can have this too.
You Need to Read This!!
Farmgirl81
-
2 years ago
,

Verified purchaser
The theme of Ruth's book could be beautifully summed up by one word. Grace. She reminds us that no amount of striving is enough, why it never will be, and teaches us to apply the magnificent grace of God to OURSELVES. Reading the words Ruth has written deeply convicted me. She wrote down all of the things I didn't know I needed to read. I realized how much of my past served as a lense for viewing God's grace, and how much I still strive day to day. I have spent years of my life allowing fear, doubt, and condemnation to inform my identity and determine my value before God, and I believe that SO MANY of us have done (or are doing) the same thing. I invite you to open this book and, just as Ruth writes, to stop treading water and rest on the shores of grace.
Encouraging book, important message
I love Ruth Chou Simon's beautiful artwork and encouraging social media posts, and I was so excited to read this book. She discusses aspects of her personal testimony and the struggles she faced living in God's grace as she grew up in a Chinese family with cultural and personal pressures to achieve and strive for certain goals. Although I am not Asian, I have a similar personality and always feel the need to do more and have very high expectations for myself. Some of the quotes that resonated with me most are: - "When we are in Christ, we are simply aware of who we belong to first and foremost. And, friend, that's when we can let go of all the world tells us to do in order to belong." - "The sad part is the way we've come to determine someone's worthiness based on our different definitions of acceptability. We e somehow replaced identity with identification. We've bought into the paradigm that our "faces"—or Facebook pages, rather—are the summation of who we are." - "If unchecked against the true character of God and our true identity in Christ, our self-reliance and pride will cause us to resort to shaming and manipulation. And, similarly, if unchecked against the true character of God and our true identity in Christ, our self-condemning shame and feelings of inadequacy will keep us from drawing near—and coming home—to the Lord." - "Grace is not the reward in itself; knowing Christ is. Grace simply makes it possible for you to stop striving for yourself and strive out of love for God instead. Grace isn't an excuse to be lazy or apathetic about the marks if a Christian life. Rather, it is the catalyst by which we can partake in it." I appreciated reading the aspects of Ruth's personal struggles and growth, and this was the strongest portion of the book to me. I wish she had gone into more detail and allowed us to understand her testimony and see God's grace in her life more fully. But overall, When Strivings Cease contains a wonderful, truth-filled, much-needed message, and it was a good read.