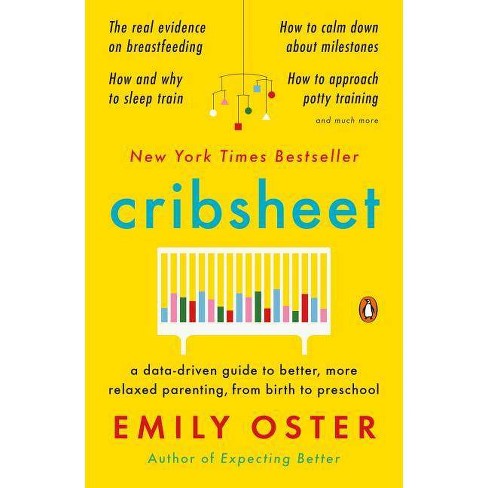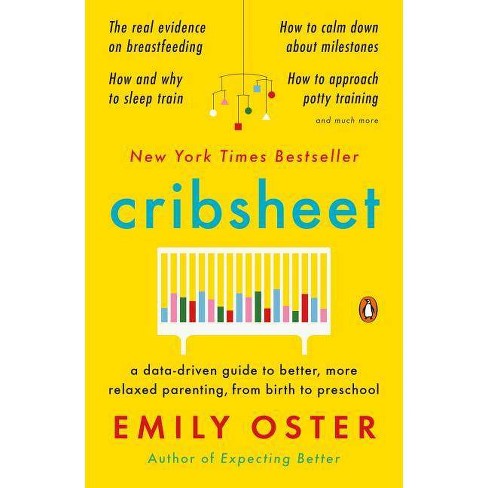 Delivered on or shortly after release date
when you preorder online.
About this item
Specifications
Genre: Family + Relationships
---
Street Date: April 21, 2020
---
TCIN: 77524947
---
UPC: 9780525559276
---
Item Number (DPCI): 247-08-4335
---
Description
"Cribsheet, a new book by Emily Oster of Brown University, shows that in the hectic haze of parenthood an economist's perspective can prove surprisingly clarifying . . . Parenting can be fraught. Cribsheet aims to help parents do better."-- The Economist "Both refreshing and useful. With so many parenting theories driving us all a bit batty, this is the type of book that we need to help calm things down."--LA Times "Many parents will likely find reading it a huge relief from the scare stories that seem to pop up everywhere these days. The author, economist Emily Oster, burst into the parent-lit world with her 2013 hit Expecting Better which remains required reading for a certain set of pregnant parents. Oster repeats her ingeniously simple formula with Cribsheet taking conventional wisdom and diving into the research behind it, often showing that "the studies" are thin or nonexistent, or their findings that have been overstated . . . Cribsheet is not another call for the end of helicopter parenting or snowplow parenting or whatever kind of parenting is lighting up social media today, and it's not a call to overthrow medical wisdom; it's a call for parenting with context, and it's freeing." -- The Washington Post "In my household, [Emily Oster] is the all-knowing Aunt we have never met. Parenting would be a lot more stressful without these books."--Adam Ozimek, Forbes "With Cribsheet, Emily Oster is trying to make parents less confused, more confident in their choices, and less judgmental of other parents who make different choices. Reading the book, that feels surprisingly achievable. Laying out the research really strips these decisions of their drama, and you end up wondering why it all felt so overwhelming in the first place." --NPR "Emily Oster, an economist at Brown University who focuses on health economics, has set out to make these decisions a little easier for parents by arming them with data and a healthy understanding of the principles of economics-driven decision-making. Her 2013 book, Expecting Better: Why the Conventional Pregnancy Wisdom is Wrong and What You Really Need to Know, has become something like a bible that gets tattered as it's passed from friend to pregnant friend. In it, she offers digestible conclusions from reliable research and debunks myths on everything from alcohol and caffeine consumption to exercise and bed rest. Her new book, Cribsheet: A Data-Driven Guide to Better, More Relaxed Parenting, From Birth to Preschool, takes a similar approach with the first three years following birth. Oster's aim is not to provide the answer to parents' questions about breastfeeding, circumcision, sleep and childcare. Instead, she argues that there is often more than one right answer, and it falls somewhere in between what the data says and what works for each family's unique circumstances." - Time "'This book will not tell you what decisions to make for your kids, ' Oster writes in Cribsheet. 'Instead, I'll try to give you the necessary inputs and a bit of a decision framework. The data is the same for us all, but the decisions are yours alone.' Smart, relatable, and funny, Oster makes good on that promise while drawing on her own experience for anecdotes. She tackles all the major issues, including circumcision, potty training, marital health with kids, and when to conceive your next child. Clearly defined chapters make it easy to pick up the book and cram about any issue." - Bloomberg.com "After reading Cribsheet, parents will come away feeling much more informed and less likely to turn to Google, friends and family only to receive conflicting advice." -- CNBC "With practical and useful advice backed with expert references, this book will give you the tools you need to tackle some of the biggest decisions you'll make when raising your child from birth to preschool."--Minnesota Monthly "Parents new and old will find reassurance in this commonsense approach." -- Publishers Weekly "Parents who find comfort in statistics, and especially those who enjoy Malcolm Gladwell's works, will appreciate [CRIBSHEET]" -- Booklist Praise for Expecting Better "Gives moms-to-be a big helping of peace of mind!"--Harvey Karp M.D., bestselling author of The Happiest Baby on the Block "A revelation for curious mothers-to-be whose doctors fail to lay out the pros and cons of that morning latte, let alone discuss real science. And it makes for valuable homework before those harried ob-gyn appointments, even for lucky patients whose doctors are able to talk about the rationale behind their advice."--New York Times "Emily Oster is the non-judgmental girlfriend holding our hand and guiding us through pregnancy and motherhood. She has done the work to get us the hard facts in a soft, understandable way"--Amy Schumer "A book... that pregnant women won't want to miss."--Parents Magazine "Oster's advice cuts through the emotion, myth, fear of malpractice litigation and looks at the numbers. A mother herself, Oster's interest isn't just curiosity, it's the same thing that motivates every new mom... and Oster's ability to break down the data into informed analysis is a refreshing break from the hysterical hearsay that often dominates the conversation."--Babyzone "It took someone as smart as Emily Oster to make it all this simple. She cuts through the thicket of anxiety and received wisdom, and gives us the facts. Expecting Better is both enlightening and calming. It almost makes me want to get pregnant."--Pamela Druckerman, New York Times bestselling author of Bringing Up B�b�
Recommended
---
From the manufacturer
No information loaded.
Guest Ratings & Reviews
No reviews yet! Be the first to help other guests.