prescription to-do list. check.
from refill to transfer, we'll help get it done.
ClearRx.
simplicity. see the smart design behind our bottles.

flavoring.

free flavoring to help

the medicine go down.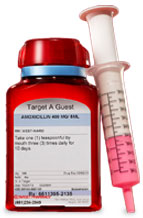 Affordable Care Act.
we want to make it easy for you to discover what healthcare reform means.
pharmacy rewards.
enroll today & get 5% off a day of shopping.*

$4 generics.

Target Pharmacies are not located in all Target stores, hours vary by location, services of pharmacist may not be available at all times when Target stores are open. Restrictions may apply to programs featured. See full program description for complete details, including restrictions: $4/$10 Generics; Pharmacy Rewards; Auto Refill Program. ($4/$10 Generics; Pharmacy Rewards; Auto Refill Program)