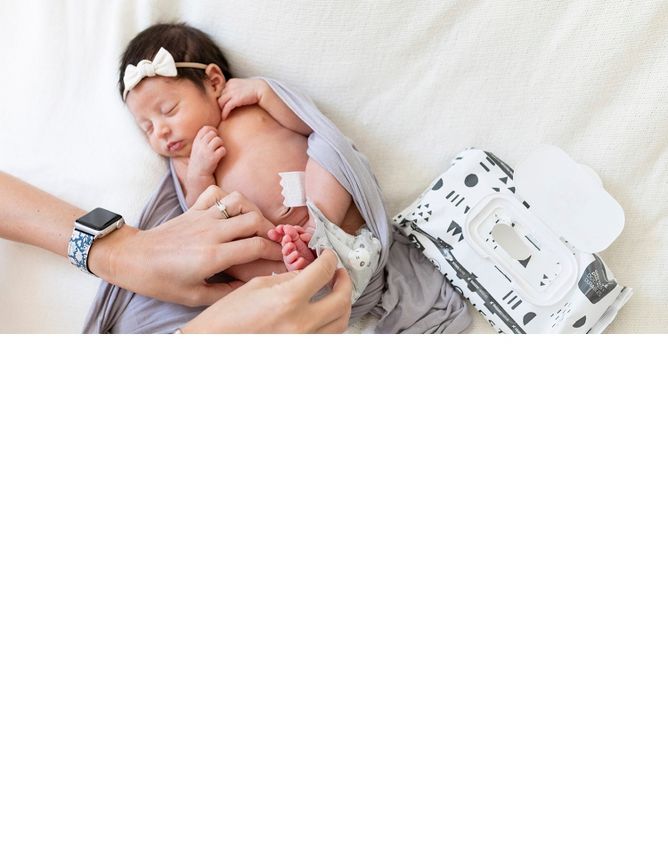 Learning as you go
After Baby's big debut, your life takes on a whole new normal. You've read all the books and gotten all the advice about the coming months, but there's no way to fully prepare. Being a parent is all about learning as you go. If you're feeling overwhelmed, it's important to be forgiving with yourself and to ask for help when you need it. These trusted products are made safe, clean and conscious by parents who know (and don't judge). Here are 6 simple tips and tricks that will level up your new parenting priorities, decisions and routines.

Diaper duty doesn't have to be messy
You're thinking about a million things at once, all the time. We're here to help you get your new routines (like diaper duty!) down to save time and help minimize mess. This one's a life-changer: Simply lay a fresh diaper underneath the dirty one before changing it. Use gentle baby wipes to clean off your baby, discarding them onto the old diaper as you go. When it's time for liftoff, the fresh diaper is already waiting for a clean little newborn bum, saving you precious "don't pee, don't pee, don't pee!" seconds as the switch has already been made.

When changing boys specifically, surprise pee fountains are definitely a thing. Some parents think a fresh air sensation on the underbelly makes them go. Get ahead of it by swiping a wet wipe under his belly button right before removing the dirty diaper! Additionally, place a small washcloth (or dry wipe) over the area as you remove the diaper to catch any streams.

What to Know to Parent a Newborn
Parenting a newborn? Baby's first month after birth is full of milestones for both Baby and new parents, so we're giving you the tips you need to confidently parent your newborn baby. When it comes to feeding, whether you choose to breastfeed or not, your infant will eat (and sleep!) a lot in the first month. So, mom (or dad)… you better catch up on your ZZZs now. And you probably already know that when a newborn baby is sleeping… don't wake them! Your child needs this time to grow. One last tip: Don't fret over Baby's umbilical cord. It will fall off when the time is right. Just make sure it has room to breathe beneath Baby's clothing.
What happens after Baby's first month? What can a new mom (or dad, or any new parents) expect during month two, month three, month four and so on? Your infant will grow into a child quickly, reaching important milestones nearly every month. Worried about Baby's sleep? Don't! Your infant will sleep a lot in the months following their birth. If your infant has a hard time sleeping or feeding, they'll let you know by crying. New parents get pretty good at figuring out why their child is crying. After all, you want the best for them… and that means lots of sleep!