Sponsored
Infantino Cuddle Up Ergonomic Hoodie Carrier - Fox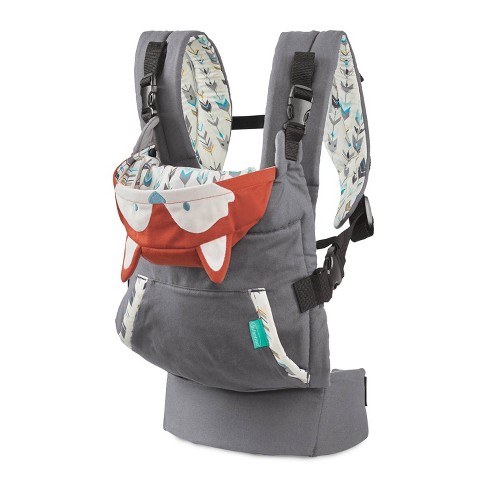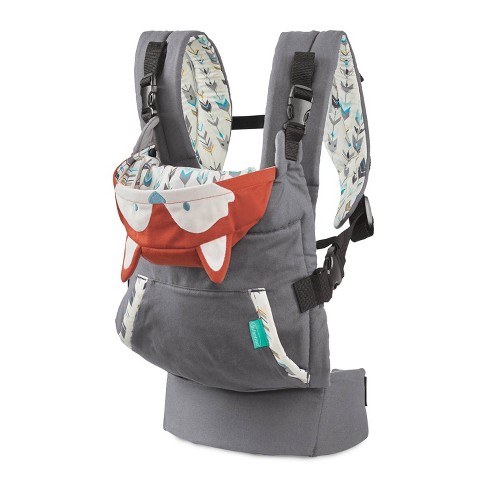 $47.51 when purchased online
About this item
Highlights
Two ergonomic ways to carry: Front and Backpack

Features include plush, adjustable shoulder straps, and a wide waist belt that transfers weight to wearer's hips for a more comfortable fit

Removable canopy hood with adorable character styling

Comfortable, ergonomic seat for baby

Carries children from 12 to 40 lbs / 5.4 to 18.1 kgs
Description
This ergonomic carrier features a unique arched canopy hood that keeps baby in full sight and happily covered. The wide, ergonomic seat supports baby's hips in the "M" position. Baby is supported from knee-to-knee with a naturally rounded back for a safe and comfy ride. Mom and Dad will love this carrier too with the plush, adjustable shoulder straps and wide waist belt that transfers weight to the wearer's hips for a more comfortable fit. The Cuddle Up carrier is as adorable as it is functional, with a fun removable character hood and a hoodie-inspired pocket for parent's hands.
Dimensions (Overall): 18 Inches (H) x 14 Inches (W) x 1 Inches (D)
Suggested Age: 2 Months and Up
Product Configuration: Facing-In Front Carrier, Back Carrier
Industry or Government Certifications: Meets ASTM Standards
Minimum Weight Capacity: 12 Pounds
Material: Polyester, Cotton
Care & Cleaning: Spot or Wipe Clean, Machine Dry, Air Dry
Warranty: No Applicable Warranty. To obtain a copy of the manufacturer's or supplier's warranty for this item prior to purchasing the item, please call Target Guest Services at 1-800-591-3869
TCIN: 80236276
UPC: 773554002089
Item Number (DPCI): 030-04-7027
Origin: Imported
If the item details above aren't accurate or complete, we want to know about it.
Shipping details
Estimated ship dimensions: 4 inches length x 10 inches width x 10 inches height
Estimated ship weight: 1.7 pounds
Return details
This item can be returned to any Target store or Target.com.
This item must be returned within 90 days of the date it was purchased in store, shipped, delivered by a Shipt shopper, or made ready for pickup.
4.5 out of 5 stars with 125 reviews
Very good for my child
MamaBear26
-
5 months ago
originally posted on infantino.com

I just bought this yesterday and my daughter she's a two month old baby and she absolutely loves it. I haven't tried the hood out yet, but it looks good enough for her.
Can't wear for long periods
originally posted on infantino.com

I've been using this carrier mostly for housework, was disappointed I couldn't use it until my son was 3 months old, but it's not big deal. Yesterday we went to the zoo. I used this carrier for the day and throughout the day I noticed some huge flaws. My Son started crying, he doesn't like being in the carrier for too long. Well I noticed when I took him out huge red marks on his legs with imprints of the carrier on them. My son is chunky, and short weighs about 16 pounds and is 4 months old. After I noticed this I realized why he hates this carrier so much and didn't use it the rest of the day. Another flaw is the height for smaller babies. My son chews on it and it gets soaked and I have to wash it constantly. The pocket is no longer functional and he's only 4 months. I will continue to use my moby wrap in place of this carrier. It is incredibly cute but not at the expense of pinched babies.
Awesome, easy to use carrier
MamaBear2018
-
4 years ago
originally posted on infantino.com

I received this item from Infantino to facilitate my review several months ago and am just getting around to leave my review. I have used it several times and one of my biggest compliments is how easy it is for me to "install" it all on my own. With some of the other carriers I have attempted to use I had issues trying to get everything latched and adjusted by myself. I always seemed to need assistance getting my child in the carrier, but this carrier makes it so easy. I love the adorable fox hood, but unfortunately with my babies growing head, it no longer fits over his head and now doesn't serve a purpose on the carrier, but thankfully it is completely removable! However, it would have been helpful to have a larger hood or maybe even come with maybe a small, medium, and large hood to go with growing heads! Overall, I loved the carrier it is great quality and it was extremely comfortable! It has pockets which are support convenient for small item so you don't have to carry your purse and also give you a comfortable place for your hands while also supporting your baby even more. The padding on the straps are perfect and do not bring any discomfort while wearing my baby unlike other straps!
Great carrier but think it needs little work.
originally posted on infantino.com

I was able to try out this product free to test out. I have tested it out for 3months now. I got this when my sone was 4months he was a little too small for it so after 2 weeks he finally was able to sit comfortable. I have pros and cons. First pros: Its great for on the go. Literally snap of few clips n your golden no messing around with long wraps that take forever to put on all while the baby is crying. Two i think the design fit well for moat babies and the material is soft and not rough. Third its machine washable we all know kids are messy. The hat included was super adorable. My baby loves it as he is able to be close to mommy.Lastly great two positions to use for kids/babys. Now for the cons. I found the buckles to adjust were very stiff to the point of not being able to adjust unless you break fingernails doing it. When my baby became 6months he wanted to be in front but always stretching his neck to see what im doing make the only two positions not comfortable for the baby. I noticed the straps for the arms cut into skin like it needs padding there not a belt. I think to have the baby up high enough in the proper place the baby becomes uncomfortable. I did not use the fox hat part as it was bent and big making it go in his eyes. I use this everyday but im noticing as he is 15lbs now i am having severe back pain and this makes it pull on my lower even more to the point i can not carry him. I dont feel comfortable having them on the back like a backpack because i can not see them. I really really wish this would face outward in the front position. I seen picture of a family that put their kid forward facing do not do that you could hurt the child as it is not designed that way.
amazing
originally posted on infantino.com

first of all i love all the features this carrier has *pockets to put your hands *Hat to cover the babies head * the color and design of it *is so comfortable for my baie to sleep on *Easy to put on Overall i love everything of it, i would recommend this to all the new mommies out there, reasonable price and looks so beautiful when you use it on
Great carrier
originally posted on infantino.com

I have received this item from Infantino to facilitate my review. I received this carrier just after my daughter was born three months ago. She just started to fit comfortably in about a month ago, around 13 lbs. Comfortably meaning fitting the panel knee to knee. I did put her in, without complaint from her, before this to do quick chores around the house. I love using these carriers from Infantino when my babies are small as they fit smaller babies faster and without extra inserts. This carrier is easy to use, adorable, and snuggly. It has a nice hoodie like pocket to keep your hands warm on fall walks. The hood has a stiff rim to keep it up and out of your baby's face. I have been comfortable wearing this while doing chores around our hobby farm and in the house for hours. My little one seems comfortable and doesn't fuss when worn in it.
Adorable carrier at a reasonable price!
originally posted on infantino.com

Overall, I really enjoy the product. The main selling point for me is how darn cute it is! There aren't other carriers with such a cute design. From the hood to the inside pattern and color scheme, I love the look of this. It's also well made and reasonably comfortable. My main carrier is a Lillebaby Complete All Seasons which is really hard to compete with. I feel like this carrier feels a little snug by comparison. It's not quite as adjustable as some others but it definitely gets the job done. One nice thing about this over my Lillebaby is that it's lighter, thinner, and less bulky. I have a 1 year old so I haven't had the chance to use this with a younger baby but I think it would be awesome for newborns and smaller babes. I'm not sure this has the same ergonomic support for longer wear times as my Lillebaby but for shorter trips, it's easy to fold up and carry along. This carrier is also great because it's very affordable by comparison to other big name brands. For the price, it's a great option. As others have said, it's a little limited on positions which isn't great for toddlers as they usually want to face out and see everything. For little babies that want to snuggle up to your body, this would work out perfectly well. I have received this item from Infantino to facilitate my review.
Awesome carrier
originally posted on infantino.com

Easy to use and convenient ! My son and daughter love being in it! I just wish you could have the front facing option. I have received this item from Infantino to facilitate my review.
Great product!
originally posted on infantino.com

I really enjoyed this carrier. I loved the support it provided, the cute design and the ease of putting my baby into it and being able to easily adjust it. The material was soft and seemed to be pretty breathable. I am excited to be able to try the wear on back option. I have received this item from Infantino to facilitate my review.
Love this carrier!
originally posted on infantino.com

This carrier is not only so cute, but my baby is super comfy and content in it! His nursery is woodland themed so it's only fitting that we had to have this fox carrier! I love that I can take him on evening walks and cover his little head up if its chilly outside. I would definitely recommend this carrier! dis I have received this item from Infantino to facilitate my review.
Fox cuddle up (Infantino) hooded carrier
originally posted on infantino.com

Infantino fox cuddle up carrier is great. We love it! Carrier comes with easy to read & follow instructions. The carrier itself was easy to adjust to liking for comfort for both parents & baby. Especially love the hood, cute but also very functional to keep baby's head free from wind, cold etc.. Easy opening for baby's arms and legs, enough room for baby's growth. Straps for over the shoulder are comfortably padded for comfort & support & easy to adjust. Love the extra back support strap for lower back. The straps and support make it very easy to carry baby without any stains or discomfort. The material itself is great, breathable, very sturdy and secure. Made to last. The infantino fox cuddle up carrier is an all around awesome baby carrier. I would absolutely recommend this carrier.
A perfect fit for our family
originally posted on infantino.com

We love this carrier! I will be the first to admit... I have a carrier addiction. But this is the first carrier I've been able to easily use for multiple kids. Also... I'm short- so most buckles I need help doing (which is not ideal for a stay at home mom). Guess what?! I can buckle this and our it on all by myself! *We received this product from infantino for review*
A lifesaver for on the go moms!
originally posted on infantino.com

This carrier is a lifesaver! My son is 3 and a half months old and it was so tiresome to get the car seat out and transition to a shopping cart. Using the Cuddle Up Fox Carrier allowed me to easily keep him close and get things done. I would certainly recommend this carrier for anyone! I have received this item from Infantino to facilitate my review.
Comfortable for mom and baby!
originally posted on infantino.com

I absolutely love my Cuddle Up™ Fox Ergonomic Hoodie Carrier! This is the most comfortable and not to mention, cutest baby carrier I have ever used. I have five children and wished that I had this carrier with all of them. The straps are all easily adjustable and it was very easy to place baby on the front of me. The cute, detachable fox hood kept the sun out of my sons eyes and kept him warm from the wind. Although I am overweight this carrier fit perfectly on my body. I am so happy to have found something that actually put my 1 year old to sleep, he was so comfortable. I will and have already recommended the Cuddle Up™ Fox Ergonomic Hoodie Carrier to my pregnant friends and mothers of little ones. I have received this item from Infantino to facilitate my review.
Great Product
originally posted on infantino.com

I have received this item from Infantino to facilitate my review This carrier is way better than my older one. I like that it has the strap that goes around my back. My back is usually killing me, but this carrier gives me the ability to wear it for a long time. The pocket and hood on the carrier are great features as well. The only down side I notice is the large part where babys rump sits. It seems a little too wide and makes her have to have her legs in an uncomfortable way. I have to adjust her every so often in order to ease her comfort. Overall I like this product and will enjoy using it for a while.
I definitely recommend this item.!
originally posted on infantino.com

I love it. It's the most comfortable and secure carrier I've used so far. I have 3 small ones and I've been thru plenty of carriers. This one has an awesome back support strap! My 10 month old usually falls asleep in it :) I clean with him in it and our park warks are sooo relaxing! I have received this item from Infantino to facilitate my review.
Comfortable and cute
originally posted on infantino.com

I really liked this carrier because it was easier on my body because of the weight disbursement. The pouch was nice to put my hands in to get a list or something that I couldn't get out of my pockets. The hood was cute and helpful keeping the sun out of his eyes. I think ot would make a great gift.
Very cute!
originally posted on infantino.com

Love the look and features of this baby carrier. The detachable hooded fox design is super adorable. However since my baby is older I wore her on my back with the carrier which is not as comfortable as in the front. After wearing for a little bit my back was starting to ache. It could also be because I'm pretty tall 5' 11 which might effect the design of the carrier. I love all the features of this carrier including the adjustable chest and back straps and would be perfect for a smaller child (mine is 12 months and 22 lbs).I have received this item from Infantino to facilitate my review.
Great Price and a Great product.
originally posted on infantino.com

I have received this item from Infantino to facilitate my review. I Have tried this item for just over a month now and I do indeed love it. My husband works all day so it's hard going grocery shopping alone. With this product I can easily place my six month inside without help and strap him in very easily. I do love this product and for the price point it is at, it is simply incredible. Plus the fox hoodie is to darn cute.
Super cute but ...
originally posted on infantino.com

This carrier is super duper soft, cute and cuddly! I absolutely loved the boho feather pattern and colors that complimented it so well, and the Fox hood is so adorable. Unfortunately living in the desert, it's way too hot for a carrier that is not made out of a breathable material. My baby was sweating soo much! My son is 11 months old and weighs about 26lbs. He's a pretty chunky baby. We found that the carrier was digging in a bit on his chunky thighs. So I wouldn't recommend this carrier if you have a chunky baby! Also the hood is only big enough for smaller younger babies. It did not fit on my sons head nor did it even reach to put it on his head, so it's a good thing it's removable. It was a great quality carrier but unfortunately just didn't fit my needs, but I would still buy as a gift or recommend to friends and family. I have received this item from Infantino to facilitate my review."