Sponsored
Intimina Ziggy Reusable Menstrual Cup with Flat-fit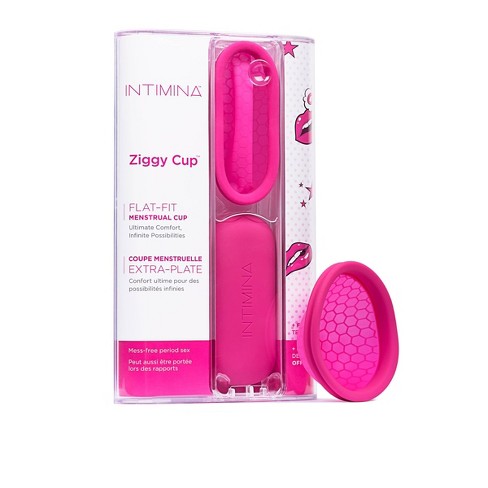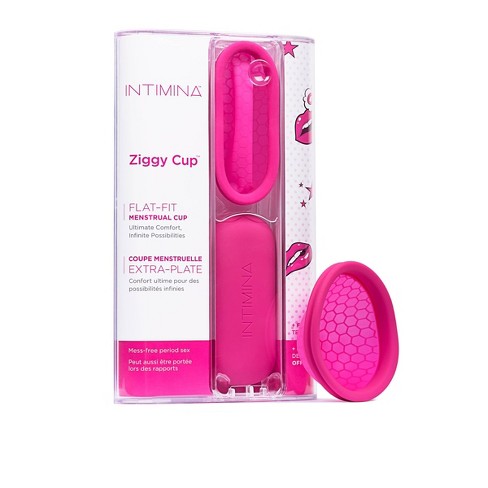 $39.95 when purchased online
About this item
Highlights
ULTIMATE COMFORT, INFINITE POSSIBILITIES - Ziggy's revolutionary flat-fit design can't be felt at all – no matter what you're doing! Offering up to 12 hours of non-stop protection, it's the only reusable cup that can be worn during sex

ULTRA THIN DESIGN –It's a high-capacity cup with a flexible, petal-thin body and leak-proof double rim for total peace of mind. Its flat design squishes thin for easy insertion, and sits right below the cervix for protection you won't feel at all

ANY TIME PROTECTION – Ziggy is a reusable menstrual cup that you can use for up to 2 years – just wash it after use and carry it its convenient case for protection whenever you need it most

IT'S TIME TO SWITCH - Made from FDA approved medical-grade silicone, Ziggy is BPA-free and phthalate-free, hypoallergenic and contains no harmful chemicals or bleaches. It collects flow rather than absorbing it, so there's no dryness or irritation. Healthy for your body - no odors.

WALLET & EARTH FRIENDLY – Be kind to environment and your wallet at the same time. Stop throwing money away with your tampons and pads each month. One cup can last for years – reducing waste and saving you money
Description
Ziggy is a revolutionary menstrual cup with a flat-fit design that can't be felt at all - no matter what you're doing! It's the only reusable cup that can be worn during sex, making it the first cup to truly offer you infinite possibilities for up to 12 hours of non-stop protection. With a petal-thin body and leak-proof double rim made of FDA-approved and BPA-free silicone, Ziggy gives you everything you've ever wanted from period protection: comfort, confidence and complete freedom.

How to Use Guide:
Squeeze: Use your thumb and forefinger to squeeze the sides of the rim together to form a figure eight.
Insert: Insert the back rim of the cup first and use your index finger to push the cup. Angle the cup back and slightly down so the rim moves behind your cervix.
Placement: Tuck the front rim up behind your pelvic bone to correctly position the cup around your cervix to collect your flow.
Removal: Insert your finger and hook it behind the front rim of the cup. Gently pull the cup out while keeping it horizontal to avoid spillage.
Trial/Mini/Travel Size: Yes
Product Warning: Does not protect against STDs, do not use if you have had Toxic Shock Syndrome, Not a Contraceptive, not a contraceptive, does not contain spermicide
Includes: Travel Bag, Feminine Hygiene Cups
Care & Cleaning: Care Instructions Not Provided
TCIN: 80185823
UPC: 7350075026140
Item Number (DPCI): 245-04-0070
Origin: Imported
If the item details above aren't accurate or complete, we want to know about it.
Shipping details
Estimated ship dimensions: 8.5 inches length x 5.4 inches width x 1.6 inches height
Estimated ship weight: 0.3748 pounds
Return details
This item can be returned to any Target store or Target.com.
This item must be returned within 90 days of the date it was purchased in store, shipped, delivered by a Shipt shopper, or made ready for pickup.
Frequently bought together
4.3 out of 5 stars with 218 reviews
40% would recommend
5 recommendations
quality: 5 out of 5
odor control: 5 out of 5
absorbency: 3.33 out of 5
comfort: 5 out of 5
value: 4.67 out of 5
Amazing
originally posted on intimina.com

It's just great, what an amazing design. Nothing else to say
Leaks
originally posted on intimina.com

I followed instructions, but either I'm not inserting it correctly or it just doesn't work for me. Also, it's much messier to take it out compared to regular cups. I'll try taming it though, might master it in time.
Gift for dual physician marriage!
originally posted on intimina.com

My husband and I have had to very carefully schedule intimate times for the last 8yrs due to medical school and residency training. I started using menstraul cups 2 years ago during residency, awesome. That initiated my search for hope regarding mutually clean and comfortable intimacy when we're both available during my cycle. Wow, I found Ziggy cup. I want to thank the designers; this is such a gift for our bonding time. I have heard other resident physicians say the same. Only down side is it is comfortable enough that I forgot it was in once until the next day.. which could also be a complement. I truly thank God for your product, and thank you ZC team!
Unfortunately…
originally posted on intimina.com

This didn't work great for me. I had high hopes as I have been using other very similar discs for over a decade. This one is very challenging to get in and out and it leaks so I have to wear a panty liner with it, always. The sizing was vague so I ordered the larger size and it's not very comfortable. Regretting purchasing this with the price point and not being able to continue with it.
A year of leaks and pains
Thumbs down graphic, would not recommend
---------------------
1 reply from INTIMINA Customer Care team - 2 years ago
Hello there, thank you for your honest feedback. I'm very sorry to hear about this! Our cups are made from an ultra soft silicone and they shouldn't cause any kind of discomfort nor should they be leaking. Please reach out to us through our INTIMINA Customer Support and share your experience with us, we will be more than happy to help. Best regards, Keca@INTIMINA
Love this!
originally posted on intimina.com

The most comfortable and easy period product I've found. I recommend these to all my friends.
Must buy!
originally posted on intimina.com

Mom of 1. Natural vagina birth. I tried before I gave birth and never felt like I was getting it In correctly (to be fair i never gave it a real try as i was too scared thinking i did it wrong). Now after birth, it is AMAZING! I love it! Wish I knew about this sooner. My God, I never knew you could practically forget you were on your period! I feel silly to say I was so intimidated by it but it really does not take long to get a hold of putting in correctly and once you do, you'll never look back and you'll actually wonder why no one told you this was an option sooner.
Great quality disc but fit not for me
originally posted on intimina.com

I've been using menstrual cups for over a decade. It was time to replace my cup and I wanted to try the disc. The disc is made with quality silicone, is light weight, and comes with a easy to use storage case. Outward packaging is a pain to access the disc as there was lots of plastic. When in place I didn't feel the disc at all, which is great. With previous cups, sometimes I felt the little ribbed point and would need to readjust. However, the fit didn't work well to catch the flow. I tried different positions in an attempt to fit the disc over my cervix but it never seemed to work. (It's very hard to feel if the disc has fit over the cervix after inserting.) When In position the disc would essentially block the flow but wouldn't capture anything. I rarely had leaks (wore a backup pad just in case) but after removing, the disc would be empty and the pooled flow would just leak out from my vagina. It was very messy in ways I hadn't experienced with my previous cups. Im Thankful I've been at home during this cycle because I don't think I could have easily removed and reinserted the disc in a sanitary way without getting blood everywhere. I'm going to try to the ziggy 2 instead as it may be a better fit. I think the disc likely works well for many women but ultimately depends on the distance from your cervix and your pelvic bone. Problem is, you won't know until you try it out. Even though it didn't work well for me, I'd encourage other women to try it out.
No Leaks! After 2 natural births.
originally posted on intimina.com

After having two natural vaginal births I never thought I'd be able to use my menstrual cup ever again. Every time I used a menstrual cup it would move, shift, irritate and leak! I tried larger sizes and different brands and still didn't work until I found the Ziggy Cup and after my heaviest menstrual day NO Leaks and the most comfortable cup I have ever used 10/10! Thankyou
Alright...
originally posted on intimina.com

I have only used this product once for a cycle and I did not find it very comfortable. I also did not like how much plastic packaging it came in.
Best menstrual cup I've ever used!
originally posted on intimina.com

As advertised you can actually have mess free sex with this cup!! It holds a LOT of blood too and there is NO leakage when inserted correctly. I will say it takes a few tries to figure out how to get it in the right spot and can be a bit tricky to take out. But once you figure it out it's the best thing ever!! Gives you the freedom you want while on your period!
Fantastic
originally posted on intimina.com

I've been using this for a year now, i was dubious at first. I had tried a cup in the past but gave up due to comfort. Once I got used to this and inserting it correctly I feel free! It's super comfortable and I even forget I'm on my period! I've never been so enthusiastic recommending a menstrual product to friends!
Best cup I've tried
originally posted on intimina.com

I was struggling to find a cup that was comfortable and didn't leak and so far this is by far the most comfortable. There is no suction feeling that make cramps worse. I don't leak like I did with the soft disks or the other cups either
Impressive
Pinklittleminx
-
2 years ago
originally posted on intimina.com

I have used cups for years can be a bit tricky, I need to use a little bit of lube, I am in my 40's and early onset menopause, easier to remove and no leaks. Certainly not as rigid as conventional menstral cups. I wish this product had been around years ago. I am very impressed.
Brilliant!!
originally posted on intimina.com

I bought this a good few months ago. It took a few months to get to grips with, but now I wouldn't be without it. I realised that I had to change it in the shower, as it can be messy, should change evening and morning unless I needed to do it more. Have been able to successfully have sex without leakage, even at the beginning of my period when I'm really heavy. Thoroughly recommend this!!
Love it!
originally posted on intimina.com

To be be honest it doesn't feel like it should work to hold blood but it does and neither my boyfriend or I feel it during sex. I have long periods and this has changed our sexlife.
Comfortable all day and during sex
originally posted on intimina.com

I'm writing this review after having it for six months, and I love the Ziggy cup. It's super comfortable. There are a few minor considerations/ downsides: - Stomach sleepers: If you like to sleep on your stomach like I do, the cup sometimes leaks. Not sure if this is my anatomy, or the product design, or both. No leaks when sleeping on my back or side, though. - Bathroom layout: I cannot imagine using this if my toilet was not right next to my sink. It's quite messy, and I usually need to rinse my hand and the cup without getting up from the toilet. Rinsing it in the shower also works well. It's tougher to use / rinse in a multi-stall public bathroom type layout. - Sex is totally fine with it in, as long as you empty it beforehand. I've had sex 3 times with it with no leaks. Twice my partner couldn't really feel it. Once he could feel it but it was at the beginning of my period when my cervix was low. Overall I love it and don't plan to go back to tampons!
great as a second option
originally posted on intimina.com

I bought a Ziggy cup a mount ago, so I used it just once. Previously I had lily cup one and It was my best purchase ever, I loved it so much and recommended my entirely female part of family! but unfortunately I lost it somewhere, so I had to buy a new one and I chose Ziggy cup this time. Actually it is a disc not a cup, so I had some troubles with inserting it and had some leakage, but I got used to it just within two days. I gave the Ziggy cup 3 stars because it is mech less comfortable to remove it than the regular cup and sometimes I have to spend so much time on removal. Plus it is quite messy so you can't use it in public bathrooms, only at home near the sink or in the shower. So It just not as practical as I hoped it would be. I recommend this cup only if you already have a regular one like lily cup one, so Ziggy cup would be a great addition to use at home or anywhere else where you have access to the shower or sink. As for period sex with Ziggy cup, I can't really say anything as I am kind of scared to have sex with the cup inserted in my vagina.
Love it
originally posted on intimina.com

Love it! Can barely feel it and is super easy to take out comparing to other cups
Very comfortable but didn't stay in place
originally posted on intimina.com

This cup was very easy to insert and extremely comfortable. But it did not remain in place well enough for me so I had a lot of leakage. I did a review of the Lily cup B and that one worked out much better for my body, all be it not quite as comfortable. Still, it's no less comfortable than my tampons so it's not really an inconvenience. I've had a child through vaginal birth so perhaps thats why this cup wasn't the right fit. It certainly caught my flow during the times it did stay in place. :)