Sponsored
Once in a Great City - by David Maraniss (Paperback)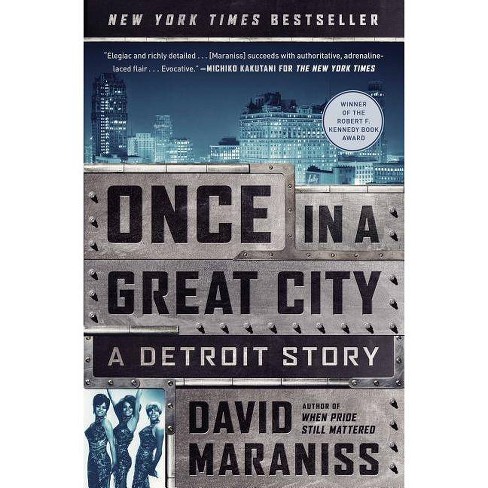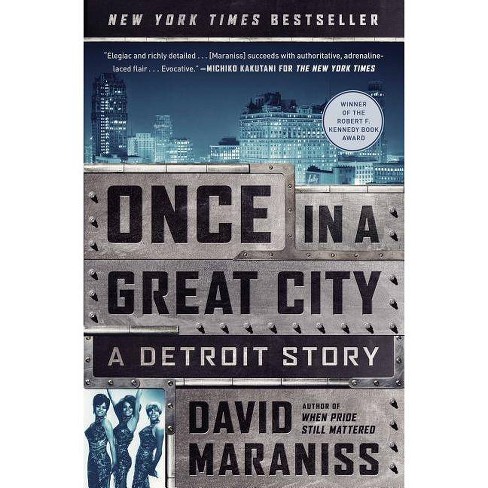 $12.69 when purchased online
About this item
Description
About the Book
"As David Maraniss captures it with power and affection, Detroit summed up America's path to music and prosperity that was already past history. It's 1963 and Detroit is on top of the world. The city's leaders are among the most visionary in America. It was the American auto makers' best year; the revolution in music and politics was underway. Reuther's UAW had helped lift the middle class. The time was full of promise. Once in a Great City shows that the shadows of collapse were evident even then. Detroit at its peak was threatened by its own design. It was being abandoned by the new world. Yet so much of what Detroit gave America lasts."--
Book Synopsis
"A fascinating political, racial, economic, and cultural tapestry" (Detroit Free Press), Once in a Great City is a tour de force from David Maraniss about the quintessential American city at the top of its game: Detroit in 1963.
Detroit in 1963 is on top of the world. The city's leaders are among the most visionary in America: Grandson of the first Ford; Henry Ford II; Motown's founder Berry Gordy; the Reverend C.L. Franklin and his daughter, the incredible Aretha; Governor George Romney, Mormon and Civil Rights advocate; car salesman Lee Iacocca; Police Commissioner George Edwards; Martin Luther King. The time was full of promise. The auto industry was selling more cars than ever before. Yet the shadows of collapse were evident even then. "Elegiac and richly detailed" (
The New York Times
), in
Once in a Great City
David Maraniss shows that before the devastating riot, before the decades of civic corruption and neglect, and white flight; before people trotted out the grab bag of rust belt infirmities and competition from abroad to explain Detroit's collapse, one could see the signs of a city's ruin. Detroit at its peak was threatened by its own design. It was being abandoned by the new world economy and by the transfer of American prosperity to the information and service industries. In 1963, as Maraniss captures it with power and affection, Detroit summed up America's path to prosperity and jazz that was already past history. "Maraniss has written a book about the fall of Detroit, and done it, ingeniously, by writing about Detroit at its height....An encyclopedic account of Detroit in the early sixties, a kind of hymn to what really was a great city" (
The New Yorker
).
Review Quotes
* A Best Book of 2015 (The Economist) ** Winner - Robert F. Kennedy Book Award *
"
Once in a Great City
is incandescent. Through evocative writing and prodigious research, David Maraniss offers us an unforgettable portrait of 1963 Detroit, muscular and musical, during the early days of Motown and the Mustang. Bursting with larger than life figures from Henry Ford II, Walter Reuther, and Mayor Jerome Cavanagh, to Berry Gordy, Martin Luther King, and Reverend C.L. Franklin, Aretha's father, this book is at once the chronicle of a city during its last fine time and also a classic American story of promise and loss."--Gay Talese
"[A] glimmering portrait of Detroit . . . that will leave the reader thoroughly haunted. . . .
Once in a Great City
has it all: significant scenes, tremendously charismatic figures, even a starry soundtrack. . . . Reading about the city in its hey day is like falling backward in time and running into someone whose youthful blush you'd completely forgotten. Detroit is that someone. She is bright and laughing, flickering before you like a specter from the past. I doubt I'll forget her anytime soon."-- "Bookpage"
"A compelling portrait of one of America's most iconic cities. . . . Maraniss highlights the class and race frictions that demarcated and defined the city and gives readers a glimpse of the colorful life of mobsters and moguls, entertainers and entrepreneurs. Among the famous Detroiters he highlights are Henry Ford II, Lee Iacocca, Berry Gordy Jr., George Romney, and the Reverend C. L. Franklin. Maraniss captures Detroit just as it is both thriving and dying, at the peak of its vibrancy and on the verge of its downfall."-- "Booklist (starred review)"
"A sobering portrait of a city that felt itself to be at the peak of its power and influence in a "time of uncommon possibility and freedom when Detroit created wondrous and lasting things," even as the forces that would topple it had set about their work. The principal strength of Maraniss's book lies in his skill at marshaling copious research to serve his sophisticated account of a complex, vibrant city balanced on its tipping point. . . . Sadly, one can't avoid the conclusion that never again will it be the city David Maraniss portrays with empathy and candor in this impressive book."-- "Shelf Awareness"
"A sprawling portrait of Detroit at a pivotal moment."-- "Publishers Weekly"
"Captivating . . . Maraniss hears the joyous sound of a city suddenly, improbably filled with hope. . . . Maraniss asks himself what in the city has lasted, a question that often haunts former Detroiters. The songs, he decides. Not the reforms, not the dream of racial justice, not the promise of a Great Society, but the wonderfully exuberant songs that came pouring out of Berry Gordy's studio. That's the tragedy at the core of this gracious, generous book. All that remains of the hopeful moment Maraniss so effectively describes is a soundtrack. And that isn't nearly enough."-- "The Washington Post"
"Combining hindsight and insight with deep-dive research, Maraniss provides a clear-eyed flashback to a once-powerful manufacturing metropolis intoxicated by cheap gasoline, swaggering hubris and blue-sky confidence. . . . Maraniss examines modern history in the dogged manner of David Halberstam and Robert Caro. Between the lines, he leaves an unwritten thought for both today's optimists and pessimists. If things could go change so much in just 50 years, what might the next half-century bring?"-- "The Detroit News"
"David Maraniss is a journalist's journalist. . . . the book explores the optimism that existed in those days and the signs of major problems to come. It's a fascinating political, racial, economic and cultural tapestry."-- "Detroit Free Press"
"David Maraniss turns back the clock to paint the picture of an American metropolis in its prime, however, one where the seeds of the city's future fall were already starting to take root. . . . Maraniss's recounting of the story of his birthplace has the distinct feeling of the first big drop of a roller coaster. A car chugging upward towards heady heights, but en route takes an inevitable plunge back into cold reality. . . . Maraniss is able to give these characters life by injecting them with foibles along with the force of personality that made them prominent figures in the building of the city. . . . The simple breadth of the book is impressive, with Maraniss merging and wrangling disparate storylines about culture, politics, race, and the Ford Mustang into a single patchwork image of the Motor City."-- "Christian Science Monitor"
"Elegiac and richly detailed . . . Maraniss . . . conjures those boom years of his former hometown with novelistic ardor. Using overlapping portraits of Detroiters (from politicians to musicians to auto execs), he creates a mosaiclike picture of the city that has the sort of intimacy and tactile emotion that Larry McMurtry brought to his depictions of the Old West, and the gritty sweep of David Simon's HBO series "The Wire." . . . People's experiences intersect or collide or resonate with one another, and Mr. Maraniss uses them as windows on the larger cultural and political changes convulsing the nation in the '60s . . . [Maraniss] succeeds with authoritative, adrenaline-laced flair. . . . Maraniss cuts among story lines about the auto industry, the civil rights movement and City Hall, and among subplots involving Ford's development of its top-secret new car (the singular Mustang), the police commissioner's efforts to get the goods on the mobster Tony Giacalone and Berry Gordy's construction of a hit factory with Motown. The result is a buoyant Frederick Lewis Allen-like social history that's animated by an infectious soundtrack and lots of tactile details, and injected with a keen understanding of larger historical forces at work - both in Detroit and America at large. . . . Maraniss's evocative book provides a wistful look back at an era when those cracks were only just beginning to show, and the city still seemed a place of "uncommon possibility" and was creating "wondrous and lasting things."--Michiko Kakutani for The New York Times
"Fast-paced, sprawling, copiously detailed look at 18 months--from 1962 to 1964--in the city's past . . . Maraniss' brawny narrative evokes a city still 'vibrantly alive' and striving for a renaissance. An illuminating history of a golden era in a city desperately seeking to reclaim the glory."-- "Kirkus Reviews"
"In celebration of what Detroit represented, this book is equally a study of what was lost and is written with an attractive wistfulness that pulls the reader in. The narrative's tone of reminiscence makes it entertainingly informative. . . A colorful, detailed history of the rise and ultimate decline of Detroit."-- "Library Journal"
"Maraniss . . . aptly traces these two narratives -- cars and race -- in chronicling a pivotal period of his hometown's history. Spanning autumn 1962 to spring 1964, the book bustles with vivid characters, from Berry Gordy and C.L. Franklin (Aretha's father), to Walter Reuther and George Romney (Mitt's father). "It all looked so promising," Maraniss writes, paraphrasing Detroit Mayor Jerome Cavanagh's conversation with President Johnson after his 1964 visit, but even in those halcyon days, "some part of Detroit was dying," a casualty of white flight, the demise of labor unions, and a changing world. This is a beautifully written tribute to that lost, great city."-- "The Boston Globe"
"Maraniss . . . undoubtedly will attract notice and focus even more attention on Detroit. . . . a unique and absorbing take. . . . As often as authors have told the story of Gordy and the rise of Motown, Maraniss still captures the vitality and enterprise on West Grand Boulevard in a fresh way. . . . [Maraniss] is equally adept at capturing the white-run city's complex racial dynamics at a time when black leaders were becoming more militant and clashing with each other over the proper level of assertiveness. Maraniss . . . is a skillful storyteller, and his interpretation of events in Detroit a half century ago is well founded. . . . Maraniss will only add to his reputation with
Once in a Great City
. It's a good read if your interest is only to visit Detroit's remarkable recent past. It's even a better read if you are interested in the city's extraordinary devolution. In either case, it's a story that is haunting, thought-provoking and, in the end, sad."-- "DeadlineDETROIT.com"
"Maraniss has written a book about the fall of Detroit, and done it, ingeniously, by writing about Detroit at its height, Humpty Dumpty's most poignant moment being just before he toppled over. . . . An encyclopedic account of Detroit in the early sixties, a kind of hymn to what really was a great city. . . . The display of municipal energies is so impressive that every page haunts us with the questions What went wrong? How could so much go so wrong so rapidly? How did a city of so many fruitful tensions and monuments and intermediary institutions turn into the ruins we see now, with scarcely a third of its 1950 population remaining and so many of the sites that Maraniss mentions ruined or destroyed?"-- "The New Yorker"
"Maraniss' well-written and researched book well remembers the city of Detroit in the early 1960s as a place where factories hummed, Motown rocked and the present gave little warning that Detroit would become a 'city of decay.'"-- "Seattle Times"
"One of America's finest non-fiction writers, a son of Detroit, offers a lively and meticulously researched account of how the city, once the engine room of America, began sputtering."-- "The Economist"
"The great virtue of Maraniss's bighearted book is that it casts a wide net, collecting and seeking to synthesize these seemingly disparate strands. . . . Even where material is familiar, the connections Maraniss makes among these figures feel fresh. He's even better on the lesser known. . . . Motown is clearly where Maraniss's heart is, and it is where his materials--music, race, civil rights--come together most naturally. . . . You finish
Once in a Great City
feeling mildly shattered, which is exactly as it should be."-- "New York Times Book Review"
About the Author
David Maraniss is an associate editor at
The Washington Post
and a distinguished visiting professor at Vanderbilt University. He has won two Pulitzer Prizes for journalism and was a finalist three other times. Among his bestselling books are biographies of Bill Clinton, Barack Obama, Roberto Clemente, and Vince Lombardi, and a trilogy about the 1960s--
Rome 1960
;
Once in a Great City
(winner of the RFK Book Prize); and
They Marched into Sunlight
(winner of the J. Anthony Lukas Prize and Pulitzer Finalist in History).
Dimensions (Overall): 8.3 Inches (H) x 5.4 Inches (W) x 1.1 Inches (D)
Suggested Age: 22 Years and Up
Publisher: Simon & Schuster
Street Date: September 20, 2016
TCIN: 51691707
UPC: 9781476748399
Item Number (DPCI): 248-28-6999
Origin: Made in the USA or Imported
If the item details above aren't accurate or complete, we want to know about it.
Shipping details
Estimated ship dimensions: 1.1 inches length x 5.4 inches width x 8.3 inches height
Estimated ship weight: 0.9 pounds
We regret that this item cannot be shipped to PO Boxes.
This item cannot be shipped to the following locations: United States Minor Outlying Islands, American Samoa (see also separate entry under AS), Puerto Rico (see also separate entry under PR), Northern Mariana Islands, Virgin Islands, U.S., APO/FPO, Guam (see also separate entry under GU)
Return details
This item can be returned to any Target store or Target.com.
This item must be returned within 90 days of the date it was purchased in store, shipped, delivered by a Shipt shopper, or made ready for pickup.