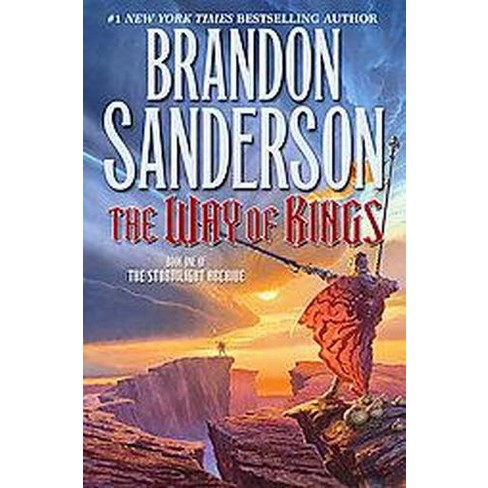 About this item
Widely acclaimed for his work completing Robert Jordan's Wheel of Time saga, Brandon Sanderson now begins a grand cycle of his own, one every bit as ambitious and immersive.
Roshar is a world of stone and storms. Uncanny tempests of incredible power sweep across the rocky terrain so frequently that they have shaped ecology and civilization alike. Animals hide in shells, trees pull in branches, and grass retracts into the soilless ground. Cities are built only where the topography offers shelter.
It has been centuries since the fall of the ten consecrated orders known as the Knights Radiant, but their Shardblades and Shardplate remain: mystical swords and suits of armor that transform ordinary men into near-invincible warriors. Men trade kingdoms for Shardblades. Wars were fought for them, and won by them.
One such war rages on a ruined landscape called the Shattered Plains. There, Kaladin, who traded his medical apprenticeship for a spear to protect his little brother, has been reduced to slavery. In a war that makes no sense, where ten armies fight separately against a single foe, he struggles to save his men and to fathom the leaders who consider them expendable.
Brightlord Dalinar Kholin commands one of those other armies. Like his brother, the late king, he is fascinated by an ancient text calledThe Way of Kings. Troubled by over-powering visions of ancient times and the Knights Radiant, he has begun to doubt his own sanity.
Across the ocean, an untried young woman named Shallan seeks to train under an eminent scholar and notorious heretic, Dalinar's niece, Jasnah. Though she genuinely loves learning, Shallan's motives are less than pure. As she plans a daring theft, her research for Jasnah hints at secrets of the Knights Radiant and the true cause of the war.
The result of over ten years of planning, writing, and world-building, The Way of Kings is but the opening movement of the Stormlight Archive, a bold masterpiece in the making.
Speak again the ancient oaths,
Life before death.Strength before weakness.Journey before Destination.and return to men the Shards they once bore.
The Knights Radiant must stand again.
Having twice reached the New York Times bestseller list, and even as he is brilliantly completing Robert Jordan's The Wheel of Time®, Brandon Sanderson is constantly asked by readers and booksellers alike what his next project will be. Now, Tor is proud to present his answer, The Way of Kings, the first novel in a remarkable sequence every bit as ambitious and unique--and as satisfying and addictive--as The Wheel of Time.

The Way of Kings introduces the three protagonists who will be our windows on the strange and wondrous world of Roshar and the drama about to unfold there:
* Dalinar, the assassinated king's brother and uncle of the new one, is an old soldier who is weary of fighting. He is plagued by dreams of ancient times and legendary wars, visions that may force him into a new role he could never have imagined.
* Kaladin, a highborn young man who has been brought low, indeed to the most miserable level of military slavery, and like Ben Hur must suffer and struggle to survive and rise again.
* Shallan, a naïve but brave and brilliant young woman who will do anything to save her impoverished noble house from ruin.

These are people we will come to know deeply and take to our hearts. But just as important to The Way of Kings is a fourth key "character," the unique world of Roshar itself, a richly imagined setting as real as science fiction's Dune, as unforgettable as epic fantasy's Middle Earth. Through all the volumes of The Stormlight Archive, Brandon Sanderson will make Roshar a realm we are eager to visit.

What Robert Jordan's The Wheel of Time has been to the fantasy genre for the last two decades, The Stormlight Archive will be to the next, and The Way of Kings is where it all begins.
Number of Pages: 1007
Genre: Fiction + Literature Genres
Sub-Genre: War + Military
Series Title: The Stormlight Archive
Format: Hardcover
Publisher: St Martins Pr
Author: Brandon Sanderson
Language: English
Street Date: August 31, 2010
TCIN: 12201314
UPC: 9780765326355
Item Number (DPCI): 059-01-4242
$29.74
MSRP
Reg: $34.99 Save $5.25 (15% off)
Shipping
In stock
- free standard shipping with REDcard