Haakaa Nipple Shield Round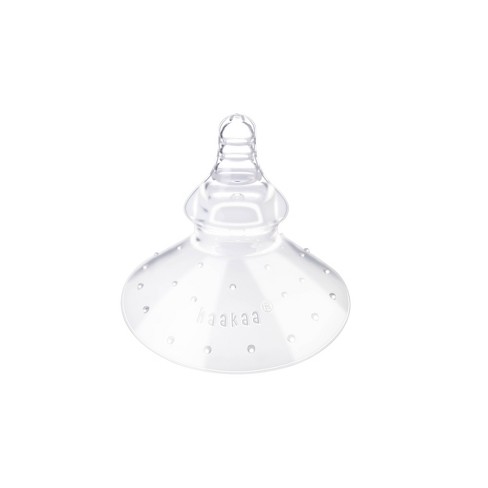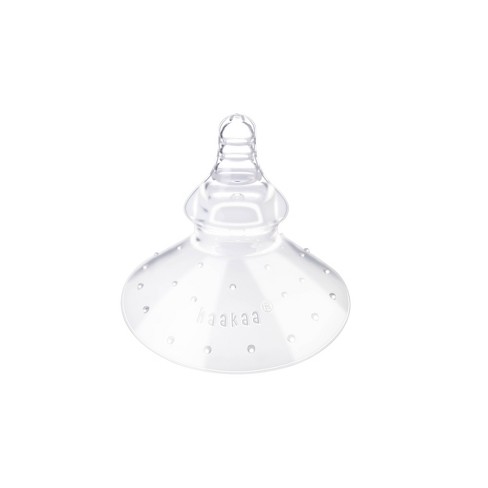 $10.99
When purchased online
About this item
At a glance
HSA/FSA Eligible
Highlights
Patented one-piece design - no joints, cracks, edges

Design allows babies to mimic natural sucking rhythm

Anti-colic and variable flow nipple

Prevents baby from biting mom's nipple

BPA, PVC and Phthalate-free

Includes one nipple shield and protective case
Specifications
Dimensions (Overall): 2.6 Inches (H) x 3.1 Inches (W)
Care & Cleaning: Hand Wash
TCIN: 79274819
UPC: 9420060201741
Item Number (DPCI): 030-05-9455
Origin: Imported
Description
The Haakaa nipple shield allows all moms to experience the beauty of breastfeeding without the worry of discomfort and pain! It is made of 100% soft silicone with an extended nipple that puts space between mom's nipple and the baby's mouth. If the little one bites down, pulls away, or if you have inverted or cracked nipples, you will still be able to breastfeed with ease and comfort. The Haakaa nipple shield suctions onto all sizes of breasts giving a hands-free breastfeeding experience. The unique round-shaped base design suctions on to all breast shapes, making it easier for new moms to use and enjoy a hands-free breastfeeding experience. The anti-slip ridged outer edge makes the nipple shield easier to hold while the baby is feeding. The anti-colic and variable flow nipple allows baby to drink continuously without gasping for air or drinking bubbles and prevents them from choking if milk flows too fast. Available in a round or butterfly shape.
HSA/FSA Eligible
Restrictions apply; contact your insurance provider about plan allowances and requirements. We do not currently accept FSA or HSA cards. Please use a credit card, debit card or gift card to pay for your eligible items and then submit the receipt to your plan based on the current policies for reimbursement.
If the item details above aren't accurate or complete, we want to know about it.
Shipping details
Estimated ship dimensions: 4.3 inches length x 3.5 inches width x 2.5 inches height
Estimated ship weight: 0.16 pounds
Return details
This item can be returned to any Target store or Target.com.
This item must be returned within 90 days of the date it was purchased in store, shipped, delivered by a Shipt shopper, or made ready for pickup.
4.5 out of 5 stars with 49 reviews
96% would recommend
25 recommendations
design: 4.7 out of 5
easy to clean: 4.96 out of 5
safety: 4.8 out of 5
Back to the breast at 6 MONTHS!
This product was an answer to prayer! My daughter was born with both a tongue and lip tie. After she initially refused the best at 4 days old, I tried for feeding for several weeks but eventually caved and introduced the bottle because she needed more. In addition, my milk stop my has been low and it has been a struggle to build it up. My electric pump wasn't very effective so I was literally manual pumping around the clock, whenever I could. As a busy mom of four, finding the time to sit and pump several times a day was difficult, so I often missed sessions and perpetuated the low milk supply issue. I also struggled with plugged ducts and milk stasis from not enjoying my breasts fully. I battled with all these issues for 6 months! I was utterly heartbroken that I wouldn't have a chance to breastfeed my last baby. I was physically ill as a result of milk stasis and feared that I wouldn't be able to continue pumping exclusively and then I tried this shield. My daughter took to it right away and within just two nursing sessions, those plugged ducts were released and I felt such a major improvement! Even after corrective surgery, my baby refused the breast due to a hypersensitive gag reflex. With the help of this shield she is nursing at the breast and my plugged ducts have resolved. My milk supply has even increased because I don't have to seek out time to pump, I can just put the baby to the breast whenever she needs to feed. I'm no longer a slave to the breast pump! I've found that my daughter even sleeps better- maybe due to the fact that she is more satisfied. I just couldn't be more pleased. At 6 months old my daughter is back to the breast and it means everything to me to be able to breastfeed my last baby. Thank you Hakaa!!! This truly was an answer to my prayers.
Great for weaning from bottle
efonver
-
23 days ago
,

Verified purchaser
For my newborns first two weeks, he hated being near my breasts, and would arch back and cry every time I tried feeding him. I had to start pumping and feeding him with bottle, which was working but very stressful. I looked for a shield that resembled a bottle cap, and was super excited when I found this one! He latched onto it right away and started drinking from it exclusively. Only reason I'm giving a 4 star, I had a weight checkin and he wasn't gaining enough weight from this shield. Even though it helped wean him from the bottle, he would fall asleep and get tired easily while using it. In the end, I'm now using the Medela shield which he seems to stay awake on more. But I am so thankful for this nipple shield because even though I used it for a short time (about 5 days) it calmed him down and got him used to drinking from breast.
LIFESAVER!!!!!!
Cristina P
-
1 month ago
,

Verified purchaser
So of course I will start by saying I am not a review person. Give a few stars here and there but to actually take the time to write a review especially being a FTM with a newborn should speak for itself. If you cannot get your baby to latch or have slightly flat nipples as I did myself (prior to pumping to help pull them out) this shield will save you from giving up on breastfeeding or exclusively pumping due to latching issues. Will also help if your baby prefers a bottle nipple oppose to the breast nipple as this shield mimics the nipple of a bottle. Would definitely recommend this to anyone having any issues with latching over any other nipple shield. I will be buying more as additional to have for diaper bag, etc..
Dont Recommend
Amber
-
2 months ago
,

Verified purchaser
Wayyy to big for a newborn. My baby choked several times
SAVED NURSING BUY IT YOU WONT REGRET IT!
Blbmedic
-
2 months ago
,

Verified purchaser
So I never write reviews but I am so thankful I bought this as last ditch attempt to nurse. Baby # 6 wouldn't latch right starting from birth after bad jaundice. Never was able to get milk from breast even after correct latch (lactation would weigh him after feeds zero weight gain) so we have been pumping and bottling with Dr Browns for last 8 weeks. No tongue tie no lip tie. I tried several different shields and had given up when I saw this on a blog. It worked amazing the first time. You create suction by squeezing shield then placing it on breast which helps express milk and my baby nursed a full feed with zero problems!!!! Nipple is almost identical to Dr Browns. I love that I could see the milk filling and emptying as he ate. I will be buying more as a back up.
Back to the breast after 3 months!
KC
-
2 months ago
,

Verified purchaser
As a NICU baby, my son struggled from the beginning with breastfeeding. He was small and had a tongue and lip tie and the nurses as the NICU advised me not to breastfeed too often cause he might use too many calories. Needlesstosay, he developed a major bottle preference. I tried everything- I saw three lactation consultants, tried nipple shields and syringe feedings. He would not latch on except randomly! When my son was around two months old, I saw the Haakaa nipple shield and bought it to give it a try - I was desperate! It did not work the first time. My son was still so little and couldn't elicit the milk flow. I was bummed and out of options. I worked hard exclusively pumping to keep my supply up because I was determined to breastfeed. Around 2.5 months I found a review that said you need to apply the shield and then pump to get the milk flowing. I did that and voila! He latched on and fed for nearly 10 minutes!! I then tried everyday, once a day for 10 minutes and eventually he began latching onto my actual breast after a few minutes of the shield. Once he turned 3 months he was able to breastfeed without it completely! This was the answer to prayer in a lot of ways and I am so thankful! I hope it helps other moms and precious little ones transition to the breast as well!!
Best for slowflow
LK
-
2 months ago
,

Verified purchaser
It help my baby latch
Breastfeeding enabler
Rie
-
5 months ago
,

Verified purchaser
I'm pretty sure this thing actually improved my baby's latch. I was thinking about going to a lactation consultant (upwards of $150), but I'm glad I tried this first. It worked well enough that I was able to do full nursing sessions with my baby, whereas without it the pain of her terrible latch was such that I couldn't stand trying over and over again to do a full session. I'm not 100% sure if it worked this way or not, but it seemed like my baby was able to latch on to the extended nipple because it was smaller, like her bottle nipples, and that because this shield is made of a thicker silicone than the bottle nipples, it forced her to open her mouth wider--it's like the wider part of the nipple shield trained her to move her lips up--if she wanted to get all of the milk. It built up my confidence while I was getting nervous about being able to breastfeed at all, stressed that she would never latch on. She's seven weeks old now, so I only used it consistently for a few weeks, I guess. But eventually I stopped needing to use this and was able to breastfeed without it. Totally worth the price. It's expensive for a nipple shield, but it's durable and reliable and an excellent training device, in my experience, so forget buying multi-pack nipple shields (sometimes repeatedly!) that you can easily lose. This is a sturdy, multifunctional tool that functioned for me as a bridge between pain and regular breastfeeding, and I'm super impressed with it.
Worked great!
Christina
-
5 months ago
,

Verified purchaser
Helped me so much!! Would recommend!!
From EP TO EBF!
bmc19
-
7 months ago
,

Verified purchaser
If traditional shields don't work with your anatomy because your business is perhaps too wide and/or too short for either the shield or baby's mouth, this will do the trick!!!
Miracle Worker
Ana
-
10 months ago
,

Verified purchaser
Just received this in the mail because I'm trying to switch my ebf 5 month old to bottles so I can work and he latched on instantly!! What a miracle since I've tried so many different bottles on him and he hated the bottle feeling, if all goes well he will be on bottles after using this shield:)!
Saved me!
Chelsee
-
11 months ago
,

Verified purchaser
My baby boy was strong at the breast from the moment I had him. Randomly 4 days in he got fussy at the boob and after sticking it out for 6 hours I caved and gave him the bottle. Tried getting him back on every feeding and he refused. Bought this and now we are back to full breastfeeding!!!!! I'm so thankful for this little device!
So emotional!!!
Nece
-
11 months ago
,

Verified purchaser
I almost gave up breastfeeding until I tried this. I'm literally ugly crying as I type this because wow what a journey it's been. My little one week old is now able to have a stronger bond with me and I'm just so grateful for it!
If you're having trouble latching after bottle feeding for so long it's a must buy!!!
Jennifer
-
1 year ago
,

Verified purchaser
I've always had a problem latching on with my babies. Usually the medela shield version of this has helped but after getting mastitis twice I had stuck to exclusively pumping and bottle feeding for about 2 weeks. When I tried to latch her on again she screamed and would not eat. I came across this version which was more like the bottle nipples. It took about 5 mins for her to stop crying and actually latch but once she did it was good to go. It also has a good suction around the nipple which allows it to stay in place. Wish I came across this sooner.
Try this before giving up breast feeding
Genius product
-
1 year ago
,

Verified purchaser
I gave birth to a 32 weeker who spent 4 weeks in the NICU. We struggled with breast feeding and I was exclusively pumping and bottle feeding with Dr Browns. I tried this as a last effort after using a more conventional shield and working with a lactation consultant. For reference my baby has a slight tongue tie and small mouth. This shield was similar enough to his bottle and now he is feeding like a champ. I'm ordering a second one.
Best purchase of all time
Newmama
-
1 year ago
,

Verified purchaser
After 3 months trying to nurse my son and trying everything this is finally the thing that worked, don't wait, order it now, it's like a miracle!!!
This was a game changer!
pollyanna64
-
1 year ago
,

Verified purchaser
This product saved me from wanting to tear my hair out and scream. I tried using the thin Medela nipple shield for breastfeeding because I had issues with my baby latching on my flat nipple, but the shield would fall off so easily, even when I added water to try and make it stick. When I switched to the Haakaa nipple shield, just to try and see if it worked, it suctioned and stayed on my breast—I feel like the design is so much more intuitive and user-friendly. As far as my baby's latch is concerned, he was able to feed off of my breast just fine; I was mixed-feeding him, so he didn't mind the shape of the nipple on the shield since it's reminiscent to the Dr. Brown's bottles I use. Overall, I am very pleased with this product, and I highly recommend it to anyone, especially new moms like me, who have issues with baby latching due to flat/inverted nipples!
Game Changer!
BricePartyof6
-
1 year ago
,

Verified purchaser
This item was such a game changer! I am inverted on both sides and tried to nurse with the medela shield and had no luck so I went to exclusively pumping but still really wanted the experience of nursing my baby. This shield allowed her at 9 weeks old to start nursing some. Con is I do not feel she can fully empty my breast the way the pump can but it does at least allow her to get some milk out
Very useful
When my baby girl was a week old we struggled for a little bit with latching so I purchased this. It was extremely helpful. She had no trouble latching at all, and it helped slow the milk flow to a manageable speed for her. She's two months old now and we still use this nipple shield sometimes when my nipples are sore or when the milk flow is too strong for her. The reason I'm not giving it four stars is because sometimes the nipple shield just likes to fall off or it can be difficult to suction it on when switching sides, especially if a drop of milk spills down the "suctioning" part. Other than that it's a nice thing to have.
Worked immediately!
Ciara
-
2 years ago
,

Verified purchaser
First time mom here! Baby was born at 36 weeks but was small (born 3 lbs 11 oz) She was in NICU until she gained weight and was bottle fed. I have large breast but small nipples so that combined with a small baby made BF impossible. I tried the medela brand but they just didn't stay in and baby kept pushing it away. I ordered this one when I saw it due to the nipple shape mimicking a bottle and ordered it with little expectation. When it came in I immediately washed and sanitized it so it would be ready by her next feeding. While my husband got her bottle ready I went ahead and tried it and within seconds she started to suckle and got a great milk flow! I am so beyond thrilled with this nipple shield and so happy I ordered this!