Hunt A Killer: Dead Below Deck Game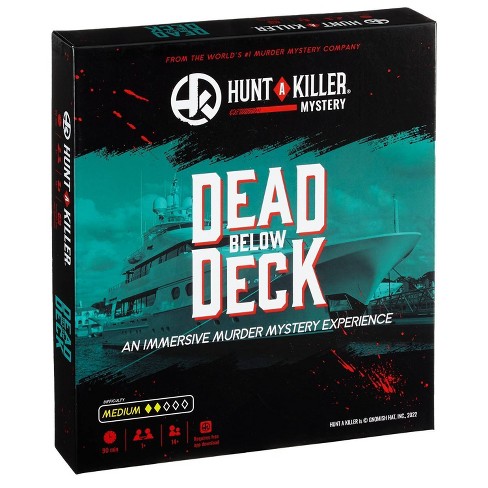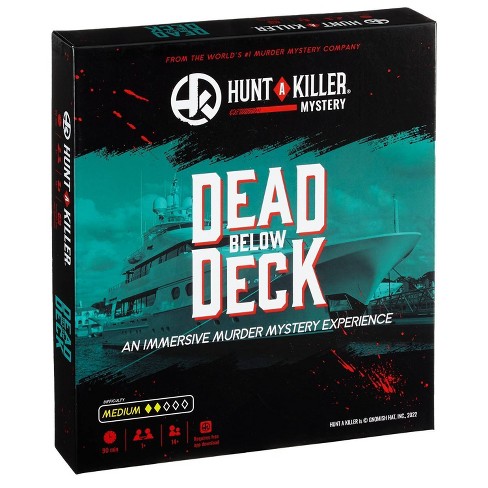 $31.99
When purchased online
About this item
Highlights
Hunt A Killer has shipped over 4 million games to murder mystery fans all over the world. They've taken all of their expertise and created an immersive investigation that can be played in one sitting.

An authentic and immersive investigation. You'll feel like you are solving a real-life murder mystery.

A great option for date night, game night, teaming up with friends and family, or just playing on your own.

For 1-5 players. 90 minutes playing time. Ages 14 plus
Specifications
Suggested Age: 14 Years and Up
Type of Game: Strategy and War Games
CPSC Choking Hazard Warnings: Choking_hazard_small_parts
Number of Players: 1 or More Players
Educational Focus: Creative Thinking, Language Skills, Problem Solving, Social Skills
Includes: Instructions, Game Pieces
TCIN: 85008799
UPC: 860003320082
Item Number (DPCI): 087-10-7219
Origin: Imported
Description
BECOME A DETECTIVE
One morning in the middle of a luxury cruise in the Caribbean the charter, William Bonnys, wakes up hungover and makes a morning trip to the sauna. There, he finds the body of Rachel Veinson, the yacht's stewardess. Captain Javier Rackhams attends to the scene and initially declares the incident an accident. Nevertheless, he still diverts course to Nassau, where the official authorities look over the scene, coming to the same conclusion.

But deckhand Jennifer Hornigolder doesn't believe this. Rachel would never be so careless as to simply slip and fall in the sauna. Jen believes a murder was committed. She collects evidence and air-mails it to you from Nassau. She needs your help finding the murderer before the yacht reaches port in Florida and the killer potentially escapes for good.

CHALLENGE YOURSELF
A deductive reasoning mystery game that is great for players of any level! Realistic evidence and documents guide players through a challenging and immersive experience.

Do You Have What It Takes?
Old-fashioned detective work
Use evidence to complete a timeline of the crime and eliminate suspects based on means, motive, and opportunity. Discover the code to a locked tin, translate Morse code, interpret walkie-talkie codes, decipher a cryptic glyph language, and review maps of both the ocean and the yacht itself.

Crack the codes
Hunt A Killer is packed with puzzles and ciphers that are not for the faint of heart. But the reward is well worth the effort. Every puzzle will get your mind working and bring you closer to solving the case!

Every detail matters
Hunt A Killer isn't just about solving a murder. This game tells an immersive story. You'll learn about the backstories for a variety of characters, their complicated relationships to each other, and experience everything unfold.

What's in the box?
An All-In-One Experience
Solve an entire investigation in one sitting! In this all-in-one box, you'll take on the role of an experienced but out-of-practice private investigator and review clues to rule out suspects.

Handcrafted Evidence
Crime scene evidence and photos along with physical items you can touch pull you into the story. This yacht-themed game is full of interesting and exciting evidence.

First-In-Class Experience
With over 2 million boxes shipped and over 100,000 members strong, Hunt A Killer is the world's premiere murder mystery company. Since 2016, we have been putting you in the detective's seat and challenging you to Hunt A Killer.

Help When You Need It
Worried that it will be too challenging? Each case has a dedicated hints page that offers spoiler-free hints for each item in the box as well as solutions if you are really stuck.
If the item details above aren't accurate or complete, we want to know about it.
Shipping details
Estimated ship dimensions: 10.59 inches length x 9.44 inches width x 2.12 inches height
Estimated ship weight: 1.18 pounds
Return details
This item can be returned to any Target store or Target.com.
This item must be returned within 90 days of the date it was purchased in store, shipped, delivered by a Shipt shopper, or made ready for pickup.
3.4 out of 5 stars with 66 reviews
47% would recommend
23 recommendations
quality: 3.5 out of 5
broad age appeal: 3.22 out of 5
length of play: 3.28 out of 5
value: 3.33 out of 5
Who designed this?
Hunter
-
2 months ago
,

Verified purchaser
I've done three of these now, and can say that the codebreaking in this is just the right balance of difficult and reasonable. HOWEVER, the game makes the inexplicable decision to add a completely unrelated crime in which is the sole purposes of those codes, which took three hours. As far as solving the actual murder, the object of the game, we were able to figure it out within 15 minutes of looking at the 'digital drive' on the app. So, if you're looking for a murder mystery, this game is not good. If you're looking to have a decent time cracking irrelevant codes, this is the game for you!
Waste of time
My family and I are huge murder mystery lovers, so I bought this game for family night. It took us 3 hours to finish! The clues were so far fetched and the killer made no sense to us. They also added random crimes to the characters that was unnecessary. After playing we quickly wished we had the money and time wasted back. Sadly we don't have a Time Machine to get the time back. Get this game if you like being disappointed.
Great game BUT...
This game is surprisingly fun but it's a 1 time game you can only play it once. If I had known that prior I wouldn't have spent 31$ for it. It's good to re gift possibly but if you try and play it again it would useless because you already cracked the code. I do find the app that needs to be downloaded to play it is a bit annoying because I don't like digital games hence why we buy BOARD GAMES. All in all if you want a fun game for 1 night then I guess it's worth it but it's a hard no for me.
Money Back, please
HAK Aficionado
-
6 months ago
,

Verified purchaser
Nope. Hated it! I am a HAK subscriber and an avid "detective" but this box was horrible. There was too much information that needed to be gleaned from very little actual evidence provided. I had the murderer figured out within the first 30 minutes of playing but wanted to finish everything to make sure I was correct. There were lots of red herrings and too much open ended, not solidified "evidence" that I just gave up.
Boring
Kez
-
6 months ago
,

Verified purchaser
Story was very boring. There were no crime scene pictures, no real connect the dot moments that were remotely exciting.
Fun but very time consuming
Natalia
-
7 months ago
,

Verified purchaser
This was a fun game! We played it for the first time with only 2 players. It came with so many clues that it was a bit messy. It is also VERY time consuming. You do have to download an app which also gave us more clues but made it last longer 😭
Know Before You Buy
Bought this last minute because we wanted a competition murder mystery game for five people. NOWHERE in the Target add does it say ANYTHING about having to download an app to play the game. On the box at the store there is a small block that states app download is required, but not very noticable. It took our group of four over six hours and the creation of a time line to solve the murder and it was fun, but took a little too long. The material supplied by the app was very important to solving. The makers put a lot of money into the production and the material in the box and on-line show that and that quality made the game much more enjoyable. A fun activity for a large group. BUT, plan on more than 90 minutes and let people know that you need an app in order to play.
Fun date night game !
Alexisreece91
-
7 months ago
,

Verified purchaser
Such high quality and doesn't compare to the other ones like this on the market I really look forward to playing
Perfect for a Rainy Day
My friends and I have been playing Case Files, and after running those dry we expanded to these. We GREATLY prefer this series! First, we liked that it doesn't "hold your hand", like other games do. It's all self guided. The online/app sources are really cool too, with video witness statements and PDF files as evidence. Because of this, it felt a bit more challenging. The other types of games like this tend to be more repetitive, using the same kinds of evidence and similar plotlines and challenge levels to them. I can understand the price point on the larger box sets, and we will be investing them later. Just a warning though, we spent nearly an HOUR on the first puzzle, which was a tin box with a combination lock. After getting nearly every possible combo wrong, we started putting in random combos until it opened. Using the online answer sheet we realized our lock was screwed up, because the real answer was the very first one we tried, and proceeded to try multiple times. So that was frustrating, and the only reason I'm not giving it a perfect 5 stars. Other than that, we're really excited to dip our toes into more of this game series!
Poor product
-
7 months ago
,

Verified purchaser
The mystery isn't solvable without downloading the app. And even with the app it felt like there were poorly planned clues. The solution felt like a huge jump in logic and there was no real feeling of accomplishment.
Great way to spend a lazy day
Thumper9980
-
8 months ago
,

Verified purchaser
Loved this case and highly recommend
An unfortunate way to spend a Saturday night...
unknown120
-
8 months ago
We had four Syracuse University graduates play this game and we could not understand the relevance of the lizard smuggling ring to this game. This game literally has no point, and we would give this a 0/10. My hope for humanity has diminished substantially. This is three hours of my life I can never get back.
Literally the WORST
Former mystery lover
-
8 months ago
We are avid mystery box people and this was honestly so painfully awful. it would have been great if they were clear MOST OF THE EVIDENCE WAS ONLINE!!! like if i bought the box for $25 I would think everything would be.. in the box???? Now I have this dumb app and a broken spirit. the detective in my soul has died. thx
First Murder Mystery! Loved it!
Played with my partner and at first we had issues with the lock not being able to open. Took us a extra 30 to 40 min to twist the lock correctly even though we had the right code. Enjoyed the decoding in the game whilst my partner liked the videos from the app. We both questioned though why to had so many documents on the app, we would like things like the trainer manual and captains log to be physical to be easier to compare between other documents. Took us around 3 hours, can't wait to get another!
Worst Game
Worst game ever. Not only is it not a traditional board game, you cannot play it more than once. There's no structure to the game and you have to download an app which defeats the purpose of playing a board game. If you want to spend hours reading, then this is the game for you.
Not good
E
-
9 months ago
,

Verified purchaser
It feels like HAK is trying to move away from using physical clues and instead putting them on their website but it does not add anything to the experience. The number of items in the box were noticibly few compared to other HAK iteratations like Death at the Dive Bar or Mystery at Magnolia Gardens. All of the things on the app could have been physical printouts or booklets to include in the box because they were all things that aren't enhanced by them being digital. I also highly recommend just using the website version instead of using the app because on the app, the videos are impossible to skip around on and zooming in on the clues does nothing since the resolution stays the same. I ended up needing to read the witness statement transcripts anyway, so HAK should have just included printed ones to begin with. One last bad thing about this game that's crucial to the entire story: one of the items in the box is supposedly found at the crime scene, but there isn't a single thing that indicates that it was found there. Usually the letter at the beginning of the HAK game tells you where each item was found, but not this time. The only way I found out was by reading the hints section on the HAK website. The story itself was actually mildly interesting so it's a shame that the execution was so awful.
Great Fun
BFF
-
9 months ago
,

Verified purchaser
This game is so challenging and so much fun for groups of friends who like mysteries, true crime, or anything along those lines
Not for those who require hand holding
Kimberly S
-
9 months ago
,

Verified purchaser
This was a fun and challenging change to the usual Escape Room/Exit strategy games. But let me stress, this is NOT an Escape Room, it's a murder mystery for you to figure out who had the means and motive to commit the crime. The box gives you almost everything you need to start solving the case right from the beginning, and it's up to you to figure out where to start. After downloading the app we dug into the clues reading through the background of the case and sorting out the evidence given to us. And yes, you have to create an account for Hunt-A-Killer and download an app to complete the game but this also gives you access to the hints and solutions if you need them, as well as ways to access any other games of their's you may purchase. I personally think the addition of the digital material gives the game an edge over some others as we were given access to more evidence and digital clues to solve. It took us longer than the estimated 90 minutes to complete, but we also weren't trying to rush through it. So maybe if you're on a time crunch, pick another game to play. All in all this was a lot of fun and we can't wait to try our next one. TL;DR If you need to have your hand held and have something tell you where to go next after figuring out a clue or a cipher, this probably isn't the game for you. But if you like working in a non-linear fashion and putting the pieces of the puzzle together to come to the eventual solution, I can't recommend it enough.
So fun!
We got this for Christmas and we had so much fun. Will be buying more!
Defective
JW21
-
1 year ago
,

Verified purchaser
I've played a few of the Hunt A Killer games and this has been the worst simply because the lock we needed to decode was defective and having Read hints to confirm we were right and then mess with the lock which was broken ruined the flow of the game and made it a bit stressful.