Paper Mario: The Origami King - Nintendo Switch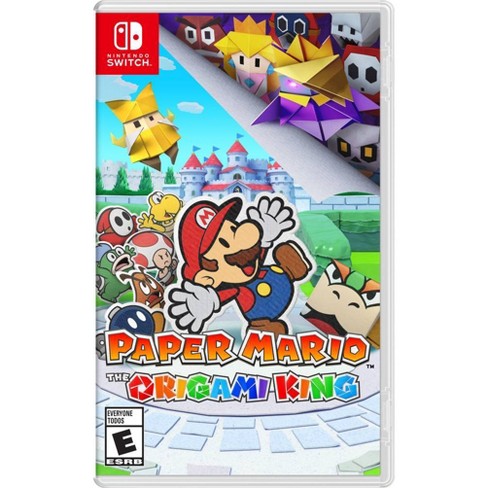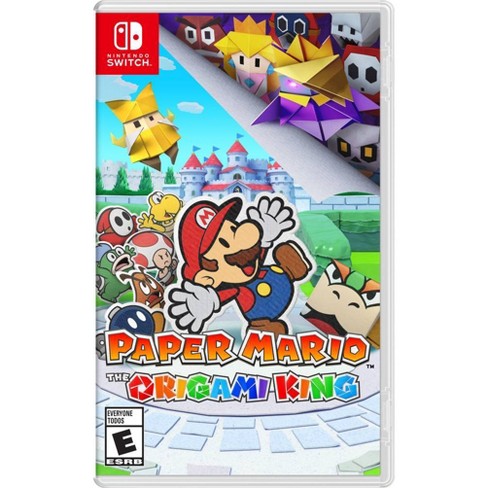 $59.99
When purchased online
About this item
At a glance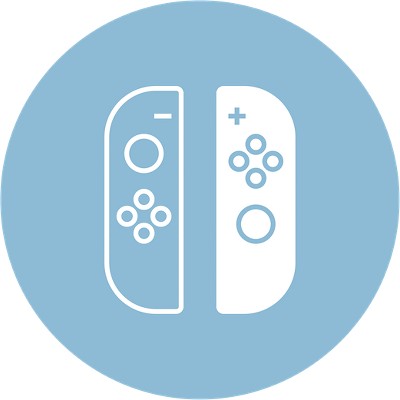 Nintendo Switch Compatible
Nintendo Switch Lite Compatible
Highlights
A new paper-crafted Mario adventure unfolds on Nintendo Switch!

The kingdom has been ravaged by an origami menace! Join Mario and his new partner, Olivia, as they battle evil Folded Soldiers, repair the damaged landscape, and try to free Princess Peach's castle from the clutches of King Olly in this comedy-filled adventure

Master strategic, ring-based battles - line up scattered enemies and plan your attack to maximize damage with the new, ring-based battle system that requires both puzzle-solving skills and a quick wit.

Join Mario, Olivia, and their companions on a journey of laughter and emotion, thrills, and a whole lot of folding.
Specifications
Model Compatibility: Nintendo Switch, Nintendo Switch Lite
ESRB Age Rating: E - Everyone
ESRB Content Descriptors: Mild cartoon violence
Electronics Condition: New
Video Game Genre: Adventure
Multiplayer: Single Player Only
Street Date: July 17, 2020
TCIN: 76593329
UPC: 045496596767
Item Number (DPCI): 207-30-0211
Origin: Made in the USA or Imported
Description
A new paper-crafted Mario adventure unfolds on Nintendo Switch!

The kingdom has been ravaged by an origami menace! Join Mario and his new partner, Olivia, as they battle evil Folded Soldiers, repair the damaged landscape, and try to free Princess Peach's castle from the clutches of King Olly in this comedy-filled adventure, only on the Nintendo Switch™ system.

Master strategic, ring-based battles
Line up scattered enemies and plan your attack to maximize damage with the new, ring-based battle system that requires both puzzle-solving skills and a quick wit.

Mario and Luigi receive an invitation from Princess Peach to attend an origami festival and excitedly hurry to Toad Town…but something's amiss. After investigating the eerily empty town, the duo finds a fearsome (and folded) Princess Peach—she's been turned into origami by King Olly, ruler of the Origami Kingdom! With five giant streamers under his control, King Olly binds Princess Peach's Castle and transports it to a distant mountain as part of his plan to re-fold the world.

On his journey to liberate Peach's Castle and repair the ravaged paper landscape, Mario meets Olivia, King Olly's sister, and the two join forces to put a stop to Olly's origami onslaught. Even Bowser falls victim to Olly's plot when his minions are turned into origami Folded Soldiers and betray their Koopa king, forcing him to ally with Mario and Olivia!

Battle the Folded Soldiers in ring-based battles that challenge you to strategically line up enemies to maximize damage! Out of battle, Mario can use the arm-extending 1,000-Fold Arms ability in specific spots to interact with the landscape to pull, peel, hit, and more! Join Mario, Olivia, and their companions on a journey of laughter and emotion, thrills, and a whole lot of folding.

The Verge - "...the latest Paper Mario is anything but flat." - N/A

GeekDad - "...a perfectly polished jewel of a game—any way you fold it." - N/A

GamesBeat - "...I didn't want to put it down." - 85/100

GamesRadar+ - "...something special that should be celebrated." - 4.5/5

Screen Rant - "...another must-play Nintendo Switch experience." - 4.5/5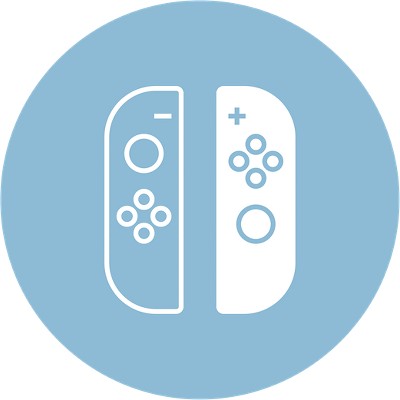 Nintendo Switch Compatible
Compatible with Nintendo Switch
Nintendo Switch Lite Compatible
Compatible with Nintendo Switch Lite
If the item details above aren't accurate or complete, we want to know about it.
Shipping details
Estimated ship dimensions: 6.6 inches length x 4.1 inches width x 0.5 inches height
Estimated ship weight: 0.12 pounds
Return details
This item can be returned to any Target store or Target.com.
This item must be returned within 30 days of the date it was purchased in store, shipped, delivered by a Shipt shopper, or made ready for pickup.
Q: How many players can play at once?
submitted by
JuszJasz - 3 years ago
A: Probably one person could play at a time, because it is a Paper Mario game. Unless they find a creative and inventive way to incorporate a second player like Galaxy 1&2 did.

submitted by

BobbyHendy - 3 years ago

A: Hi, JuszJasz! Regarding your question about the Paper Mario: The Origami King - Nintendo Switch: This is a single player game, so only one player can play at a time. If you have any additional questions, please do not hesitate to contact MyTGTtech at 877-698-4883 every day, between 7am-11pm CST.

submitted by

Taylor - 3 years ago

Target expert support
3.9 out of 5 stars with 42 reviews
64% would recommend
28 recommendations
Huge disappointment
(TL;DR): there is almost nothing satisfying about this game and I am only playing it to the end because I bought it for myself, it was expensive, and I'm not a quitter. Having played the N64 game (paper Mario) at least 3 times (it was so fun) I wanted to give this a go. I expected similar game play, story, mini quests and battling bosses, leveling up after beating bosses, and so on. just with better graphics and updated controls. But it's so bland and annoying to play. You get one "partner," an adorable origami character named Olivia. but she doesn't fight alongside you. She just talks a lot and sometimes prevents you from walking backwards on a path if you're "supposed to" find something in your current scene. she does come in handy in some boss battles and in certain parts of the map where you have to use "magic circles" you need her for. The whole map is filled with "not so bottomless holes" which you have to throw confetti on until they are sealed. (if it's in the ground and still a hole, you can fall in and suffer damage.) Filling a hole earns you some coins. You can only hold so much confetti. you get confetti from hitting trees, bushes etc with your hammer, or by beating your enemies in battles. But the only other real reward for battles is coins. On to the battles and bosses. So as someone said first, your attacks mostly just consist of pressing A. You fight solo, so all you pick is a weapon (different varieties of boots or hammers) or an item (very little variety). The whole battle layout is annoying especially for bosses who can make it almost impossible for you to attack them, or even increase their own HP if you can't solve the maze fast enough on your turn. the boss battles will just drag on and on forever, both parties able to increase HP anytime, I eventually just turn the game off mid battle because it is just pointless, frustrating and unrewarding. There is no level up system in this game when you beat a boss. instead your "confetti capacity" increases. So you can cover up more holes with confetti and collect more coins. Besides more boots, hammers or limited items, there's not much to buy. this makes the coins a very weak incentive. I recently purchased this game and it's been a time suck, as I expected (again, I played the 64 version multiple times- I know the game is long) but the actual game has only been enjoyable a very small percentage of the time. Much of the game is just absolute nonsense and frustration. There is always a pointless, boring battle. Finding a treasure chest is no longer exciting because they only contain "collectible" items that serve no purpose. Some chapters' riddles are so ridiculously hard that I, an adult, resorted to using game cheats on occasion, a last resort just to move on in the game. I don't understand how a child is supposed to get through this game without cheating. Overall, very very disappointed with this game. End rant.
Wholesome fun!
A visually stunning game! The fighting mechanic is easy to pick up and fun to master, there are ways to help you out if you want- which is a win-win for those who like the challenge and those who are more into the story. The best part of the game for me is the humor- talking to everyone and exploring each area can lead to some funny dialogue/ jokes. Overall, a charming experience, huge recommendation!
Addicting and Challenging
Danielle
-
1 year ago
,

Verified purchaser
I was never really a fan of playing games until I got my Nintendo Switch about two years ago. I have bought several games where I can just relax and not think about what I need to do to "win". Not so long ago, I started playing Super Mario Deluxe and it was so fun that I decided to buy another Mario game. I decided to buy Paper Mario because of the videos that I have watched. I made the right decision in getting this game because it is so fun and very addicting. There are many mini-games within the game where you can defeat a lot of enemies and earn coins and health points. There are times when I feel frustrated because I do not know how to solve the puzzles, but I think that is what makes the game not boring because you encounter different enemies solving slightly simliar puzzles, using different weapons. I would highly recommend playing this game, that is if you don't have school work. I started playing this game last week and I haven't been sleeping well because I just cannot put the game down. I must defeat the bad guys!
Visually beautiful game
Sl
-
1 year ago
,

Verified purchaser
The graphics in this game are so pretty, and the game itself is funny, challenging (but it's easy to get hints if something's too difficult), and overall a very interesting story. I'm not someone who is very good at games, but I really enjoyed this one and couldn't stop playing it.
Do not recommend
Good game except for the battles. I forced myself to play 3 hours and couldn't do it anymore.
When i first got this game lets say i wasn't very great with the Colored Pencils when i defeat it it i give it 4.5 stars
Its a very good a game
-
1 year ago
Its a Very Great game to everyone
Fighting sucks
I like the story but the fighting tactic sucks
A+
One of the best games I have ever played. Tons of content, deeply innovative, and fun for every moment.
Very entertaing, cute storyline
Very clever puzzles. Definitely more for teens and adults rather than children. Amazing from beginning to end.
Fun game
J Hernandez
-
2 years ago
,

Verified purchaser
The last paper mario game I played was on the Wii and liked it, so I got this one. So much fun
Great game even better story
Only knocked off one star because the battles drove me nuts but the story is beautiful and overall game play is great. The ending really had me feeling sad! Sad it was over and other things I won't spoil.
Okay
The battle system is not fun. I was hoping it was similar to the Wii Paper Mario. It can be fun but the story (cutscenes) takes too much time. It's an okay game.
Paper Mario
didn't really dislike this game beside the fighting mechanics but other then that I like the story and gameplay had me interested the whole game play really enjoyed it was a fun adventure gonna play throw it again, really love the colors they use was very cool
Just an awesome Paper Mario exprience.
monstoppable95
-
2 years ago
I'm a longtime fan of the series and I thought this was an excellent game. The writing and the plot are both top notch. I had so much fun I went for 100% completion (which I never do).
It's like it's a cell phone game
targetshopper
-
2 years ago
The battle system is timed, and forces you to solve timed puzzles, every turn. Weapons are now consumables, almost like they were going to make this a microtransaction game. You have to buy 30 of each weapon before each adventure. This isn't fun. There is no way to turn it off. I hated this game. I'd be happy playing PM64 or Thousand Year Door re-releases, but they're not available.
(no review title)
Kawaii MAutio Shop
-
2 years ago
,

Verified purchaser
Graphics great. Music great. Worlds immersive and beautiful. Not entirely sold on the battle dynamic. Regular battles are ok but the boss puzzles were too complex. Still had to recruit a family member to play the boss battles so I could enjoy the gameplay and progression one story otherwise. All time favorite was original paper Mario :)
Boring
The graphics are amazing, but after a week, I became really really bored. Its not a difficult or challenging game at all and while the story line is great its soooo long. There are so many cut scenes. Can I just play the game? I would have rated it 4 stars if not for the long, drawn out talking. Im a male in my early 30s.
Phenomenal and Beautiful game!
As someone who's played the original paper marios, this game surprised me in a good way. For 4 out of 5 of the chapters I really enjoyed the exploration and the dialogue of the game. While this game takes out the original battle system and replaces it with puzzles, it does it in a way that doesn't make them too difficult to solve. This is perfect for new gamers and/or casual gamers! Loved the collectibles throughout the game. While playing the game makes you more and more compelled to find every toad you can and collect all of the treasure that you can! phenomenal graphics and level design make this game a treat to look at! Most will want a repeat of the originals, but seeing how much fun I've had with this game, I would call this Paper mario a perfect take on what the newer Paper Mario's should be like if they will not continue to its original roots.
Looks great, but not fun to play
The graphics are awesome but the game play was just ok. The battle sequences were tedious and overly complex, especially the boss battles. I loved the Wii version off Paper Mario and hoped this would be similar, but it's just not fun. The story part I liked; there's a lot of story in the Wii game, too. If was the complicated and boring battles that did me in.
Amazing Game!
This game was so incredibly fun. I literally couldn't put it down once I started playing. When you finish the game there is still so much more to do as you can go back and collect hidden objects. I will definitely be replaying this game in the future.