The Sister Effect - by Susan Mallery (Hardcover)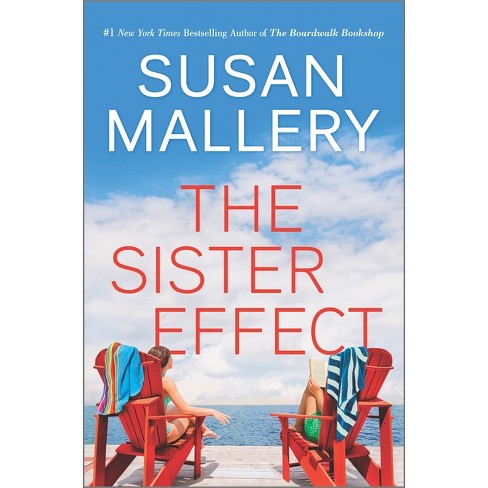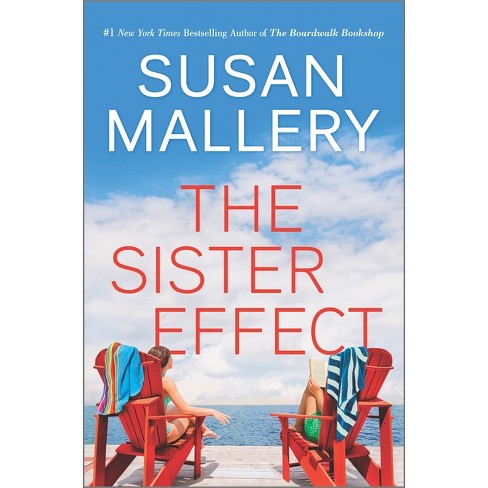 $17.9
When purchased online
About this item
Specifications
Suggested Age: 22 Years and Up
Genre: Fiction + Literature Genres
Street Date: March 7, 2023
TCIN: 87205973
UPC: 9781335448644
Item Number (DPCI): 059-01-9130
Origin: Made in the USA
Description
Book Synopsis
"Mallery beautifully illustrates the power of female friendship and the importance of reaching for one's dreams."--Publishers Weekly

Beloved bestselling author Susan Mallery brings readers an emotional, witty, and heartfelt story that explores the nuances of a broken family's complex emotions as they strive to become whole in this uplifting story of human frailty and resilience.
Finley McGowan is determined that the niece she's raising will always feel loved and wanted. Unlike how she felt after her mom left to pursue a dream of stardom, and when the grandfather who was left to raise them abandoned her and her sister, Sloane, when they needed him most. Finley reacted to her chaotic childhood by walking the straight and narrow--nose down, work hard, follow the rules.
Sloane went the other way.
Now Sloane is back, as beautiful and as damaged as ever...and she wants a relationship with her daughter. She says she's changed, but Finley's heart has been burned once too often for her to trust easily. But is her reluctance to forgive really about Sloane or worry over losing what she loves the most? With the help of a man who knows all too well how messy families can be, Finley will learn there's joy in surrendering and peace in letting go.
Review Quotes
"Mallery is
an expert at writing about strong women, their friendships, and their romances.
" --
Booklist
"
Mallery beautifully illustrates the power of female friendship
and the importance of reaching for one's dreams."--
Publishers Weekly
"
Susan Mallery never disappoints
."--Debbie Macomber, #1
New York Times
bestselling author "
Mallery is one of a
kind."--
RT Book Reviews
"Fans of ReaAnne Thayne and Robyn Carr will enjoy how prolific women's fiction master Mallery orchestrates community connections, friendships, and fulfilling romances."--
Booklist
"The Summer Getaway is
a reflective and moving tale of family ties
."--
New York Journal of Books
on
The Summer Getaway
"Mallery's latest contemporary romance has the family dynamics, heartfelt introspection, and emotional truths that keep readers coming back.
The perfect escape for readers wanting to get away
."--
Booklist
on
The Summer Getaway
"
The Boardwalk Bookshop is a classic beach-read romance
that will be enjoyed by fans of Robyn Carr and Sheryl Woods. Readers will appreciate that, while Mallery keeps the tone romantic and fun, the protagonists make hard choices and don't default to the easy way out, giving everyone a character to root for."--
Booklist
on
The Boardwalk Bookshop
"A book begging to be read on the beach,
with the sun warming the sand and salt in the air:
pure escapism."
--
Kirkus
on
The Boardwalk Bookshop
If the item details above aren't accurate or complete, we want to know about it.
Shipping details
Estimated ship dimensions: 1.23 inches length x 6.13 inches width x 9.25 inches height
Estimated ship weight: 1.28 pounds
We regret that this item cannot be shipped to PO Boxes.
Return details
This item can be returned to any Target store or Target.com.
This item must be returned within 30 days of the date it was purchased in store, shipped, delivered by a Shipt shopper, or made ready for pickup.
4.8 out of 5 stars with 26 reviews
100% would recommend
21 recommendations
book by Susan Mallery
1. Large print 2. Family story 3. Decisions agree with & some question 4. Relationship of siblings, boy that friend, niece, mother & grandfather 5. Forgiveness is needed to bring healing, but for who? 6. Not finished yet, but near
Family is sometimes hard!
Perriknows
-
6 months ago
Addiction, abandonment, drama, and all the other emotions that go along with a flawed family life. Family is sometimes HARD. Finley and Sloane, sisters who couldn't be more different. Essentially abandoned by their mother so she could find stardom and living with their grandfather, it was a good life...until it wasn't. Their mother won in court and their grandfather left. Finley and Sloane took two different paths that made them both into who they are today. I really was touched by the lengths their grandfather went to try to repair his relationship with his granddaughters. He was hurt as much as they were...but as the adult he just left. Finley takes in her niece, Aubrey, when Sloane is imprisoned. She wants the 'perfect family' for this sweet girl. Sloane is now out of prison and wants a relationship with her daughter. Finley isn't sure this is what Aubrey or Sloane need. When Finley makes the acquaintance of a man at her jobsite, Jericho, she begins to see that to move forward in her life she must go back and forgive, even though that is counter to her whole personality. Jericho and Finley's relationship blossoms and to be able to accept what he has to give she MUST begin by asking for and giving forgiveness and love. All in all a great book about family and how we need to look on each person as an individual. We're all paddling as hard as we can and some people, just can't continue the never ending work it takes to be part of their family.
Family Love and Heartache
Characters that seem so real you expect to see them on your next Target run. I laughed, cried and cheered them on.
Gutwrenchingly good
This one was a gut wrencher. A story about the effects - both negative and positive - that sisters have on each other. And as someone that has a loved one in recovery, there were some difficult parts to read. But very well written
This is a story of emotional growth, acceptance, healing, and family.
The Sister Effect by Susan Mallery is quite literally my favorite of her works! Finley and Sloane are sisters who have been through quite a chaotic childhood that has had lasting impact on their adult lives. Finley is raising her niece while Sloane is working to combat her alcoholism. In families, decisions always impact the other people. This is a story of emotional growth, acceptance, healing, and family. Wonderfully written, you can feel the characters emotions deep inside of you. I have definitely already passed this along to my friends and you will too!
A family again
The Sister Effect by Susan Mallery is about family dynamics that aren't always sunshine and roses. Feelings of being betrayed by the ones you love the most. This is about two sisters who had very different experiences growing up. Finley always did the right thing and her sister Sloane did pretty much what she wanted and wasn't worried about the consequences. Sloane is now a recovering alcoholic and wants to be part of her daughter's life. Her daughter that Finley has been raising because her sister wasn't able to. It all comes down to forgiveness and being a real family again. Loved this book!
Fantastic Summer Read
I really enjoyed The Sister Effect by Susan Mallery. She touches on so many aspects of families who are are torn apart by addiction. It's also about hope and forgiveness and learning to love and trust after hurt and betrayal. This is a great summer read with all of the feels.
Family Story
Sisters Finley and Sloane are navigating the effects of addiction on families. Finley's life was turned upside down having lost her job, financially ruined by her sisters actions and give the responsibility of raising her sisters child. What I liked most about this book is that at first you sympathize with Finley's situation but later on her distrust and unrealistic expectations makes the situations of the other characters just as, if not more, sympathetic. I enjoyed the family dynamics in this story and the responsibility of navigating addiction goes beyond the addict. And that journey can and often is painful whether you come out on the other side or not.
Great Book
I really liked this book. Susan Mallery hit the nail on the head with what happens in alcoholic relationships and when adults abandon children. It's good the family eventually found their way back together.
Fmsily dynamics and drama!
Tigress Dana
-
6 months ago
Susan Mallery has an amazing ability to bring characters to life! I love the energy of Aubrey, Sloane's young daughter, even though she has had a rough life! She is so happy go lucky! Sloane and Finley are both relatable. You can completely understand why Finley is so hurt by her sister's actions and doesn't trust her. But you can also relate with Sloane trying to change her life after her huge mistakes! I also love how Susan shows both sides of addiction. Not only how it affects the life of the addict but also how it affects the life of the loved ones of the addict. I think she did amazing describing it and making you truly able to understand the issues with addiction. I also Loved the craziness of Jericho and his brother and family! If you want a little romance mixed with family dynamics and understanding of addiction this book is for you! Even my cat loved it!
What a powerful story!
I had so much going on that I kept putting off starting the book. Once I finally picked it up I had a really hard time putting it down. A great story about family dynamics, alcoholism, and love. I couldn't personally relate to the alcoholism but felt there was a great transition in the relationships of the people in the starry from the starting of the book to the end. All the characters were fantastic.
All the Feels!
I'm a sucker for: Susan Mallery books Family drama books Smart and capable heroine books The Sister Effect has all that and more! I laughed and cried and had all the feels. Finley is raising her niece, Aubrey, while Aubrey's mom works on her sobriety. She's determined to keep Aubrey safe and happy, while also trying to keep her sister from drinking again. Then Finley's estranged grandfather moves in with Finley, her mom, and Aubrey. Finley has vowed to never forgive the man for something that happened two decades ago. While working through the issues with her sister and grandfather, Finley is also developing feelings for local developer Jericho, who has his own family drama to deal with. I really enjoyed this latest from Susan Mallery and I'm looking forward to her next book!
Let's Get Started on The Rest of Our Lives
Michelle Pierce
-
6 months ago
I always love reading a Susan Mallery book and this is another great story but on the more serious side. I liked the characters Finley, Aubrey, Sloane, Molly, and Lester and then we have Jericho, Antonio, Gil, Lauren and Kelly, plus so many others. I really felt for Finley being put in a situation where she's raising her sister's daughter and is an amazing and supportive mom figure to Aubrey especially with the aftermath of what she's still dealing with from Sloane in putting her in her current situation. Finley is finally getting her head above water and then it seems like here we go again.. She has a lot of feelings towards her family and when we find out what has gone on in the past with Sloane, her mother Molly and now her mom wants her grandfather Lester to move in, and Finley is just supposed to smile and agree knowing how they all treated her in the past. Then we have Jericho who Finley works with on his houses and he has a lot going on in his life himself between his ex-wife and his brother and his mother who just wants everyone to get a long and he isn't on board with that at all. I loved that Finley and Jericho started a friendship and could honestly talk to each other with what was going on in their respective lives and get some advice from the other and maybe see the situation through a different perspective. Each finds out a lot more about their situations and Finley finds out that lies were told yet both Finley and Jericho are both told by family to just forgive the person and the situation, but there is a lot to forgive for both of these characters. When Sloane's friend Ellis has an accident that is the last straw for her and her hard fought sobriety is on the line and this is when everything changes for Sloane, Finley and Jericho. Sloane definitely needed a wake up call and I wish it hadn't happened the way it did but it put everyone in a much better place and it gave Finley the nudge that she needed to get on with her life. I appreciated the epilogue, and we were given a glimpse of where these characters are after the story ended and it was a great update. This story, in my opinion, deserves more than five stars.
Emotional!
I loved this book! It definitely pulled on my heartstrings. I felt fully immersed in the lives and emotions of Finley, Jericho, and Sloane.
Is forgiveness always the right answer?
Nobody writes family drama like Susan Mallery. I struggle with the idea that you have to forgive someone just because they're family, but it's a wonderful argument no matter what the outcome. I love it when characters stand up for themselves, and don't always give up their identity just because it's family.
A Highly Recommended Read
This is a book that is so hard to put down! It shows the power of forgiveness and letting go of anger! It also has romance! I totally recommend reading this book that is so full of emotions and keeps you wanting more! I wish this book didn't have to end!
Moving Story
The Sister Effect does not disappointment. Susan Mallery gives us another family story that is serious, funny and full of family dynamics while trying to overcome so serious trauma. This book was everything Ms. Mallery is the master of delivering. I don't want to write my "normal" review with this book. I usually tell you a bit about the main characters in the book and the storyline they follow all the while trying not to ruin the entire thing for you. This time there are so many people involved in the storyline, of course it revolves around two sisters, Finley & Sloane, but the world in this book is so much bigger and more involved. The dynamics of the sister's family is a story in of itself. I will say that Sloane has a problem, she is an alcoholic. Years back she left her daughter with Finley to take care of, Finley has guardianship of Aubrey. Now Sloane is starting to have visitations with Aubrey, that brings to light many more problems. The book takes on the journey on how a family, mostly the sisters learn to live with this disease. How to cope and how to understand it. There is a lot of bitterness and anger between the sisters and until that can be worked through the path forward is blocked. Their personalities are very different therefore it makes things very difficult. Read this book, I think you will enjoy it from cover to cover. Susan Mallery does what she does best, she writes about the power of love and healing in families and friends. This book delivers on every level, including laughs and tears.
Family forgiveness
I really love Susan Mallery's book and usually find them very easy to read. This book is much heavier on the family drama and less on romance. Two sisters are trying to find their way back to each other after some serious family drama. Sloane is an alcoholic who has given guardianship of her daughter to her sister Finley. Finley hasn't yet forgiven Sloane for all that she put the family through. I enjoyed following their journey and also learned how difficult it is to forgive family.
Life is hard
I was engaged from the beginning. I was as angry as Finley was with Sloane. Finely saw what happened to Sloan when she drank, not just the aftershocks, but what a toll it physically took on Sloane. Then a different picture emerges, and you can see a lot better where the lines of responsibility lay. I was impressed that Sloane was able to give her daughter away to keep daughter safe from herself. That is huge when you think about it. Sloan was barely able to take care of herself/sobriety, the responsibility of another person was not possible. We can all get self-righteous when we are ignorant. I really never gave alcoholism much thought especially about the want, the ache, the obsession with the next drink. Unfortunately, it is not that undifferent with the relationship an obese person, like myself, has with food. The "normal" feeling is a real thing; everybody makes it look easy. All types of addiction are minute to minute, hour by hour, day by day obsession and nobody can fix it but you.
Romantic Read
Susan Mallery knows how to write amazing books! This one had a twist, with brothers Jericho and Gil starting out with problems. While sisters Finley and Sloane have their own problems also. Finley is the sole role model and provider for her niece Aubrey. I was unsure if I would like this book with the pressure from the mom to have Jericho forgive his brother for his disturbing act. However, once Finley and Jericho became friends, I was sold and wanted to know what would happen next. This book had some nail-biting moments for me, along with the romance we all love to read about. This is definitely a great read for sure. I highly recommend all of Susan Mallery's books to everyone.