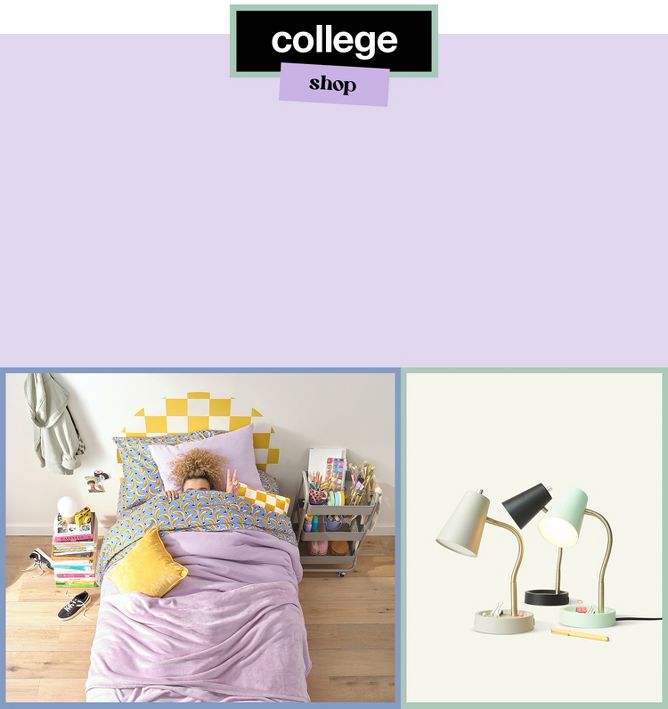 Find all you need
& get it today

with same-day Drive Up & Order Pickup.

Get inspired & prepped for what's next
College
Ready for college move-in? We've got you covered—literally—with twin XL bedding. Find everything from extra-long twin bed sheets to twin bed comforters and twin XL duvet covers, plus other bedding must-haves: mattress covers, pillows, mattress toppers pillow covers and more. If you've upgraded from a twin XL bed, we've got duvet covers and comforters sets in all sizes too. Most college dorm rooms are pretty tight quarters, so you're going to need small-space storage solutions like plastic storage bins that can slide right under your bed (even if it's not a lofted bed). No air conditioner, no problem. Choose from window a/c units along with a variety of fans from tower fans to window fans. Dorm walls are like blank canvases and offer tons of opportunity to personalize your space and really make it you. Need some wall decor inspiration? We've got you, with peel-and-stick wall paper, wall decals, floating shelves, picture frames, wall art; and don't forget your wall mirror. Every big day should start with a cup of coffee, so why not have a coffee maker or espresso maker right in your dorm? Not into coffee? Power up your day with a blender (maybe a Ninja blender) and have mini smoothie station—why not?! And don't forget to keep your beverages cold with a mini fridge, and other dorm appliances. Maybe you've graduated from dorm life and decided to move off-campus into an apartment. Lucky for you, we have inexpensive apartment furniture and home decor like cozy throws and colorful throw pillows that will make your space feel just like home. Need a space to store all those textbooks? Try a bookshelf or a college backpack. Don't forget to relax on a futon. Don't forget a desk lamp for studying, and the important shower caddy.