Box One Presented By Neil Patrick Harris Game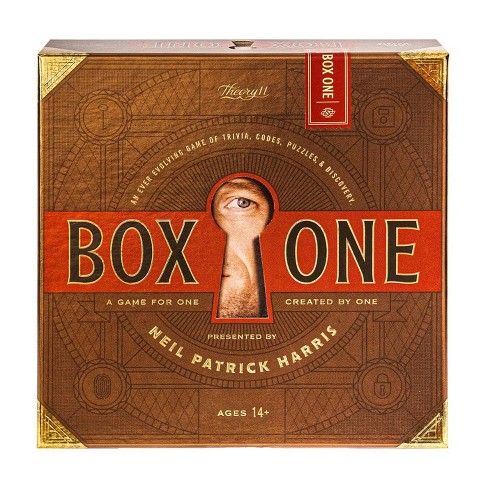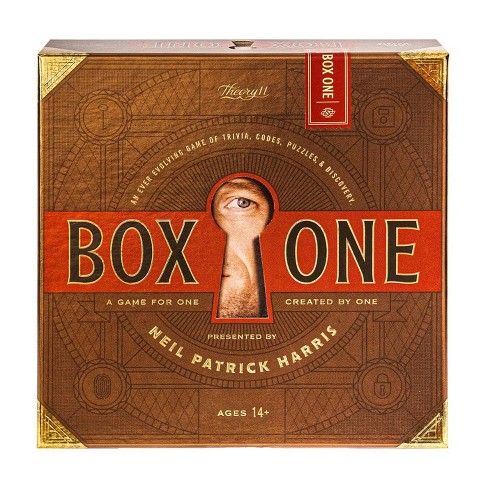 $29.99
When purchased online
About this item
Highlights
A NEW Game by Neil Patrick Harris

LOADED with puzzles, codes, and mental challenges

YEARS IN THE MAKING by NPH

DESIGNED FOR YOU. And you alone.

LOTS OF SURPRISES. There's more than meets the eye.
Specifications
Suggested Age: 14 Years and Up
---
Type of Game: Classic Games
---
Number of Players: 1 or More Players
---
TCIN: 79810129
---
UPC: 850016557162
---
Item Number (DPCI): 087-10-0332
---
Origin: Imported
---
Description
Box ONE is an ever-evolving game of trivia, codes, puzzles, and discovery - only from the mind of Neil Patrick Harris.

There's tons of great party games — but unlike the rest, Box ONE is designed to challenge just ONE person: YOU! And you alone.

Prepare to set out on an exciting adventure like no other as you discover, decode, and unlock the secrets of Box ONE.

Look closely, though, as with all things - there's more than meets the eye...

Box ONE is the perfect gift for anyone into puzzles, codes, and escape rooms. The game represents years of thought and careful planning by Neil Patrick Harris. Everything you need to decode each challenge is inside the box. Can you decode it? Can you solve it? The clock is ticking...

If the item details above aren't accurate or complete, we want to know about it.
Shipping details
Estimated ship dimensions: 10.6 inches length x 10.6 inches width x 3 inches height
Estimated ship weight: 2 pounds
Return details
This item can be returned to any Target store or Target.com.
This item must be returned within 90 days of the date it was purchased in store, shipped, delivered by a Shipt shopper, or made ready for pickup.
Q: How long does this take to finish?
submitted by
Jshep - 2 years ago
A: On day one, I took an hour or two. On day two, I finished the game in an hour or so.

submitted by

- 2 years ago

A: Well... it depends. If you play it the right way it will guaranteed take over a day. If you are good at puzzles and don't mind effectively breaking the game, you can solve it very very quickly by brute force. Roughly 45 minutes maybe, with no wait time required. Solving it the "correct" way without sequence breaks, I'd say maybe 4 hours (not including the forced 24 wait time)

submitted by

Rolf - 2 years ago

A: Took me 2 hours. And I really took my time, went slow and enjoyed every second of it. (I didn't want to google or ask for help on any of the stuff, So I just sat there and thought)

submitted by

Ziggybits - 2 years ago

A: The '24 hour wait time' mentioned above is a bit of a red herring and you don't actually have to wait 24 hours. There's a way to shorten that time without breaking the game.

submitted by

Sam Kimpton - 2 years ago

A: RobMo - You can most certainly finish the game in an hour. I finished it in about two hours. If you are a good puzzler there is nothing that requires you to wait the 24 hours. All of the things that happen after the 24 hours are interesting, but you literally only get one piece of information that you cannot get any other way, and that one piece of information can very easily be back-solved.

submitted by

Rolf - 2 years ago
Q: Can you play the game more than once? Or once it is finished is the game you are just done with it?
submitted by
Jess L - 2 years ago
A: You are done, but it is possible to reset to share with a friend.

submitted by

RoMo - 2 years ago

A: When you complete the game you get access to a video that tells you how to reset the game to the beginning

submitted by

tonythejetsfan - 2 years ago

A: I'm going to say this is a one and done kind of deal. Once you figure out all the codes and stuff then you'll already know where to look/how to find them/what they are the next time you play. Takes the whole discovery and reaction part of the game away.

submitted by

Spencer P - 2 years ago

A: One time Play Through. However you can box it all back up and share with a friend. I would however buy them a copy and have them go through the experience from a fresh new box.

submitted by

Ziggybits - 2 years ago
Q: I understand this is for one player, but can two people play at different times - e.g., if I try it, can my spouse then play on his own, or is it once and done? Also, is there any content that's inappropriate for an 11 year old? Thanks!
submitted by
Jane Doe - 2 years ago
A: Yep, you can reset it and have your spouse play later! You can technically play together, but it's designed for one at a time. Nothing inappropriate for 11 year old, but they might need a little bit of help along the way!

submitted by

georgej - 2 years ago

A: You can definitely reset it, easily. However, my husband and I played together and it was just fine!

submitted by

Scearce Coursers - 2 years ago

A: I played this with my wife in the next room. Without giving anything away, even though she was in the next room, I had to take extra precaution not to reveal anything audibly as I played through this game. She questioned some odd behavior of mine that I had to make excuses for. I look forward to seeing her reactions when she gets a chance to try. Nothing inappropriate comes to mind, for 11-year olds. You are definitely allowed (almost encouraged) to look up trivia questions online, for questions that might not make sense to him/her.

submitted by

Thanh P - 2 years ago
Q: Do you have to play this continuously or can you play and pick up where you left off another day?
submitted by
Clyde - 2 years ago
A: You can easily pick it back up. It took me 3 days because I had things going on where I had to stop.

submitted by

WermesJC - 2 years ago

A: You can set it aside and continue on another day.

submitted by

Stephen N - 2 years ago
Q: Could a whole family play this game? I want to give it to my sister's family of six for Christmas.
submitted by
JM - 2 years ago
A: It is meant for one player, although I think it could be played with two people. I would not recommend it for more than that. The game can be played and then reset for the next person.

submitted by

AScott - 2 years ago

A: My husband and I played with our kids (ages 9, 11 and 14). We bought it from the original retailer though, not at this inflated price.

submitted by

Jen - 2 years ago
Q: Do you need internet access for any parts of this game?
submitted by
Elaine - 2 years ago
Q: Does each copy of Box One have a different resolution or are all copies the same?
submitted by
Youstonian - 2 years ago
A: All copies are the same. My partner and I both played it at the same time (two separate boxes, in different rooms), but when comparing notes, all questions, answers, puzzles, and solves were the same on both games.

submitted by

Eric - 2 years ago
Q: If I play it and finish could other members of my household play it without needing anything? I love games but don't want to play it and then not have my wife or kids be able to play it as well.
submitted by
Justin - 2 years ago
Q: I am unable to register as overseas. In UK. Why wont international site work properly
submitted by
Kenny Hazlie - 2 years ago
Q: how do u play.........
submitted by
breana - 6 months ago
4.9 out of 5 stars with 1089 reviews
97% would recommend
338 recommendations
quality: 4.95 out of 5
broad age appeal: 4.58 out of 5
value: 4.86 out of 5
length of play: 4.58 out of 5
Fun and cool surprises
Hoganmama
-
12 days ago
,

Verified purchaser
Loved playing this game. So much thought put into each twist and turn!!
Awesome game!
Mb
-
14 days ago
,

Verified purchaser
Great experience! Ended up playing with two other people which was fun. Definitely can be played solo but I think it was more fun to find all the secrets and surprises with someone else. I hope he makes more like this! Highly recommend.
Extremely Boring
Lissa
-
16 days ago
,

Verified purchaser
I was excited because of such good reviews but it was kind of a let down. No one I know enjoys board games and I was happy to find a solo game. I began playing but I got bored very quickly. It wasn't very challenging and and nothing really helped catch my interest, after over a dozen challenge cards I felt like I was doing weird boring homework instead of playing a game.
Fantastic
cg75
-
2 months ago
,

Verified purchaser
Loved this puzzle box! Full of surprises and not too hard!
Fun and surprising game for one
Gryffen
-
2 months ago
,

Verified purchaser
Spoiler free review! If you like puzzles, brain teasers, cyphers, escape rooms this is the game for you. The best part, this game is designed to be played by one person, two or three people could also easily enjoy playing without modifying anything about the game. The game should take 1 to 2 hours and has many twists, turns and surprises. Great fun for a puzzle solving evening for ages 14+
Such a unique, fun experience!
CJ
-
2 months ago
,

Verified purchaser
This is hands down one of the most unique, enjoyable games i've played! I already knew it was going to be a great game when I saw it was created by NPH, but man this exceeded my expectations. It was challenging, witty, surprising, and all-in-all a really awesome experience. I love how you can play it by yourself as well! I know it may seem pricey for a board game, but believe me, its so worth it! 10/10, 100% will recommend to others :)
Incredible
Bree
-
4 months ago
,

Verified purchaser
As somebody who has played a lot of games, this is hands down the best game I have ever played. It is very hard to surprise me, but down to the very end, there were things that kept making me gasp for joy. I've already got a list of people to lend this to because of how incredible it is.
For fans of escape games looking for a solo exp
Lcc85
-
4 months ago
,

Verified purchaser
Fun, interesting, reusable.
Boring Disappointment
GreenEyedGirl
-
5 months ago
,

Verified purchaser
I'm playing this right now, and it's stupid. I don't know how in the world this got so many great reviews. It's just stupid nonsense trivia with each consecutive card. I do not get the appeal of this at all. I'm 14 cards in and not amused at all. I think at this point, I'm going to quit and return this to the store.
Best Game Ever
This was by far the coolest game I have ever played. It says one person only but my boyfriend and I played together and had so much fun. It's impossible to finish in one night so I think it's worth the price. You can always put the game back together and borrow it to someone else. This game was so much more involved than I could've ever imagined. Highly recommend!
Fun fast solo mystery
A fun faced pace single person game.
absolutely amazing
This game is the most amazing game I've played and I've genuinely enjoyed every moment of playing. It was done so well and you can tell the upmost pride and joy NPH had put into this game. I am so in love with the concept and the follow through. If you are someone who loves puzzle games, escape room and out of the box thinking this is so perfect for you! Even if you're a grade A detective this game is enjoyable. I was pleasantly surprised at things I didn't even think about! 11/10 and I hope he makes more varieties of this!
Better than Expected
Pirate
-
6 months ago
,

Verified purchaser
I grabbed this game to have something to do on a rainy day and it was so much more fun than I expected!
Great Game!
JustMe
-
6 months ago
,

Verified purchaser
I Purchased this for my 21 yr old niece. They absolutely loved it! Only regret was they couldn't play it again.
Well thought out and loads of fun
-
6 months ago
,

Verified purchaser
This game was SO fun I loved solving all the clues and finding new hidden gems within the game that help move things along. Exciting the whole way through. Played with my husband but can easily enjoy by yourself as advertised. If you love puzzles and escape rooms this game will be worth your while!
So much fun
Perfectly Imperfect Mom
-
7 months ago
,

Verified purchaser
So fun. Played with my fiancé. We almost quit because we thought we read the description wrong and it was only a set of cards. We put it all back together and going to give it to friends to play.
Perfect for one or two people
cwhite120
-
7 months ago
,

Verified purchaser
My boyfriend and I did this for a date night and we both highly enjoyed it. It is an extremely well thought out game and you can actually regift it to someone after you're done. This is easily the best game we have played in awhile.
Great Fun for One!
Roop
-
8 months ago
,

Verified purchaser
I picked this up to play while I had a few days to myself recently, and was very impressed with the game as a whole. The production value is extremely high, and the game was entertaining from beginning to end. The difficulty of the game hits the sweet spot of broad appeal, in my opinion. If you're experienced with escape rooms and puzzles of that nature, you may find it slightly easy, but still non-trivial. For folks new to this type of experience, it may be slightly difficult. One huge plus of this game is that it can be easily repackaged and given to someone else to try. Overall, I'd highly recommend this to anyone who likes puzzles and is looking for a fun solo activity. Awesome work, NPH!
Must have for puzzle and eacape room lovers!
SwiGal
-
8 months ago
,

Verified purchaser
This game was so fun! I love that you can solve this by yourself! The game starts you off slow and makes you think ok this is kind of lame and then all of a sudden your thinking ok that was cool and then wow that's cool too and then OMG this is so awesome! It just kept getting more and more fun! What a unique game I would highly recommend it and will tell everyone I know how much fun it was!!
Creatively And Quality Made, But Soooo Corny!
AM
-
9 months ago
,

Verified purchaser
The game box and components are quality and creative. But the majority of the game involves an online website with cringe-worthy corny videos. It is supposed to be humorous (I guess) but to me it came off as lame. The theme of the clues and the game were completely based around discussions between NPH and his fictional employee talking about ideas of how to make this exact game. It made the game less mysterious and more narcissistic in my opinion. Seriously, just because NPH made the game doesn't mean it had to be all about him. I appreciate the attempts at challenging the player with ciphers but they were quite easy to figure out. Fun and thought proviking, sure. But I'd like it so much better if it was completely analog without the lame videos.