Medela SoftShells for Sore Nipple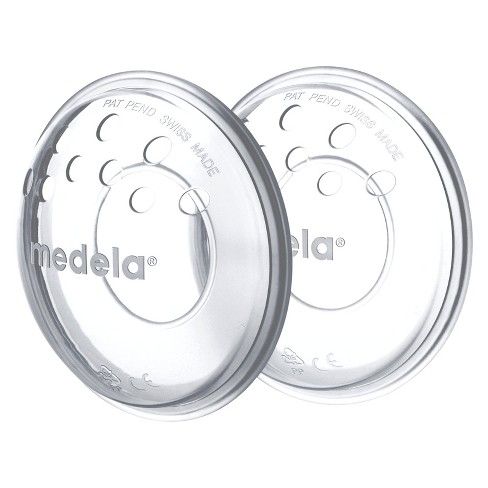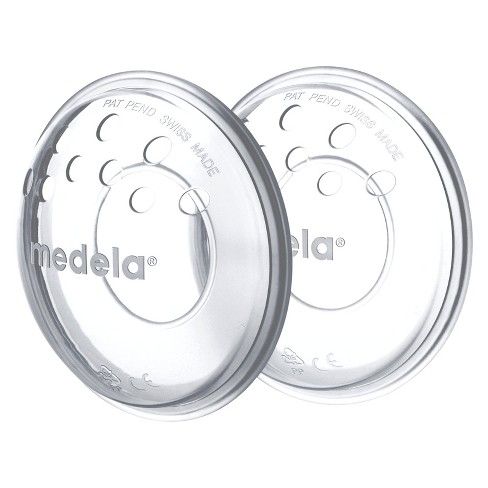 $16.59
When purchased online
About this item
At a glance
HSA/FSA Eligible
Highlights
Designed to protect sore nipples

Contoured for a smoother look under clothes

Soft, flexible backs for comfort

Vented to allow air circulation

Foam inserts absorb excess breast milk

Helps keep nipples dry and prevent further irritation

All parts that touch breast milk are made without BPA and safe for mom and baby
Specifications
TCIN: 561211
---
UPC: 020451802107
---
Item Number (DPCI): 030-05-0643
---
Origin: Made in the USA and Imported
---
Description
Medela SoftShells™ for Sore Nipples help solve some of the most common problems faced by breastfeeding women – nipple soreness and flat or inverted nipples. SoftShells are comfortable to wear while alleviating these conditions. SoftShells are to be worn between the breast and the bra. The soft, silicone backs flex to match the contoured shape of a breast, resulting in a comfortable and smooth fit that is flattering under clothing. Consult with your healthcare provider or breastfeeding specialist prior to use.
HSA/FSA Eligible
Restrictions apply; contact your insurance provider about plan allowances and requirements
If the item details above aren't accurate or complete, we want to know about it.
Shipping details
Estimated ship dimensions: 7.6 inches length x 3.7 inches width x 1.4 inches height
Estimated ship weight: 0.165 pounds
Return details
This item can be returned to any Target store or Target.com.
This item must be returned within 90 days of the date it was purchased in store, shipped, delivered by a Shipt shopper, or made ready for pickup.
Q: How often do these need to be washed?
submitted by
K - 3 years ago
A: Hi K--- If you are leaking, special care must be taken to avoid the build up of dried breastmilk on the shell parts and in the foam inserts. If the foam inserts become saturated, separate the shells, backs and inserts. The shells and backs should be washed with a mild soap or detergent in warm water, rinsed thoroughly in cold water and dried. Squeeze the milk out of the foam, then rinse them twice with clean cold water. Dry them by squeezing between a clean cloth or paper towel. SoftShells™ should be sanitized once a day. If you have just used the SoftShells, the foam inserts must be cleaned separately before sanitizing. Squeeze the milk out of the foam, then rinse them twice with clean cold water. The foam insert should be rinsed whenever it gets full as well. Dry them by squeezing between a clean cloth or paper towel. Separate and place the silicone back and dome in a small pan filled with cold water. Distilled water is recommended. Bring the water to a boil and allow it to continue boiling for approximately 10 minutes. Drain off the water and place parts on a clean cloth to dry. For quicker cleaning, Medela offers Quick Clean™ Micro-Steam™bags to make sanitizing the parts easier. We also offer Quick Clean wipes that can help take the place of soap and water when washing the parts throughout the day. Shells and backs can also be put in the top rack of a dishwasher. Just be sure not to place foam inserts in a dishwasher or Quick Clean Micro-Steam Bags. If you have any other questions, feel free to live chat with us on our website. We'd be happy to help! - Your Medela Customer Solutions Team

submitted by

Medela Product Expert - 3 years ago

Brand expert
Q: Can these be used to catch any milk that might leak while you're nursing on one side, and wearing this on the side you're not nursing on to catch it?
submitted by
Antye1998 - 4 years ago
A: Hi Antye1998--- No, the foam inserts are not made with materials specifically intended for food grade purposes. the Medela Soft Shells are not intended for collection or storage of breast milk, nor has the product been tested for such purpose. Please consider chatting with us on our website if you have any additional questions. Have a great day! - Your Medela Customer Service Team

submitted by

Medela Product Expert - 4 years ago

Brand expert
Q: Can I use these while pumping?
submitted by
Goldengirl - 6 years ago
A: Only wear breast shells during waking hours. The reason that you would only wear them during the day is so that you do not have to worry about lying on them or having them shift. If they shift they could apply pressure to the wrong area. If you are awake, you will know if they have moved out of place or if the pressure is too much and be able to adjust them. You will not be able to pump while you have them on.

submitted by

Medela Product Expert - 6 years ago

Brand expert
4.2 out of 5 stars with 69 reviews
80% would recommend
26 recommendations
easy to clean: 4.22 out of 5
design: 3.88 out of 5
safety: 4 out of 5
Spills milks
i bought these but it's difficult to take out the milk without some milk dropping. Also because it has holes for air ventilation on top, you can spill milk if you bend down.
1 reply from Medela Product Expert team - 3 months ago
Hi Mary--- We appreciate your honest feedback. Please don't hesitate to reach out to us at 800-435-8316 with reference number 420955 so we can do our best to assist. We're happy to help!
No bending over
AS
-
4 months ago
,

Verified purchaser
I use these for catching the letdown while feeding on the other side. They are not great to just wear and go, though. They leak when bending over or moving too much.
1 reply from Medela Product Expert team - 4 months ago
Hi AS--- Thank you for sharing your honest feedback. Have a great day!
Must have
tracy podz
-
6 months ago
,

Verified purchaser
These work amazing for keeping your clothes from rubbing on painful nipples!
1 reply from Medela Product Expert team - 6 months ago
Hi tracy podz--- We're so glad they worked well for you!
Life saver!
originally posted on medelabreastfeedingus.com

These are amazing! Not only does it protect my tender nipples, but collecting the let down milk is an amazing feature! Soft pads just absorb and stick to nipples, wasting all that milk! This is my 3rd child and I wish I had discovered them sooner!
1 reply from Your Customer Solutions Team team - 3 years ago
Hi Amyow--- Thank you so much for the great feedback. We're happy that you have had such a great experience. Enjoy!
Saved my tender nipples!
hannahlavinia
-
3 years ago
originally posted on medelabreastfeedingus.com

I received these in the hospital when I first started breastfeeding. My nipples were so tender, so it hurt to wear anything or for anything to touch my nipples. These saved my nipples from a lot of pain! And they caught milk/colostrum that leaked. I highly recommend!! You do have to be careful not to bend over or you spill the milk that is caught.
1 reply from Your Customer Solutions Team team - 3 years ago
Thanks for taking the time to share your feedback! It's great to know that they were able to help provide you some relief!
Good idea but fell short.
Unhappy
-
4 years ago
,

Verified purchaser
I was looking for anything that might help with my sore chapped nipples. Now these are pretty big, when you first place them on it's not bad they do help keep your bra or shirt off your nipples. However you do need a bra or tank with a built in bra to hold these in place. After a short period of time they mold to your nipple and push your breast into the cup. There are holes to allow for air flow but your bra will cover them. Just not what I was hoping for.
1 reply from Medela Product Expert team - 4 years ago
We're sorry to hear these weren't quite what you hoped for. Your feedback is appreciated as it helps us continue to improve upon our designs. Have a great day! - Your Medela Customer Solutions Team
Life changing for me
I went through two pregnancies without knowing about these bad boys, and was lucky enough to be introduced to them by my SIL when she visited me shortly after having my third child. I was really depressed, mostly because my nipples were SO sore and every time I moved I was in pain. I took the silicone parts off of these, put nipple cream on, and wore them all day and night. I walked around with confidence knowing if something brushed me I wouldn't be doubled over in pain. They didn't stick to me, and I could clean them every night and rinse with cold water which felt so good when I put them back on. I would recommend these to anyone who is pumping or nursing!!
1 reply from Medela Product Expert team - 4 years ago
Hi Laura--- It brings us such joy to hear stories like yours in which our products have helped to make a difference. We're glad that you were able to continue on your breast milk feeding journey with less pain! - Your Medela Customer Solutions Team
(no review title)
Mom2babyGorilla
-
4 years ago
,

Verified purchaser
This item is the closest to comfort for sore nipples you can get to. I wore them for less than a day and saw my nipples transform. It's so difficult to ventilate your nipples but these cups even though they don't stay put and are not discrete they help air out your nipples. In the shower I use a sports bra to hold the cups in place so I can finally be worry free about the water hitting my nipples. I don't recommend using these out, like I stated earlier, they don't stay in place.
1 reply from Medela Product Expert team - 4 years ago
We're glad to hear that they even helped you shower more comfortably! Thanks for sharing your positive feedback with us and other parents like you who may be struggling to find a product to help them. Your feedback can often times make their product decisions a bit easier. - Your Medela Customer Service Team
(no review title)
Tori D
-
5 years ago
,

Verified purchaser
These saved my sore nipples!
1 reply from Medela Product Expert team - 5 years ago
We are so pleased to hear that they helped provide relief! Thanks for taking time to share your feedback with us. - Your Medela Customer Service Team
Sweaty nipples, not comfortable
Alison
-
5 years ago
,

Verified purchaser
They're much larger than I thought they would be and not comfortable. They have holes for ventilation but if you wear them with a bra, as the directions say, the nipples do not get any air and get sweaty. I would recommend soothie gel pads over these breast shields even though they're not reusable.
1 reply from Medela Product Expert team - 5 years ago
Hi Alison, we're deeply sorry that the Medela Softshells for Sore Nipple are not comfortable and not providing proper ventilation for you. We would like to further assist you. You can contact our Customer Service team at 1-800-435-8316. We look forward to speaking with you!
Didn't work for me.
TJ
-
5 years ago
,

Verified purchaser
I found them to be ineffective. They ended up hurting my nipples and became a waste of money and the foam inserts added to the list of many things you already have to keep clean with breastfeeding. I just recently threw them out.
Not a fan
Beth
-
6 years ago
,

Verified purchaser
I am not a fan of these. They are painful to wear and indent my breasts after a short period of time. They also have to be worn with a bra to hold them in place which puts even more pressure on them to indent your breasts. Also, there is no airflow to keep your nipples dry because a bra covers all the holes. The only benefit of these is that your nipple itself is not being mashed by your bra.
Great product for sore nipples and contain some drops
Lela
-
6 years ago
,

Verified purchaser
Found these to be lifesavers for my sore nipples when I started breast feeding (first time mom). I was actually given Ameda ones by the hospital lactation consultant and found these from my shower when I got home. I liked these better bc the backing is a soft plastic, they blend in better with nursing bras and they come with the sponge wedges which helped catch some of the milk overflow/drips during longer wears. You still end up with some drippage and they're not perfect but wonderful help to save sore nipples from harsh clothing or nursing pads rubbing on them. Liked them so much I've now started to gift them to friends for their showers!
(no review title)
I bought these due to severe nipple pain due to vasospasms. They are easy to assemble and clean. They are noticeable with big breasts, but totally worth my nipples not rubbing against my bra.
These are helpful
Piglets mommy
-
6 years ago
Definitely provides relief when your nipples are so sore you don't want ANYTHING to touch them Although It does make it ackward when you give someone a hug while wearing these
Slightly helpful, a little uncomfortable
I'm a first time mom and I bought these as I had sore nipples from breastfeeding and no other medical problem (such as mastitis). The cups are hard plastic and they have a rubber backing that you just pop on... the only problem is that after a short while (for me), they became very uncomfortable. The rubber backing has a hole that you just place over your nipples. Seems simple but I got sore in another way because the hole for your nipples eventually digs into your breasts. I would remove them from my bras and there would be a deep indention where the ring set on my breasts. I use them only occasionally now because of this reason. I just had to ascertain which kind of sore I wanted the least. Usually I would rather the ring indention instead of the hurting nipples. People from other reviews said they're noticeable in your bra... I didn't have this problem. My nursing bras are so large for the influx of milk that these are barely even noticeable to me.
A wonderful product when initially breastfeeding
Nwmommy2016
-
6 years ago
These cups were recommended by my lactation consultant and I found them to be very helpful in the first several weeks of breastfeeding. I liked them because they work by allowing your nipples to air dry and also be protected from touching clothing, etc. That may not seem like a big deal, but when your nipples feel like they have been twisted with a hot pair of pliers when your little one nurses it goes a long way towards making you comfortable between feedings. At first I didn't get the point of the foam inserts, but they are perfect for soaking up milk that has leaked. I would definitely recommend this product to someone who plans on breastfeeding (especially for a first time mom).
Purchasing again for a reason
I bought these 5 yrs ago with my first when I was struggling to breastfeed. They really help to air out your nips and are a lifesaver when you are sore and cracked. I didn't care for the little sponges to collect the milk so I folded a nursing pad and tucked it inside. They aren't the most discreet creation, but I only wore them at home. And honestly, you don't really care if they're giving you relief. Needle to say, I knew I needed them again for my 2nd.
Saves your nipples
These are amazing especially in the first few weeks of nursing. Your nipples have a chance to heal because they aren't rubbing up against anything. I would suggest these to ALL breastfeeding mothers.
Don't work
Like a few other reviewers seemed to experience, all these did was mash my nipples into the silicone and plastic; I ended up bruised and sore (in addition to cracked and bleeding, which was why I had bought these in the first place!). They also did in fact look ridiculous. Cleaning the little foam inserts was a pain.