The Summer Getaway - by Susan Mallery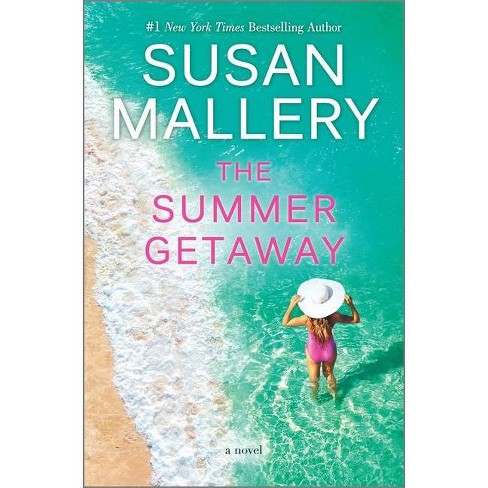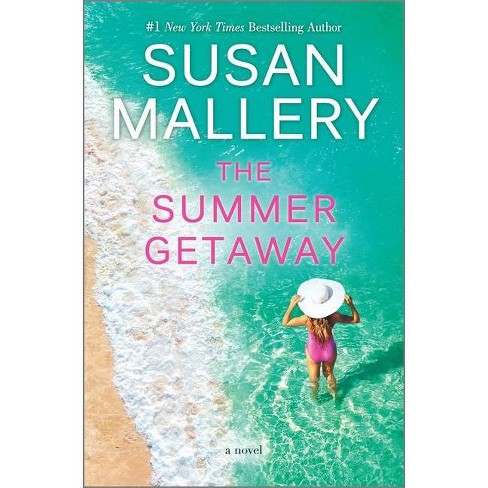 $15.38
When purchased online
About this item
Specifications
Suggested Age: 22 Years and Up
Genre: Fiction + Literature Genres
Book theme: Marriage & Divorce
Street Date: March 15, 2022
TCIN: 83982879
UPC: 9781335479990
Item Number (DPCI): 059-01-5168
Origin: Made in the USA
Description
Book Synopsis
One woman discovers the beauty in chaos in this poignant and heartwarming story about the threads that hold family together from #1 New York Times bestselling author Susan Mallery.
With her divorce settlement about to run out and a mortgage she can't afford, Robyn Caldwell needs a plan for her future. She nurtured her family and neglected herself. But how's she supposed to think when her daughter has become the most demanding bride ever, her son won't even consider college, her best friend is on the brink of marital disaster and her ex is making a monumentally bad decision that could bring everything crashing down on Robyn's head? So when her great-aunt Lillian invites her to Santa Barbara for the summer, Robyn hops on the first plane. But it's hard to run away when you're the heart of the family. One by one, everyone she left behind follows her across the country. Somehow, their baggage doesn't feel as heavy in the sun-drenched, mishmash mansion. The more time Robyn spends with free-spirited Lillian, the more she sees the appeal in taking chances--on dreams, on love, on family. Life is meant to be lived on purpose. All she has to do is muster the courage to take a chance on herself.
Review Quotes
"Fans of ReaAnne Thayne and Robyn Carr will enjoy how prolific women's fiction master Mallery orchestrates community connections, friendships, and fulfilling romances."--
Booklist
"Susan Mallery never disappoints."--Debbie Macomber, #1
New York Times
bestselling author "Mallery is one of a kind."--
RT Book Reviews
"Mallery is an expert at writing about strong women, their friendships, and their romances." --
Booklist
"[Mallery] will appeal to fans of women's fiction, especially such friendship books as Karen Joy Fowler's The Jane Austen Book Club." --
Booklist
"Mallery beautifully illustrates the power of female friendship and the importance of reaching for one's dreams. This irresistible, heartfelt story will appeal to romance readers and women's fiction fans alike."--
Publishers Weekly
on
The Friendship List
"This engaging story explores the power that lifelong friendship and unconditional love have to help us through life's challenges. Told with a style as authentic as it is entertaining, this book is for the author's many fans as well as those who enjoy Debbie Macomber and Susan Wiggs." --
Library Journal
on
The Friendship List
"Absolutely perfect for summer reading... uplifting, hilarious, and heartfelt... a complete joy to read." --
Harlequin Junkie
on
The Friendship List
If the item details above aren't accurate or complete, we want to know about it.
Shipping details
Estimated ship dimensions: 1.23 inches length x 6.13 inches width x 9.25 inches height
Estimated ship weight: 1.28 pounds
We regret that this item cannot be shipped to PO Boxes.
Return details
This item can be returned to any Target store or Target.com.
This item must be returned within 30 days of the date it was purchased in store, shipped, delivered by a Shipt shopper, or made ready for pickup.
4.7 out of 5 stars with 27 reviews
95% would recommend
24 recommendations
Family dynamics and drama!
Tigress Dana
-
1 year ago
Susan Mallery is amazing at capturing how real families and their drama can affect lives. The dynamics feel so real. You can picture the hurt and love in the characters. I love that her books aren't only about romance but family. Her characters learn and grow throughout the book. Great summer read! (And I love the cover!)
A strong protagonist all the way through
A strong protagonist all the way through, which is very much appreciated. Susan Mallery presents a wonderful exploration of finding oneself, while being the foundation for everyone else's hopes and dreams. It's a lot for one person to manage, but somehow Mallery manages to present a realistic family with all its flaws, encouraging a bit of introspection and a lot of self-actualization. In the end, you have to do what makes you happy, even if it means others will have to come to terms with your choices. I'm still coming to terms with the current trend for authors to shun commas. Oh how I miss the poor comma.
Fantastic Beach Read
In this novel of a family who've chosen each other, even those who aren't blood relatives, navigate all of life's ups and downs down. Time spreads this family all over the country. And when life knocks you down one too many times time heading across the country to get away seems like a relaxing break from life especially when you're heading straight to you great aunts welcoming arms. One of the things I'm looking forward to as I get older is being able to do and say whatever you want. Aunt Lillian certainly proves the elderly are exempt from the rules because they've earned it after all. Before Robyn can get much R&R those family members, she desperately needs a break from start showing up on her aunt's door step. Prepare to laugh out loud and use an entire box of tissues crying with the characters. This novel is very relatable which makes it a great read that you won't be able to put down. Susan Mallery did a fantastic job with the Summer Getaway.
One of my favorite Mallery books in a long time.
The story follows a divorced woman with two grown children. Robyn seems to be in a place in her life that she needs a new direction but she doesn't know quite what to do. Everyone seems to need something new in their lives. They travel to California to spend time with a relative and we get taken along their journey.
Everyone needs a getaway
The Summer Getaway by Susan Mallery is a perfect beach read! All of Susan Mallery's books are full of emotion with her great sense of humor thrown in. In her latest novel we meet Robyn who has two adult children - her daughter who wants to be married at the house she needs to sell as part of her divorce settlement and her son who just wants to skip college entirely. Then throw in a best friend who talks about cheating on her husband and it all just becomes too much. When invited to go to Santa Barbara by her great Aunt Lillian she jumps at the chance! I just loved Lillian's character! Robyn learns she needs to stop taking care of everyone else and start enjoying her own life!
Absolute Winner!
What an absolute winner of a book! Susan Mallory knows how to tell a story that draws you in from the first few pages and keeps you captivated until the very last word. In the Summer Getaway, the characters all seemed to be in a rut when it came to their lives. When Robyn, the Mom, decides to go across the country for a getaway, one by one each of the other characters follow. It was great to see that once out of their element, each one grew and matured enough to make changes and do the right thing. I loved the characters, they were all so real and believable. It was great to see Robyn herself, get stronger by the day and find her own self and purpose. I thoroughly enjoyed this book and look forward to many more from this author!
Enjoyable read
This book takes us on a journey of self discovery and what life can be like when you strive to achieve your dreams. I could totally relate to the side stories of Robyn's children and enjoyed watching the story unfold. Robyn's aunt Lillian is another character that I totally enjoyed and would like to be when I grow up. All in all, this was a great book to curl up with.
warm, funny, drama, - great read
Like Susan Mallery's other books, Summer Getaway brings you into the character's lives and makes you want to be part of the story. The characters are well written, their stories draw you in, and you don't want the book to end. The main character is someone you would want as your friend, strong, tells you like it is, and caring, and also human and makes mistakes, too. Susan Mallery did it again with this book. A great read.
Another great story!
Took me a few days to recover from this one. Perfect blend of drama, romance and intrigue with a few sad moments. Some of the characters surprised me in the last few chapters. I read this in 2 days and didnt regret any of the sleep I lost. Absolutely worth it!
The Summer Getaway
NancyJ
-
2 years ago
,

Verified purchaser
Susan Mallery's books always have a good, relatable storyline for women that are thought provoking and have humor too. This book does not disappoint!
Easy Read
Susan Mallery has a great way of writing about relationships. Great Aunt Lillian was a wise woman who could read people. She had great advice for everyone. She lived a very good and long life. It was nice to see all the characters grow thru self reflection regardless of their age. Robyn went to visit Lillian to "find" herself. Then everyone from home followed Robyn to "find" themselves. It was a nice story.
Great Book
This book was outstanding. I laughed. I cried. It was a great beach read. You will fall in love with Robyn and all of her amazing family. Family drama, older, younger, and love of all kinds. This book has it all.
Great Beach Read!
It's my favorite time of year: spring! Which means new life and new summer books! I received an advance copy of Susan Mallery's newest release, THE SUMMER GETAWAY and it's the perfect beach read as well as the perfect book to read in anticipation of summer. Robyn Caldwell is caught off-guard by her empty nest. Divorced four years, she should have seen it coming and finds herself undecided about what to do next. When her great-aunt Lillian asks her to visit in California, Robyn boards a plane, hoping the distance will give her perspective and help her decide her next steps. Robyn finds though that not just her problems follow her to California. First her children show up, then everyone else she thought she left behind soon comes along too. California, Aunt Lillian, her crazy mansion, and Lillian's long-lost nephew show Robyn that she does have choices, that she's more than enough, and that she can do whatever she wants. Mallery has crafted a heartfelt tale of fresh starts and growing up–at any age. I highly recommend it! ----- I received a free copy of THE SUMMER GETAWAY from the publisher. This did not induce me to review the book, either favorably or not.
A diverting tale!
The Summer Getaway is a family drama with romance thrown into the mix. I thought the story was well-written with steady pacing. The characters are realistic and developed. They seemed like real people with realistic problems. I liked that Robyn is a mature protagonist (in her 40s). All the activity kept the book moving forward. I wanted to see what choices each character would make especially Robyn. Lillian was my favorite character. I hope I am as lively and quick witted when I am that age. I would have loved to live in Lillian's quirky home. The Summer Getaway is an emotional novel. There are some wonderful heartwarming moments as well as some devastating ones that cause pain. There are also some laughs along the way. I especially enjoyed people's reactions to Lillian's home. I appreciated the epilogue that nicely wrapped up the story. I do want to warn readers there is foul language and intimate situations (some of them steamy with a little too much detail). The Summer Getaway is an entertaining story (have the popcorn ready) with family drama, romance, humor, relationship angst, poor choices, financial woes, and helpful advice. It is a great book to read on a rainy afternoon or a sunny one laying by the pool. The Summer Getaway is a diverting tale with a self-centered sister, a Don Juan dad, a flirty friend, an affable aunt, stalwart son, an ex-military man, and an odd domicile.
Must Read
A Book I Could Not Put Down And Didn't Want To Finish. The character's pulled me in and I felt every emotion.
Great beach read!
When I open a Susan Mallery book I know that I'm in for several hours of enjoyable reading. I had 100 pages left last night at 11:30 and I had to finish it. It was worth staying up for. This is the perfect summer getaway. Robyn's children, ex husband, boyfriend and boss/friend are driving her crazy. Her great aunt Lillian invites her to join her for the summer in Santa Barbara. Shortly after arriving in California all of her she thought she left in Florida arrive one by one. This book is a little over 400 pages random there isn't one boring page. I loved all the characters, you will laugh, you may cry but you will love this book. Discussion questions are included so you can read this with your book club.
Susan Mallery does it again!
Susan Mallery has a gift for writing books that portray the dynamics of everyday families. The Summer Getaway is the latest gift that Susan has bestowed upon us. I really enjoyed getting to know Robyn and her family. Robyn is a divorced woman in her early forties who realizes that she doesn't know where her life is going. She decides to go to visit her Aunt Lillian to try to get some perspective on her life. Her children, Harlow and Austin, soon follow her with problems of their own. Robyn is the "go to" person in the lives of many people and she is bombarded with helping her family and friends deal with their drama, all while trying to find herself. I enjoyed watching Robyn and Harlow work out their mother-daughter relationship and come to grips with both of their changing roles. I would highly recommend this book to anyone who likes to immerse themselves in the lives of other families and realize that everyone has their own family problems to deal with.
To Good not to pass along
Ok I didn't take a picture before I stuck the book in the mail for a friend. I started reading romance type books when I was in my 30's and 40's. This book was so good as it wasn't the 20 year old that was more experinced that I am in my 40's. the people felt so real. It was so good with people you can identify with. However this book had me up till 3 am. one more page, one more chapter and I am crying so I need to get to the happy part and they cycle starts all over again. Yes I loved this book. so as I said I gave it away to someone else right away. One last thing, my friend is in the dedication. I love it
Love this book
Love, love, love this newest book by Susan Mallery. Finally a 'more mature' woman, divorced, with kids that are grown, friends that are making bad decisions, ex's being idiots, and...well...pretty much what women of a certain age are going through. Thank you!! Robyn is the quintessential mom and ex-wife. She is involved with her kids, but not too much. She is dating, but it's not exciting. Her ex is the bane of her existence on many levels, we've been there. People gravitate to her. She needs some time away. Heading to see her elderly aunt seems like a perfect solution...or maybe it's running away...but whatever. Aunt Lillian is eccentric, quite elderly, and loves Robyn with her whole heart. Once Robyn gets to California, she can start to take a long distance look at what she wants from her life...until her life follows her across the country. Meeting Mason begins her thinking about perhaps a new location and a new life. This is just such a great book. Aunt Lillian's quirks. Mason's rock steadiness. Robyn's children finally making adult decisions. Robyn's ex, boyfriend, and some friends decide they need some time away from Florida and closer to Robyn...What??? The story, woven together in the fabulous Susan Mallery style, takes us on a journey of discovery. Sometimes things have to change for you to move forward. I heartily recommend this book.
Must Read
Great book to sit and have a glass of wine with and unwind from the stresses of our world. This book is about a mom (Robyn) who is trying to do the best she can for her adult children as well as her own life. She has been faced with several hurtful situations that can push a person away. However, Robyn continues to be strong for her children. She takes a wonderful vacation back home to visit her aunt and truly finds herself and her love. Those who care about her follow her back home as well. This book is a must-read for all!! Although I have read it once, I will read it over again. I hope that there may be a continuation with the children. You did it again Susan! Great book!!!