Sponsored
Pokemon Legends: Arceus - Nintendo Switch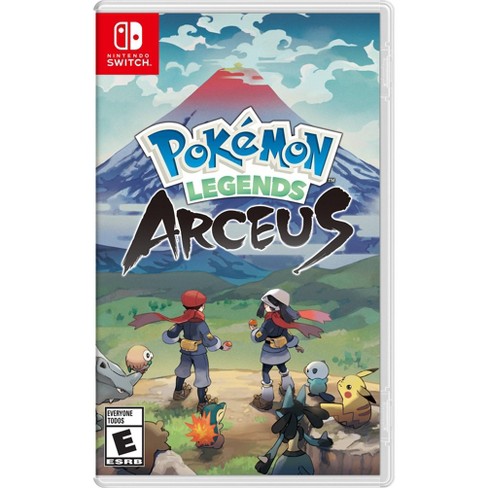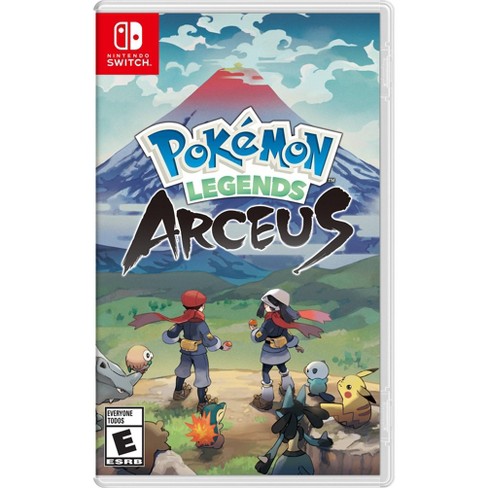 $59.99 when purchased online
About this item
Highlights
Action meets RPG in this new take on the PokémonTM series

Study Pokémon behaviors, sneak up on them, and toss a well-aimed Poké Ball to catch them

Unleash moves in the speedy agile style or the powerful strong style in battles

Travel to the Hisui region—the Sinnoh of old—and build the region's first Pokédex

Learn about the Mythical Pokémon Arceus, the key to this mysterious tale

Meet the ancestors of characters from the Pokémon Brilliant Diamond and Pokémon Shining Pearl games
Description
Action meets RPG as the Pokémon series reaches a new frontier

Get ready for a new kind of grand, Pokémon adventure in Pokémon™ Legends: Arceus, a brand-new game from Game Freak that blends action and exploration with the RPG roots of the Pokémon series. Embark on survey missions in the ancient Hisui region. Explore natural expanses to catch wild Pokémon by learning their behavior, sneaking up, and throwing a well-aimed Poké Ball. You can also toss the Poké Ball containing your ally Pokémon near a wild Pokémon to seamlessly enter battle. Travel across land, sea, and sky on the backs of Pokémon to explore every corner of the Hisui region.

Travel to the Hisui region—the Sinnoh of old—and build the region's first Pokédex

Your adventure takes place in the expansive natural majesty of the Hisui region, where you are tasked with studying Pokémon to complete the region's first Pokédex. Mount Coronet rises from the center, surrounded on all sides by areas with distinct environments. In this era—long before the events of the Pokémon Brilliant Diamond and Pokémon Shining Pearl games—you can find newly discovered Pokémon like Wyrdeer, an evolution of Stantler, and new regional forms like Hisuian Growlithe, Hisuian Zorua, and Hisuian Zoroark! Along the way, uncover the mystery surrounding the Mythical Pokémon known as Arceus.

A free software update brings special mass outbreaks and new challenges

In the free Daybreak update, you will begin investigating mysterious mass outbreaks of Pokémon that are popping up all over the Hisui region. You'll also have a chance to battle powerful opponents like Legendary Pokémon in Eternal Battle Reverie and wardens at the Jubilife Village training grounds. Daybreak content will be available after viewing the game's end credits. The Eternal Battle Reverie will become available after completing all missions.


Bleacher Report - "Pokemon Legends: Arceus is such a blast to play and a step in the right direction..." – N/A

Game Informer - "Pokémon Legends: Arceus is a beautiful adventure thanks mainly to its colorful art style…" – 8.75/10

Polygon - "There's always a new type of Pokémon around every corner, and it makes the world feel alive." – N/A

The Verge - "... gives off the feeling of a real place full of danger and secrets and all of the joy and excitement those things can bring." – N/A

IGN - "…reimagines how you go about capturing and battling Pokémon…" – 7/10


As the protagonist of this game, you'll meet Professor Laventon, who studies the ecology of Pokémon as a member of the Galaxy Expedition Team. Before long, you'll join the Galaxy Team yourself and get to work as a member of the Survey Corps. Your goal will be to meet every species of Pokémon in the region!

After receiving an assignment or a request and preparing for your next excursion, you'll set out from Jubilife Village to study one of the various areas of the Hisui region. There may be certain Pokémon behaviors—or even entire species—that you witness only under the right conditions, such as during a particular time of day or in certain kinds of weather. Word has it that some Pokémon even act in ways that are unique to their species! Keep an eye on your health while out adventuring—take too much damage from wild Pokémon attacks or falling from high places and you'll be unable to go on!

Battles in the Hisui region also have some unique properties. For the first time in the series, your Pokémon unleash moves with the speedy agile style or the powerful strong style. These styles might also affect how many turns Pokémon can take in a row!

Encounter noble Pokémon, special Pokémon in the Hisui region that have received a mysterious blessing. These nobles are particularly powerful and are revered by the people of the region. But some strange phenomenon is now causing them to suddenly fly into a frenzy. To quell them, you will have to hit them with balms made from these noble Pokémon's favorite foods.

Jubilife Village is the main base of your adventures in Pokémon Legends: Arceus. In Pokémon Brilliant Diamond and Pokémon Shining Pearl, this village has grown to be the bustling Jubilife City. There are also characters in Pokémon Legends: Arceus who are ancestors of some familiar faces you may know.

© 2022 Pokémon. ©1995–2022Nintendo/Creatures Inc./GAME FREAK inc. Pokémon and Nintendo Switch are trademarks of Nintendo. © Nintendo.

Model Compatibility: Nintendo Switch, Nintendo Switch Lite
ESRB Age Rating: E - Everyone
ESRB Content Descriptors: No descriptors
Electronics Condition: New
Multiplayer: Single Player Only
Street Date: January 28, 2022
TCIN: 83617997
UPC: 045496598044
Item Number (DPCI): 207-30-2389
Origin: Made in the USA or Imported
If the item details above aren't accurate or complete, we want to know about it.
Shipping details
Estimated ship dimensions: 4 inches length x 6.7 inches width x 0.2 inches height
Estimated ship weight: 0.1102 pounds
Return details
This item can be returned to any Target store or Target.com.
This item must be returned within 30 days of the date it was purchased in store, shipped, delivered by a Shipt shopper, or made ready for pickup.
4.7 out of 5 stars with 469 reviews
98% would recommend
54 recommendations
lasting appeal: 4.6 out of 5
sound quality: 4.67 out of 5
gameplay: 4.86 out of 5
graphics: 4.2 out of 5
Outstanding game!
Thumbs up graphic, would recommend
It was a wonderful game, Catching was very fun, I loved how you could catch the balls from a distance(Not the heavy balls) and battle the wild Pokemon, and use different kind of balls. Battling was pretty epic and fun as well, The Pokemon can dodge your moves, Which was sometimes great and not to good. But battling wild Pokemon makes a it a better chance you catch the Pokemon. Riding on the 5 ridable Pokemon was really fun. I especially loved the Hisuian Braviary, That you can soar through the skies. This game is full of adventure with a lot of challenges, Definitely recommend it!
Best Pokemon Game Yet!
Thumbs up graphic, would recommend
Courtney
-
5 months ago
,

Verified purchaser
My favorite Pokémon game yet. So much fun!
Amazing Game
Thumbs up graphic, would recommend
Jorge
-
7 months ago
,

Verified purchaser
This is perhaps the perfect game. Its the first pokemon game I ever played and once I started I couldn't put it down. Such a fun time!
Love this game!
Thumbs up graphic, would recommend
There are multiple of us who play this game in our house between ages 10-34. We all enjoy it.
Best Pokemon game since B&W
Thumbs up graphic, would recommend
Levale
-
8 months ago
,

Verified purchaser
I love this game a lot. It doesn't have a complex story, but it's a good one, and the mechanics are fresh and new for the series.
This should be the template for future Pokémon titles!
Thumbs up graphic, would recommend
After playing Legends for two months and more than 100 hours, I decided it was time to give this game its due for being amazing. This was the Pokémon spin-off I wanted to stay away from for a while until other reviews flew in, because Pokémon spin-offs aren't really my thing. In the past, I played spin-offs like Pokémon Snap for the N64, Gameboy's card game, Pokémon Puzzle League, and Pokémon Pinball. Then, I stopped playing those after the Pokémon Mystery Dungeon games happened and wanted only the main entries. Now today, I wanted something more from Pokémon instead of what Brillant Diamond's outdated gameplay offered and Violet's annoying glitches. Especially because the whole thing about making it to the Pokémon League finally grew stale as well. In comes Pokémon Legends: Arceus, which starts you off with the story being about you entering the Hisui region through time and space. The game focuses on you, not just a professor who says, "Okay, pick a Pokémon, and now get going." Nope. You'll be introduced to quite a bit in the beginning, but only so you understand both gameplay and your purpose. It's not your typical Pokémon game. Yes, you catch Pokémon during encounters. Yes, you can also train them as usual, and the evolution system is better and more practical. Forget about needing to trade Graveler to get Golem; they have a link cable item for that. They all have unique behavior and don't immediately start a battle if you get close enough to them. Be warned, the territorial Pokémon will attack you without engaging in battle. Also, if you like boss battles, it has those too, which are also part of the story. The game actually does something Game Freak and Nintendo have only promoted since the first games. Which is, you've Gotta Catch Them All! However, you feel like you can catch them all, always on your own time, to enjoy much more. Also, I'm glad you don't need two versions just to get most of the Pokémon. Game Freak, please, no more of that two versions stuff. You can build the Pokédex, but differently, and I don't mean that in a bad way. You'll be able to build Pokédex entries for each Pokémon and their evolutions with unique research-related tasks, but they make it fun, not a full-time job. However, there's a rank system involving stars, like receiving badges. I managed to get up to five stars in the first section of the region alone. Yes, the first section is what I said, with LOTS of Pokémon and land to explore. The way this game sets up multiple locations to visit in Hisui is totally how I would have wanted Paldea to do it. With Paldea, you get one big map. With Hisui, on the other hand, you get a large map with multiple sections to choose from, and each one is huge, some bigger than others, but you don't get tired of exploring just one map this way. So in conclusion, so I don't spoil anything entirely, everything in this game met my highest expectations and more. Even the catching system is something I wanted Violet to keep instead of sending out Pokémon to instantly fight. Also, shiny's aren't quiet like in Violet. When you see a shiny Pokémon or even hear one nearby, you'll know just by the stars flying around them and the slight jingling sounds. So enjoy shining hunting and distortion events too, which are like Pokémon catching raids with rare and shiny Pokémon sometimes appearing. Check this out as a fan and as someone who loves open-world-ish games to have plenty to do. Great job, Pokémon Company!
Pokemon
Thumbs up graphic, would recommend
Legendkale 5677 2609 0565
-
9 months ago
Love playing. I play Pokémon go often but this brings another approach to playing Pokémon on my switch.
Best of the Best
Thumbs up graphic, would recommend
TargetGuru
-
9 months ago
One of the best games I've ever played. I loved the graphics and being able to explore all the different areas on the map for wild Pokémon. I also thought the storyline was exciting and fun!
Fresh take on an old favorite
Stephen
-
10 months ago
,

Verified purchaser
I love this game. It's the perfect game for adults who do not have a ton of time to play. There's built in reminders of your progress in both the missions and Pokédex. Can't not recommend this game enough. Casual game play but fresh enough to not be boring
Relaxing
Thumbs up graphic, would recommend
Very pretty graphics and an easygoing game
Best Pokémon Game Ever
Thumbs up graphic, would recommend
Best Pokémon ever. The Pokémon roam and the battles are active. Open world and just amazing.
Best pokemon game so far!
Thumbs up graphic, would recommend
Avid pokemon fan since I was a kid, owned most of the games and as an adult I thoroughly enjoyed this one. Gameplay is a little different but its fun and refreshing.
So Fun!! Great for people of all ages!
Thumbs up graphic, would recommend
Kelly
-
11 months ago
,

Verified purchaser
Best Pokémon game of all time I hope more like it show up in the future
Catching Pokemon is Addicting
Thumbs up graphic, would recommend
MrsC
-
11 months ago
,

Verified purchaser
I actually bought this game for my son, who is a bit more of a Pokemon fan than I am. I decided to give it a go though and I've completely abandoned FFXII that I was about 3/4 of the way through and every other Switch title I was playing intermittently as well. I've hardly progressed in the storyline (which has a bit too much ongoing, empty dialogue for my taste), but catching Pokemon in the wild and compiling information in the Pokedex has been a blast. Great for any child of reading age and adults alike.
really good game :)
Thumbs up graphic, would recommend
spycfaib
-
11 months ago
,

Verified purchaser
i haven't played a pokémon game before and wanted to find something to introduce myself to the series. this game is super fun in my opinion! i love exploration and open world games and this game is perfect. sometimes the story can drag a little but overall perfect for someone who is new to pokemon or enjoys the series.
Best game 100/100
Thumbs up graphic, would recommend
Lexy
-
1 year ago
,

Verified purchaser
I love this game I have no other words to describe it it's fun so many different Pokémon's and it's very profound and meaningful I love every single moment I could not stop playing this game I do have to say the only thing I don't like is spoiler alert try to catch those legendary's like dodging and it was a bit difficult not sure if it's my age but I had to ask for my brothers a lot for help lol I could do without that
ingo & volo my beloveds
Thumbs up graphic, would recommend
Clover shledzguohn
-
1 year ago
,

Verified purchaser
best pokémon game of all time
Great Gameing!
Thumbs up graphic, would recommend
Regulardegular
-
1 year ago
,

Verified purchaser
Love this game! I felt like I didn't have to know a lot about Pokémon to enjoy and learn this game. The story and maps are great, game play is challenging enough with many options for quests. Boyfriend and I traded off playing it and it was our top game for a long time!
Open world Pokémon video game before Diamon & Pearl
Thumbs up graphic, would recommend
PokeFan
-
1 year ago
,

Verified purchaser
I liked the battle style gamplay and the improved graphics.
Breath of the Wild: Pokemon edition
Thumbs up graphic, would recommend
Open world with Pokemon that actually attack you, not just your Pokemon. This is how I had imagined the perfect Safari Zone! This is like Zelda: Breath of the Wild but with Pokemon. Fantastic game!