Sponsored
Flex Beginner Menstrual Cup + Menstrual Discs - 3ct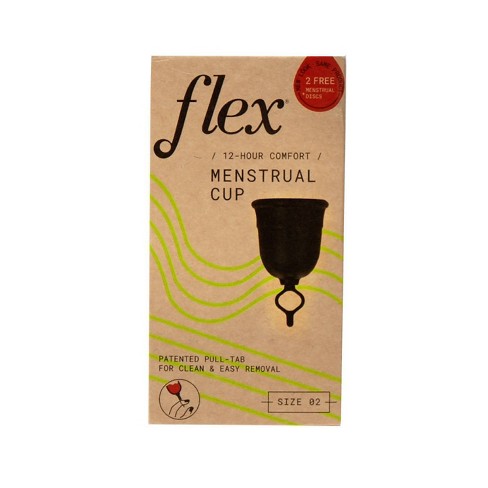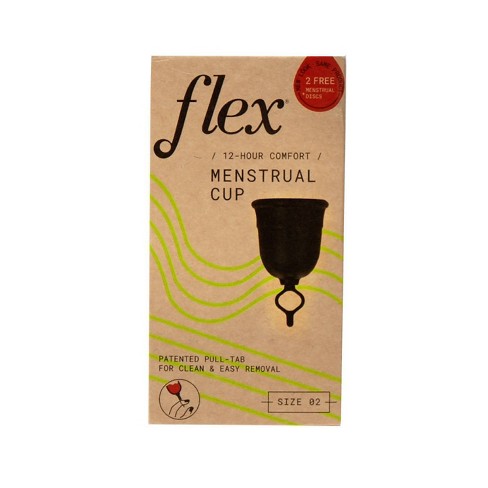 $35.99 when purchased online
About this item
Highlights
Ultimate Comfort: Velvety-soft, form-fitting material made to fit most bodies.

Made to fit your body: If your cup doesn't fit, reach out to hello@flexfits.com. We've got your back.

Less Messy Removal: Our unique pull tab makes for an easy, controlled removal.

Sustainable: 100% reusable and lasts for years to create zero waste and save you money.

All-Day Wear: Keeps you safe from leaks and mishaps for up to 12 hours.
Description
New to cups? Start here. Our 100% reusable Flex Cup makes removal easy and less messy due to the pull tab that breaks the seal for you, allowing for controlled removal. Its super soft, form-fitting material makes it even more comfortable for beginners. Plus, it lasts for years saving you money and creating zero waste along the way. Flex Cup comes in two sizes so you can choose the perfect fit for your body. Reusable product - full fit is ideal for heavier flows. Holds capacity of three super tampons.

BONUS! This pack includes 2 FREE Menstrual Discs. Many of our customers switch between using Flex Disc and Flex Cup throughout their cycle, depending on their flow, what activities they're doing, and overall what's most comfortable for them.
Health Facts: Phthalate-Free, Hypoallergenic, BPA-Free, No Fragrance Added
Product Warning: Does not protect against STDs, Not a Contraceptive
Includes: Travel Bag, Feminine Hygiene Cups
Care & Cleaning: Hand Wash
TCIN: 75665024
UPC: 851906007255
Item Number (DPCI): 245-04-0490
Origin: Made in the USA and Imported
If the item details above aren't accurate or complete, we want to know about it.
Ingredients:
menstrual cup: medical-grade silicone, carbon black [for color], menstrual discs: medical-grade polymers, mineral oil, natural carbon black [for rim color], antioxidants.
Shipping details
Estimated ship dimensions: 3.5 inches length x 3 inches width x 5.62 inches height
Estimated ship weight: 0.2205 pounds
Return details
This item can be returned to any Target store or Target.com.
This item must be returned within 90 days of the date it was purchased in store, shipped, delivered by a Shipt shopper, or made ready for pickup.
Q: Is it necessary to buy this and one other cup too still? Or can this menstrual cup be used for a long time?
submitted by
K - 4 years ago
A: Our Flex Cup is reusable and lasts for a few of years before it needs to be replaced. Our instructions for use will have cleaning instructions on how to take proper care of your cup. The Flex Discs are disposable, not reusable. After 12 hours of wear, you must remove and dispose of the disc and insert a new one.

submitted by

The Flex Company - 3 years ago

Brand expert

A: The cup is for continuous use. The discs are not!

submitted by

Anonymous - 4 years ago
Q: Do you pull on the string until the cup comes out, or is this just to break the seal and then you have to grab the actual cup to get it out of your body?
submitted by
Rachelg - 3 years ago
A: Hi Rachel, this is a great question and we thank you for asking. The purpose of the pull-tab is to break the seal of the cup. Once you feel resistance from the stopper located on the inside, then you'll grab the base of the cup and pull slowly for removal. I hope this information is helpful. If you have any additional questions, please don't hesitate to reach out to our Flexperts at hello@flexfits.com. They are more than eager to help!

submitted by

The Flex Company - 2 years ago

Brand expert
Q: Does the cup come with a bag?
submitted by
Kelsey - 3 years ago
A: Hi Kelsey, thank you for your question! Yes, your Flex Cup purchase will come with a cute black travel bag. Please let us know if you have any additional questions. You can reach one of our FLexperts at hello@flexfits.com.

submitted by

The Flex Company - 3 years ago

Brand expert
Q: What is the difference between fits
submitted by
afaith - 5 years ago
A: This kit includes two one-time menstrual discs for you to try out, and one reusable menstrual cup. You can go to FlexFits.com to learn about how the disc works, and FlexCup.com to learn how the cup works! Both can be left in for 12 hours. The cup can sit lower in the vaginal canal, while the discs sit up higher past the pelvis and closer to the cervix. They're both different experiences compared to tampons and pads, but they both "catch" period fluid rather than absorb it. The string on the cup breaks the vacuum seal inside of the body, while you have to use a finger to reach up and grab the side of the disc with. Look up the products on YouTube or their website to see how they work!

submitted by

- 5 years ago
4.1 out of 5 stars with 1411 reviews
64% would recommend
193 recommendations
comfort: 3.85 out of 5
quality: 3.91 out of 5
value: 3.69 out of 5
absorbency: 4.14 out of 5
odor control: 4.3 out of 5
Best cup!
Thumbs up graphic, would recommend
Very beginner friendly! Most removal much easier. I have been using mine going on 3 years however the pull tap did rip and I am buying a new one. I can feel the roughness of the tab broken and it's slightly comfortable. But still $36 for 3 years is still great. I recommend this cup to everyone.
Easy to remove
originally posted on flexfits.com

I had tried one other cup before, and didn't use a cup for years after because the removal process was stressful. I've used this cup for 2 cycles, getting the hang of it, and I love it. Removal is a lot less stressful as you can break the seal and move the cup down easy to remove it. It doesn't remove exactly like a tampon that you can just pull the strong without regard for the consequences (that would create a mess), but the pull tab on this makes it significantly easier to remove. It also handles my heavy period that even a mixture of tampons and pads could not.
Love it
Thumbs up graphic, would recommend
SJ
-
1 month ago
,

Verified purchaser
Super easy to use as someone who's never used a cup before. Please read the instructions and watch some YouTube/ TikTok videos first for some tips to insert and remove the correct way, shouldn't have any problems.
Love this cup!
originally posted on flexfits.com

I tried the Saalt cup but couldn't remove it. The Flex is a game changer! I love the ease of insertion and removal. No leaks and easy to clean. So happy I gave it a try!
Pull tab broke!
originally posted on flexfits.com

I really liked this cup because of the pull tab but the pull tab broke after the second month of having the cup. Do all of the pull tabs break that quickly or was mine defective?
Not a Fan. Leaks!
Thumbs down graphic, would not recommend
As soon as I opened the box, I was skeptical of this cup. I have a very heavy period, and cups have been the only thing that works for me. I've used a few different ones over the years with no real issues. I decided to try this cup because the design was interesting. What I didn't realize is that it literally has a hole in the bottom of the cup. I looked at it from every angle and messed with it and thought how the heck is this not going to leak everywhere instantly?? But it held water, so I thought I'd give it a shot. I was right. It leaked instantly. It's okay if you stand in one spot, but as soon as you move at all, it leaks. They need to redesign it so there is more covering the hole or something because it's basically just a funnel. It's also not easy to get in. I'm not sure why because I've never had an issue with any other cup, but I did with this one. And once I got it in, it was very difficult to get it to open all the way. I also wonder how long before the tab breaks off and it gets stuck in there. I'll be switching back to my old cup. (Oh, and I'm also not a fan of the flex disc's. I've tried those multiple times over the years and always hated them)
1 reply from The Flex Company team - 29 days ago
Thanks for your feedback. The pull tab is meant to seal tightly to the cup and not leak, so we'd love to work with you to try a different fold, position, or cup size - or get additional information to see if there is something wrong with your cup. We're here to help! Please email us at hello@flexfits.com or text us at 800-931-0882.
best cup out there
originally posted on flexfits.com

i have used multiple cups, and i have to say, this is my favorite by far. i've been using it for a few months now. it's a good size, it doesn't leak, it's SO much easier to remove, the black color is nice, and it feels nice and sturdy. i don't have trouble getting a seal, but if you are new to cups, just give it some time, you will get a hang of it. it's so much easier and less messy to not have to fuss with breaking the seal with your fingers, the tab really does do it for you! i'll admit, i was skeptical, but it really works. i even have an IUD and i actually feel safer using this cup. it was worth the investment, and i don't see myself switching anytime soon. it is super easy to thread and unthread, it doesn't mess with the seal, and it is easy to clean. 5 stars all around for this cup, honestly, thank you!
Love it!!!
originally posted on flexfits.com

I'm a busy high school student who doesn't have the time of day in the middle of my activities to change a pad or a tampon. I absolutely LOVE my flex cup. I have a lot of anxiety and used to get so anxious in public in worries that I would leak, but now I can wear my flex cup for 12+ hours and not have to worry about anything! I just put on a panty liner just in case, and I've had no leaks! I was worried about it fitting when I first saw it but I followed the manual and used one of the folding techniques, and it fits perfectly! I recommend this product!
No advertisement, just sharing my story
Thumbs up graphic, would recommend
80sbabe
-
2 months ago
,

Verified purchaser
I originally started off using the salt cup & ended up in the ER because I couldn't get it out (slippery lil thing, ugh). What an embarrassing experience out of $1000 ER expense over a $30 product, smh. I told myself I would NEVER use a cup again after that. Well fast forward 2 years later a girls trip was scheduled & I knew I would be on my cycle. I wanted to do the water activities, so I decided to buy & try the flex cup a size 2. I tried this out 2 months in advance prior to the trip. Being the nervous wreck from the last experience, I even bought a thick string to attached to the cup. Not only was I going to another country I did not want to end up in a foreign hospital. So yeah that's rightttt I attached another string, just in case I couldn't reach it (thats my paranoia). To remove the cup successfully you have to pull very slowly to prevent any snapping or fast flow spillage. I had an amazing experience using this on my trip and I had no spillage. In addition, for reference I'm in my 40s my period are heavy & last 7 days. If you're trying this for the first time make sure to check your cervix depth by placing your index finger up there. If you hit your hand, then you need to go with a size 2. Be safe ladies & try not to make the same mistake like I did with that dumb salt cup & be out of hundreds or thousands of dollars like I did. Flex is a better choice, because you can grip it. =)
Not my best experience..
originally posted on flexfits.com

First time cup user here and I've read mixed reviews so decided to try for myself. I started with size 1 as a beginner and I always experience leaks since day 1 of use. I've tried to position it different ways thinking I'm inserting it wrong, or maybe I needed a bigger size, but I also tried size 2 and nope.. the leaks continue. I really wanted this to work as others have great experiences and I hate using tampons and pads. I am not comfortable trying the disc yet either.. bummer.
Flex
originally posted on flexfits.com

I love this product, I wish I had this option in my younger days, I wouldn't have missed so many water activities and sports that I love. I have recommended my whole family to use or try flex products and they love them too 😁
Do not use if you have an IUD...
originally posted on flexfits.com

This review is more of a warning than anything negative about flex cup. I love the idea, and think cups are a fantastic product. However, it caused my IUD (which I've had for years with zero issues) to be displaced & I had to have it replaced; I only used the cup for one period so I am very confident the cup was the cause. I read many articles online saying cups were ok to use with IUD's as long as you're careful. My gyno said otherwise when I went in for the removal/replacement & said she's had several patients with displaced or even fully removed IUD's with the use of cups. Again, I think the product is great but maybe call your gyno before using...don't trust online articles!
Mix feelings
originally posted on flexfits.com

I bought mine last month but I didn't use it cause I was a little afraid at first. I used it yesterday day for the first time, I'm at work, I know I put it in right but it's leaking all day at work it got on my work pants, the couch at my job its just all around bad and embarrassing
User friendly and an overall great product
Brittney K.
-
3 months ago
originally posted on flexfits.com

This is my first cup and I can honestly say I'm glad I finally made the switch. I'm always doing something so having this protection without the worry is amazing!
Tab broke while in use!
Thumbs down graphic, would not recommend
Broke off inside of me!!!! Took an hour to get it out, not by myself mind you! Do no buy this one. Get the saalt or diva where it's all one piece.
1 reply from The Flex Company team - 3 months ago
Hi Melissa - Thank you for your review. We're so sorry to hear about your experience! Please email us at hello@flexfits.com so that we can assist you further.
Mediocre
originally posted on flexfits.com

I like that I'm not wasting as much for products but I still have to wear other means when using the cup because I get leakage around it every single time. That's frustrating as I was hoping I would be able to utilize just this product and not have to rely on other things as well
Worked for a while
Thumbs down graphic, would not recommend
Worked for a while
-
3 months ago
This worked great the first few months. now on my third month it leaks out of the bottom :( it was a nice start, however I think I'll need to get one that doesn't have a hole at the bottom.
1 reply from The Flex Company team - 3 months ago
Thanks for your feedback! The pull tab is meant to seal tightly to the cup and not leak, so please reach out so we can troubleshoot with you and check if something is wrong! Email us at hello@flexfits.com or text us at 800-931-0882.
Thank you
Thumbs up graphic, would recommend
So good! Easy to remove. Doesn't leak.
Great for new cup users
Thumbs up graphic, would recommend
Moongirl92
-
3 months ago
This is my second menstrual cup and love this cup! It's super easy to remove, which I think is great for someone new to menstrual cups. It doesn't feel like I'm on my period. I'm never going back to pads!
Tampon replacement
Thumbs up graphic, would recommend
10/10 this is so easy to use. I just purchased a second as a back up for my car. I started using Flex two years ago when I started showing symptoms of tss with tampons. I've switched and haven't had issues since