Sponsored
Flex Reusable Menstrual Disc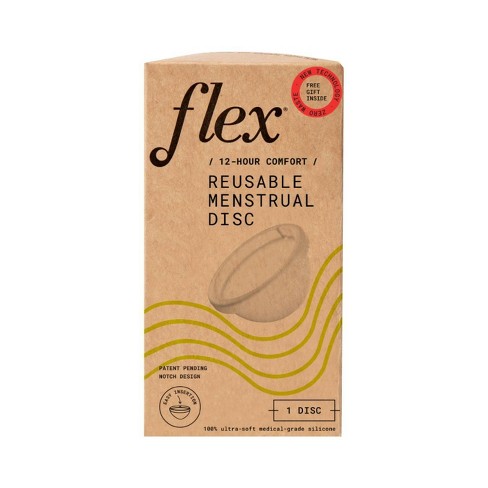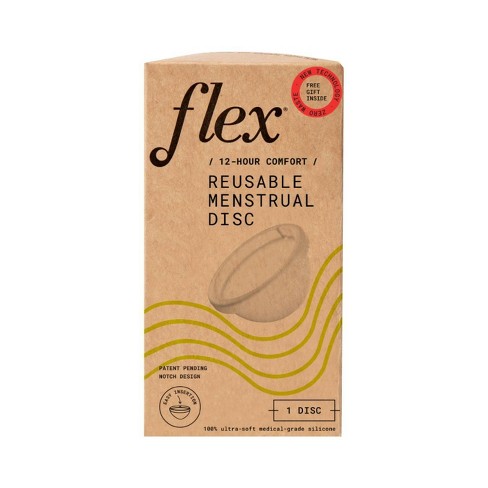 $35.99 when purchased online
About this item
Highlights
Live consciously using a 100% reusable period product that saves you money and is better for the planet

Safe for your body and hypoallergenic, made without BPA, phthalates, or natural rubber latex

12-hour period protection means going all day without having to run to the bathroom for frequent changes

Designed to reduce cramps, irritation, and dryness

Flex Reusable Disc has a capacity of 6+ super tampons' worth of fluid (70mL), great for light and heavy flows

Protects against leaks overnight, while swimming, and during intercourse

Flex Reusable Disc has never been linked to TSS and it won't disrupt or alter your vaginal pH

Free gift inside (2 FREE menstrual discs)
Description
Flex Reusable Disc is the only zero-waste menstrual disc engineered to be as easy to insert and remove as the best-selling disposable Flex Disc. Flex Reusable Disc is a 100% Reusable product and protects against leaks for up to 12 hours. Forget that you're on your period with a product so comfortable you can't even feel it.

Why do customers love it? Flex Reusable Disc does not promote the growth of toxic bacteria that can cause harmful infections. You can say goodbye to unwanted odor because Flex Reusable Disc is made with 100% medical-grade silicone, not odor-trapping cotton. Plus, with 12-hour wear, you can do everything you love to do when you're not on your period; you can swim, sleep, squat, summit, even have sex—all while wearing Flex Reusable Disc.

How does it work?
Unlike tampons or menstrual cups, Flex Reusable Disc sits in the vaginal fornix, keeping your vaginal canal clear, which can reduce cramps. Flex Reusable Disc is super easy to use. The patented notch in the rim makes insertion a breeze by creating a narrow point that helps you guide the disc into the fornix for perfect placement. Removal is easy because the construction of our ultra-thin, soft catch coupled with a sturdy rim helps you find a firm grip, reducing spills. Flex Reusable Disc collects your menstrual flow vs. absorbing it. Flex Reusable Disc comes in one size, fits most vaginas, and has a capacity of 6+ super tampons.

What about the environment?
Flex Reusable Disc is an eco-friendly, reusable period product that lasts for years—ultimately saving you money and time. Plus, the Flex Reusable Disc box is made with renewable eucalyptus fiber that is 100% recyclable.

BONUS! Flex Reusable Disc includes 2 FREE single-use menstrual discs. Many of our customers love having options depending on their flow, what activities they are doing, or even making sure their period tool kits are stocked in their cars, lockers, offices, and more.
Health Facts: No Fragrance Added, Phthalate-Free, BPA-Free, Hypoallergenic
Product Warning: Not a Contraceptive, does not protect against STDs
Sustainability Claims: Renewable Material, Recyclable
Care & Cleaning: Hand Wash
TCIN: 84761412
UPC: 851906007590
Item Number (DPCI): 245-04-7046
Origin: Made in the USA or Imported
If the item details above aren't accurate or complete, we want to know about it.
Ingredients:
flex reusable disc / 100% medical-grade silicone flex discs / medical-grade polymers, mineral oil, natural carbon black [for rim color], antioxidants
Allergens & Warnings:
WARNING Flex Reusable Disc and Flex Disc are not contraceptives nor do they protect against sexually transmitted infections (STIS). Before using, please read instructions.
Shipping details
Estimated ship dimensions: 3.5 inches length x 3 inches width x 5.62 inches height
Estimated ship weight: 0.15 pounds
Return details
This item can be returned to any Target store or Target.com.
This item must be returned within 90 days of the date it was purchased in store, shipped, delivered by a Shipt shopper, or made ready for pickup.
4.6 out of 5 stars with 614 reviews
86% would recommend
83 recommendations
quality: 4.65 out of 5
value: 4.58 out of 5
comfort: 4.7 out of 5
absorbency: 4.65 out of 5
odor control: 4.77 out of 5
Love it so much
originally posted on flexfits.com

Should've bought this sooner! Best period product I've ever purchased!
The ultimate period product!
originally posted on flexfits.com

This reusable disc is amazing! I can go all day without worrying about my period. It can tip forward to empty itself when you go to the restroom and go back in place afterwards. I have very heavy and long periods and this is a life saver truly. I also love waking up clean and mess free. It is very easy to remove and put back in. Mess free sex is another huge plus. I will never go back to worrying about my period!
Would give it 6 stars if I could! Truly life changing product
originally posted on flexfits.com

I am obsessed with this product. There is a small learning curve but once you get the hang of it, it is so much easier than any other options! Absolutely love not having to mess with it for full 12 hour days. Great for running around at work, all kinds of workouts, and sleeping. Truly I am obsessed.
I love this
originally posted on flexfits.com

I am writing this review after about 6 months of using this and I can't believe it took me so long to try it. So much more comfortable and easy to insert than a cup. So much more comfortable and safe than a tampon. I was scared to use it at first because I have a VERY heavy flow but that's honestly not an issue. It "self empties" when you use the restroom, I just bear down a little more to make sure it's all out and 90% of the time it will reset itself. It did take some time to learn this but it's so much better than having to change a tampon every hour. I can not recommend this enough.
Just buy it.
Thumbs up graphic, would recommend
Fullerton CA
-
21 days ago
,

Verified purchaser
Okay I genuinely am surprised. I am a religious tampon user and will never go back. I've tried the diva cup before and for some reason it didn't appeal to me. I've been using this for about 4 days now and have not experienced leaking. I do have to say, it was tricky learning the proper placement. I swore I was doing it wrong but apparently not. The mess free period ___ is a fact. I was curious and it did not disappoint. All in all, love this product and I'm happy to contribute to less waste and save money 🤍
LOVE my flex cup
originally posted on flexfits.com

I got my flex cup almost 2 years ago and I absolutely love it. I've used a June a lily cup, and while I like them, I've had minor issues like leaking, being uncomfortable, and issues removing. With this cup, it's never really posed any issues except making me want another lol. Personally as a teen, I think they'd be great for anyone of any age who wants a comfy alternate to the usual period product, to a more eco and cheaper alternative. :)
Life Changing
originally posted on flexfits.com

I'm an EMT and I wouldn't be able to make it through long transports and back country rescues without this product. I hardly even know I'm on my period now. Paired with period panties it's the perfect solution. No more store runs for tampons!
AMAZING. I'm obsessed.
originally posted on flexfits.com

it truly takes a woman to come up with something as awesome as this. I had used the flex disposable discs in the past... And I was just waiting for this reusable one to come out. I AM SO HAPPY. I love it. NO leaking. In so many different positions. Sleeping, in uncomfortable auditorium lecture, running, squatting... It's seriously awesome. And, I haven't had cramps since I started using it. I'm gonna tell all my friends about this whether they want to hear it or not. 10000/10.
So happy to have found this product
originally posted on flexfits.com

This is the best period product I have ever used. Easy to put in and remove, empties itself out, and I only have to actually check on it a couple times a day - once in the morning and once before bed. Other than that, I don't think about it at all. I can't feel it, it just does its thing. I tried the diva cup awhile back and hated it, so I was concerned this would be similar, but it's a totally different experience. Would highly recommend this to any period-having person - I will never use anything else again.
Absolutely Love It!
originally posted on flexfits.com

I bought this a year ago after using the disposable ones because I loved them so much but wanted something more environmentally friendly. I never liked tampons and pads made me self conscious so was over the moon Flex had a reuseable disc. Paired it with some period underwear and I felt way more confident during my time of the month. I don't have to remember to buy products at the store which is SUPER convenient considering where I live and it's cheaper than consistantly buying tampons or pads. It also helped with my cramps!Keep in mind that you will look like you just starred in the movie Carrie and it can be a bloodbath given your bathroom layout. Also be wary about your bathroom timing. I usually clean and insert it first thing in the morning and then clean it again when I get home or give myself a few hours without it, when its light enough, to reset the timeline. If you work where the sink is outside the toilet stall, you will regret all of your decisions if you try to take it out. There is a learning curve but easy to figure out and even easier if you have used the reusable ones.
Twists while inserting
originally posted on flexfits.com

First off, I absolutely love the disposable Flex discs. They are better than any other disposable disc. If the reusable one were the same but reusable, it would be 5 stars without question. Unfortunately, the reusable Flex sucks. It's too hard to insert. The rim isn't hard like the disposable. It's more flexible and "floppy", which makes it twist too much during insertion. When you have to keep trying, it sticks to everything and just can't be inserted. I've tried a few separate times and was only able to successfully use it once. I love the cleaning solution. It's super helpful, and I'd love to be able to use it. Unfortunately, I can't give this more than 1 star because I can't use it, and I wasted my money.
Buy it!
Thumbs up graphic, would recommend
Vrunka
-
28 days ago
,

Verified purchaser
Best period product ever! I've tried 6 or 7 different cups/discs, and this is by far my favorite! It empties itself, handles my heavy flow the best, and is just SO easy to use all around.
1 reply from The Flex Company team - 6 days ago
Thank you for the review! We're so happy that the Reusable Disc is working for you :)
Great for normal periods
originally posted on flexfits.com

I have both this and the Diva Cup, and while the Flex is super easy to install and use, I prefer the Diva Cup. Why? I have a verrrry heavy flow. And it's just too much for the Flex. So, it gets messy. The whole reason I love menstrual cups is the elimination of messiness. But bearing down to release the contents results in it getting all over my hoo-ha. Whereas I can pull the Diva Cup out by the tip, spilling none of the contents, leaving my hoo-ha mess-free. I think I'm unusual though because of the massive thick flow. So, for women with more standard periods, I think it's a great option. Easier to get the hang of inserting, and allows for sex (no way could it happen for me though.)
Where have you been all my life??
originally posted on flexfits.com

This thing has changed my life. I have ADHD and have a hard time remembering to bring period products to work and change them when needed. I used to end up bleeding all over the place! Now when I start spotting I just pop my Flex Ring in the next day and don't have to think about it until I get home at night. I have found that I must wear a reusable pad underneath in case of leaks and I MUST empty it every time I go to the bathroom by bearing down, or else leaks are more likely (just because it's full, not faulty). Took a while to get the hang of it, but now I have the trash-free period I always wanted. No more emptying a messy cup at work, no more searching for spare tampons at the bottom of my bag. I tried a different company's menstrual cup but since it involves suction it frequently caused a LOT of pain. The Flex Ring does not rely on suction so it's pain-free. And I find the reusable one even more comfortable and effective than the disposable kind. I love, love, love it. I only regret that I'm finding this at 40 instead of in my 20s!
Newsflash!
originally posted on flexfits.com

When HeyFranHey mentioned this product years ago I didn't hesitate to purchase. I have PCOS so I figured I don't buy products regularly so why not. For the last 3 years I've had a very regular cycle and Flex HAS NOT let me down. I tell absolutely everyone friends and sex partners, it has never failed. Thank you.
The best reusable disc
Thumbs up graphic, would recommend
It's just as comfortable and functional as the disposable. (Another brand was not in my experience). Also greatly appreciated the two free disposable discs in the package. Love this brand for the discs.
My first disc - WONDERFUL!
originally posted on flexfits.com

I've had a completely positive experience using a disc for the first time, thanks to Flex! I've read in various groups online that Flex Reusable is on the larger and stiffer side of discs. I may have gotten lucky that it happens to be perfect for me. I feel like the rim needs to be this stiff to ensure that it stays in place. It does not leak at all for me through the 2 cycles I've used it. In terms of the size, I'm a 42-year-old who has had one baby by c-section (if that makes a difference). I have a light-medium flow. I am pretty sensitive down there (painful sex since baby!), but I have zero discomfort inserting or wearing the disc.It's a little daunting to get in the first time, and removing the first time is a bit shocking (very messy). I HIGHLY recommend squatting to insert and remove, and doing it in the shower. This makes for easy cleanup and makes it easy to wash the disc every 24 hours while you're in the shower anyway. You also want to use both hands for insertion - one to hold the disc together, and one to push it gently in. Then switch to one finger to complete the tuck of the front of the disc just behind your pelvic bone. After going to the bathroom or doing anything where you bear down at all, you may also want to use your finger to ensure the rim is tucked. Some folks can do this with a Kegel, but I don't trust that alone (unless I'm absolutely not in a situation where I can get to the bathroom). I boil the disc in a microwaveable bowl at the end of my cycle. There's no need to a special product just for this or for trying various methods to avoid burning the disc while boiling in a pan on the stove, as long as you've got a microwave.I hope this review helps anyone looking!
Why is this more expensive then buying everything separately??
originally posted on flexfits.com

Why is this more expensive then buying everything separately??
best period of my life.
originally posted on flexfits.com

I have only ever used tampons and I hated them so I wanted to try this. I was scared to because it's new and I didn't want leaks or discomfort but it has been amazing. I highly recommend anyone with a period ditches tampons and gets this product. it's like I don't have a period. 👏🏼p.s. I was nervous about the auto dump feature but it's so freaking cool. don't be afraid to try it :)
Awesome alternative
originally posted on flexfits.com

I've been using the reusable disc for about six months now and I love everything about it. It's so much more comfortable than tampons, more convenient as well. I was hesitant to switch because although the disposable discs are also great, it felt kind of daunting buying one product to replace all of that. I'm so glad I did though.